Emily Blunt is not the only famous 'Blunt' in Hollywood. Her sister, Felicity Blunt, is also popular. Although her career is nowhere close to the world of entertainment like her sister, Felicity is famous in her own way.
Felicity Blunt automatically became a public figure after her marriage to the Emmy Award-winning actor, Stanley Tucci, in 2012. Outside of her husband's fame, she is also a popular literary agent working for a UK-based publishing house known as Curtis Brown. Despite being famously known as the wife of a respected actor and a sister to a Movie star, Felicity remains private on her own end. Notwithstanding, here are some interesting facts to know about her.
Biography of Felicity Blunt
Born in 1982, in Wandsworth, London, Felicity is one of the four children of Joanna and Oliver Simon Peter Blunt. Her mother is a former actress and teacher, while her father is a barrister. We also know of her grandfather, Peter Blunt, who was a retired Major-General in the British Army and her grandmother Adrienne, the daughter of General T. W. Richardson. Felicity's paternal uncle is Crispin Blunt, a politician and member of the British Conservative Party. He is also a member of the British Parliament for the Reigate constituency in Surrey. Felicity's siblings include Emily, Sebastian, and Susannah Blunt.
Being very private about herself, Felicity has not revealed any information relating to her educational background but we believe that she had a sound education as her younger sibling, Emily, attended Ibstock Place School in Roehampton, southwest London. Another proof of her sound educational background is her job in the publishing firm where her contributions in books that center on suspense, crime, thrillers, cookbooks, historical and literary fiction cannot be overemphasized. Felicity Blunt reportedly trained as a barrister before her job in Curtis Brown.
Felicity Blunt is an avid social media user but unlike some who simply use the platform for fun of it, she takes advantage of her media presence to talk about her work, things she loves, and even her siblings. She also promotes her projects and accomplishments on social media. As someone with immense love for animals, Felicity also uploads videos of different animals.
Who Is The Husband Stanley Tucci And Do They Have Children?
Felicity Blunt married her husband Stanley Tucci on the 4th of August 2012 and as expected, their marriage was quite private although it was highly graced with celebrities like Meryl Streep, Steve Buscemi, and Julianne Moore. Buscemi was, in fact, Tucci's best man.
Stanley Tucci is a famous American actor, producer, writer, and film director best known for performance in the 2009 drama film, The Lovely Bones. He is not only a three-time Emmy award winner but also an Academy Award nominee and a Grammy Award nominee. The New York native began acting in the early 1980s and has so far appeared in over a hundred films and TV series.
Stanley and Felicity met for the first time in 2010 while attending Emily's marriage ceremony with John Krasinski, which took place at the Lake Como home of George Clooney. After dating for a while, Stanley proposed to Felicity in 2011. While the exchange of rings between the couple was Felicity's first, it was Stanley's second. His first marriage was to Kathryn "Kate" Tucci, his wife for fourteen years before she died of breast cancer in 2009. Stanley and Kate had three children – Camilla and twins, Nicolo and Isabel- who are now Felicity's stepchildren. She also has two children namely: a son, Matteo Oliver and a daughter, Emilia Giovanna.
Read Also: Hilary Duff Married, Husband, Sister, Son, Divorce, Family, Feet, Bio, Success
Meet Her Sister, Emily Brunt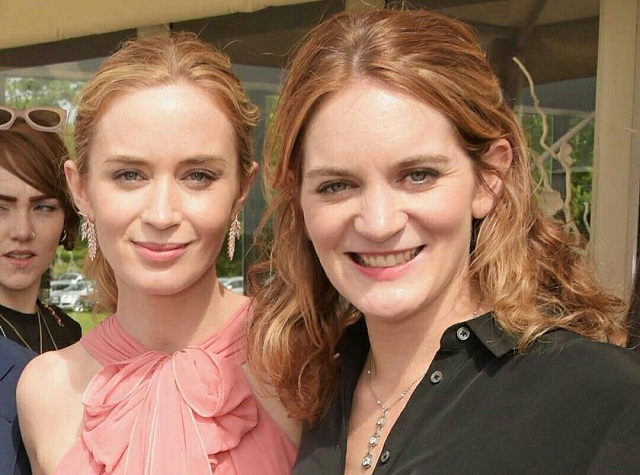 Felicity Blunt maybe Emily's older sister but it quite clear that the latter attained fame quite earlier than the former. Emily, who is the second of four children, started acting in her bid to overcome her stuttering; but she was discovered and signed at the age of 16 while taking performing arts programme at Hurtwood House- a sixth-form private college in Dorking, Surrey.
Felicity's sister, Emily Blunt, debuted as a professional actress in November 2001, in The Royal Family. She then appeared in several other films. Some of her most acclaimed films include The Devil Wears Prada, Looper, Edge of Tomorrow, Into the Woods, Mary Poppins Returns, Sicario, The Girl on the Train and lots more. Emily's net worth stands around $25 million dollars.