When we picture Hollywood stars, we often consider them to be celestial beings who don't go through the routine human activities. We never see them participating in what we've considered low-level human activity like online gaming, but when they give us a glimpse into their lives, we find out how regular a lot of them are, like Felicia Day who has over 100 credits in her filmography and yet is a YouTube recognized video gamer.
Felicia Day is known for her roles on Supernatural, Buffy the Vampire Slayer and many other shows and has been a professional actress since 2001 even though she acted her first role when she was seven years of age. There is plenty to learn about Felicia Day and you can learn it all by reading below.
Who is Felicia Day?
Born Kathryn Felicia Day on the 28th of June, 1979, Felicia has been one of the most admired women in Hollywood since she began her career in the industry. A native of Huntsville, Alabama, details of her parents' identities are unknown at this time.
Whoever her parents were, there is no denying the fact that they were supportive of her early love for acting, allowing her to perform in a local production of To Kill a Mockingbird at the young age of 7. Right from her childhood years, Felicia was drawn to performing arts and she explored it in so many ways, including opera singing and ballet dancing.
A stage prodigy as a child, Felicia Day was competing across the country on different shows and stages and her inability to obtain (or rather maintain) a traditional form of education, resulted in Felicia Day being homeschooled. She began her college life at the age of 16, after completing her high school academic years with an award as a National Merit Scholar.
Felicia Day is an accomplished violinist and had a chance to study at one of the most prestigious art schools in the country, Juilliard School but instead went to University of Texas, Austin, choosing to study mathematics and music performance. She graduated at the age of 19, top of her class.
Her career as a professional entertainer began in 2001, with the show, Emeril where she starred as the character, Cherie. Over the course of her career, which has seen her play major roles, guest roles, and recurring roles, she has starred in over 100 projects, across films and television shows, with appearances in major projects like Buffy the Vampire Slayer, Supernatural, The Magicians and several more.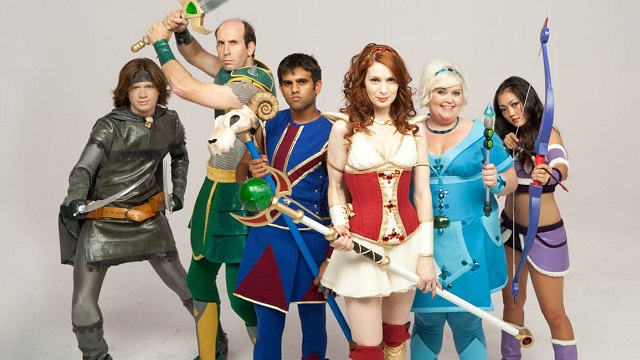 As a beloved video gamer, she has created a web series about her gaming life, titled The Guild, which has won several awards, including winning Best Comedy Web Series at the IAWTV Awards and YouTube Video Award for Best Series among others.
Who is The Husband or Baby Father, Does She Have Kids?
Felicia Day, by all means, does not fit into your traditional woman expectations as not only is she an avid gamer and a creator of several nerdy programs, but she has also brought a child into the world without the traditional marriage process.
She welcomed a child, a baby girl named Calliope Maeve on the 30th of January, 2017, a few weeks after she announced she was pregnant. While there is a likelihood of her having a baby daddy, the existence of sperm banks makes it difficult to draw that conclusion.
As for relationships, Felicia Day is not known to have been in plenty of them since she became a public personality with her only recognized public and romantic relationship being her short relationship with one of Hollywood's heartthrobs, Nathan Fillion.
What is Her Net Worth?
With a YouTube career that has seen her amass over millions of views and contracted work to produce her web series on platforms like Xbox Live and MSN Video, combined with her numerous works as a Hollywood actress, which has her holding over 100 credits in her filmography, Felicia Day has been able to hold a substantial net worth up north of $1 million.
How Tall is She?
Redheads are going extinct, at least that is what science says, but Felicia Day is among the few that still exists today. A woman who is unique in many ways already, she also physically stands out with a redhead of hair, gorgeously placed on a body with a height of 5 feet 4 inches and a bodyweight of 56 kg.
Felicia Day has a body measurement of 34-27-32 inches, measuring her bust, waist and hip sizes respectively. Other features include green eyes and a bra size of 34B.