On June 5, 2018, the fashion world was thrown into mourning after it lost one of its icons, Kate Spade. Sadly, the fashion designer who was presumed to have carried out her lifelong vision and living the dream life hung herself to death. For a career she launched way back in the early '90s, Kate Spade's brand has definitely come a long way. Even in death, her sleek, classic, and timeless designs which are still in vogue today speak volumes of Spade's incredible fashion career. Here's an insight into the late fashion designer's life and legacy.
She Was A Journalist Turned Fashion Designer
Katherine Noel Brosnahan who was born in 1962, always had interests in fashion. Though not as a designer, the graduate of journalism from Arizona State University got involved in the industry right after college. She settled in New York after landing a job with a top fashion publication in 1985. Despite growing up the ranks during her 7-year stint at Mademoiselle Magazine, Spade eventually took a risk by quitting her promising career in 1992 to become an entrepreneur.
Apparently, Kate's magazine career was the pedestal she needed for her future exploits in the fashion industry. Her time at the magazine's accessories department exposed her to trendy handbag designs. But, she was frustrated by the options available at the time and was inspired to start her own designs which were modeled after her mom's collection back in the days. In collaboration with Andy Spade her future husband, Kate Brosnahan launched her own 'fashionable' handbag line which was an aesthetic mix of timelessness and personified casualness.
She Was Family Oriented
While treading the road to riches, Kate Spades never walked alone. Her support system from the outset was her college sweetheart, Andy, whom she met in 1983. Things happened organically for the couple and after courting for more than a decade, they tied the knot in 1994. Kate and Andy remained a small family of two for another 11 years before welcoming their only child, Frances Beatrix in 2005.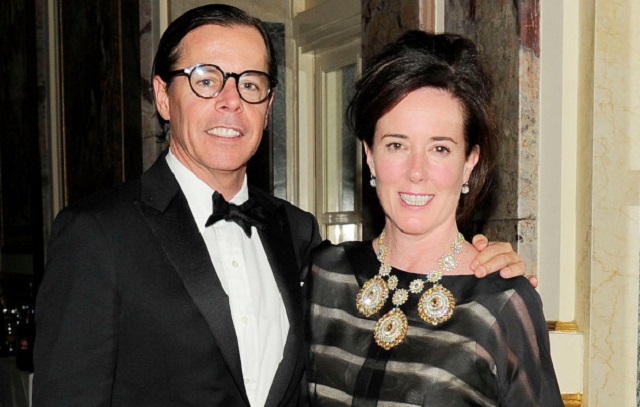 Despite initial financial struggles, the couple successfully launched and built the Kate Spade brand. After carving a niche for their designs in the competitive industry, Kate and Andy Spade took time off the business two years after their daughter was born in order to focus more on their family. The couple made a great comeback in 2016, with the launch of Frances Valentine, a new fashion line named after their daughter. At the time of her death, Spade left behind her 13-year old daughter and husband.
Her Love For "Frances Valentine"
It may be needless to point out that after naming her daughter and second fashion line Frances Valentine, the late fashion designer also legally changed her name to Kate Valentine Spade. Wondering what's special about the names? In 2015, Kate solved the puzzle by explaining that "Frances" was a special longtime family name. Besides her daughter, Kate's other family members who previously bore the name are her brother, father, and grandfather.
How Rich Was Kate Spade?
Kate Spade's iconic contributions to the fashion world earned her a massively successful career. Regardless of the initial years of struggle and setbacks, she grew her brand from scratch into a global empire worth millions. In 1999, Spade sold a majority stake in her company to Neiman Marcus, one of her first major clients. The brand was completely sold off to Marcus seven years later while Kate and her husband officially took a bow from the company shortly after in 2007. Kate Spade's eponymous brand was later traded to Liz Claiborne for $125 million.
Though originally synonymous with just handbags, the internationally renowned brand which is today known as Kate Spade & Company has extended into other fashion products. The chain now offers clients items ranging from jewelry to fragrances, footwear, apparel, eyewear, and even stationery, among others. There's no doubt that Kate Spade built an incredible fashion career with her hit designs, thereby amassing a net worth estimated at $150 million.
See Also: Lori Loughlin's Husband – Mossimo Giannulli: His Age, Son & Daughters
Her Legacy
The late fashion icon's designs stood out for its striking, classic, sleek, timeless and practical look. One of her first designs – the iconic boxy Sam Bag was not just a sensational '90s staple; it has also outlived its designer. Given how fantastically the Sam Bag sold out back in the days, it was recently revived in 2018. Though still retaining the classic look, it was updated with more modern features, thus fulfilling Spade's vision of a timeless design.