No one likes divorce, but, sadly, it happens for several different reasons. Best couples are no different; we've seen marriages between lovebirds crash when we think they have grown beyond separation. While people are surprised when it happens, things are stranger when it is something unexpected that prompts it as seen recently when Angelina Jolie filed for divorce from Brad Pitt after 12 years and six kids together.
Reasons Behind The Brangelina Split
According to reports, the divorce is based on some irreconcilable differences including child abuse and overindulgence.
The issue that led to the big news started on Wednesday, September 14 according to People magazine. The couple and their kids were on their private flight, travelling from France to Minnesota when Brad allegedly got drunk and "wild." As a result, he started screaming and "getting physical." with the kids.
Jolie, on the other hand, lists September 15 as the date of their separation.
Sources told a US-based gossip site that the plane later landed at an unnamed airport around 8pm. However, Pitt went on ranting and raging on the tarmac for some minutes before trying to leave in one of the fuel trucks.
The Child Abuse Saga
Thus, an unknown third person then reported to child protection services through a phone call. The report claimed that Pitt and Jolie had been interviewed by the child protection agency.
However, a representative of Los Angeles child protection services said they have some very strict confidentiality rules concerning their children. So, they are unable to confirm or deny.
After the incident, Angelina Jolie broke the news to Brad Pitt that she wanted to end their two-year marriage and 12-year romance. This was just a few days before filing a divorce suit.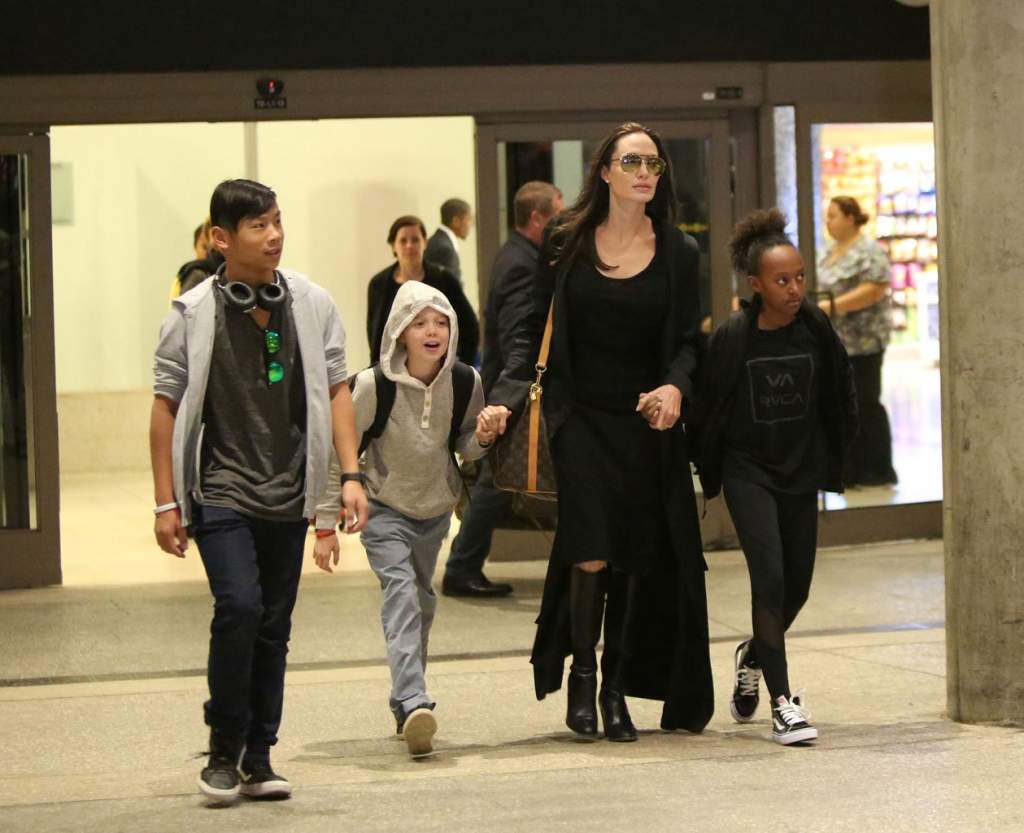 Though Pitt already knew their marriage was already on a rough patch, he was still devastated when Jolie opened up about her plans.
Pitt, 52, had been seeking Jolie's corporation in resolving their domestic problems for the sake of their six kids. Don't get it twisted, he's not expecting they will kiss and make up, but for the well-being of the children. He wanted to prepare the kids for the big turbulence that was to come.
People magazine quoted the source as saying;
"Pitt was willing to do anything, change any habit, change any lifestyle, to do what had to be done to make this work."

"And by 'make this work,' that means doing what has to be done to make even a split one that is amicable and in the best interests of the children."
Inside Details of Angelina Jolie And Brad's Pitt Divorce
Meanwhile, the two had a difficult time determining which parent should have custody of their children. While Jolie, 41 desires to be physically responsible for them, Pitt should be granted visitation rights. Nonetheless, sources say Pitt wants joint custody.
As the pair's relationship goes through razor edge, Brad Pitt spoke with Los Angeles authorities concerning an incident involving one of his children.
It was earlier speculated that LAPD is handling a report of allegations of child abuse for Mr. Brad Pitt
On the contrary, the authorities said they have not started any investigation on Pitt since no complaint has been made.
Again, the FBI on Friday said it is considering whether to initiate an investigation into an alleged incident on an aircraft carrying Brad Pitt and his children when he reportedly got into an argument with 15-year-old son Maddox.
On Wednesday night, it was reported that Pitt had offered to have therapy to save his marriage. Friends disclosed that the actor still "completely adored" Jolie and would never put his family under threat.
Telegraph quoted the couple's previous interview where they described the state of their relationship and what they think of each other. Read an excerpt from the interview below;
Brad Pitt;
On being directed by his wife: "I need to know I'm in good hands, and I trust Angie with my life. I love her instincts. She's ferocious with a story and she's really decisive at her post – in command." (2015)
On finding time for each other: "We find our time. We carve out mummy/daddy time that's not mummy/daddy time. It's called a hotel." (2011)
On family life: "A lot of love, a lot of fighting, a lot of refereeing; a lot of teeth-brushing and spilling… Chaos, total chaos. But so much fun." (2015)
Angelina Jolie;
On her relationship with her husband: "Brad and I have our issues… To be clear: we have fights and problems like any other couple. We have days when we drive each other absolutely mad and want space." (2015)
On her priorities: "I say kids first, woman to Brad and then my work internationally; and try to educate myself and learn about the world and do some good things while I'm alive." (2010)
On the film By the Sea: "The film says, 'Whatever you go through, weather the storm and stick together.' So it was kind of a message to each other that we are going to stick together whatever comes." (2015)
The Marion Cotillard Affair
Jolie is allegedly not happy with Pit's relationship with Oscar-winning French actress Marion Cotillard. Cotillard was his co-star in the film Allied, out in November.
However, Cotillard has a five-year-old son, Marcel, with her partner, French actor Guillaume Canet. Subsequently, she came out to lay all speculations to rest on Wednesday, saying she is currently with child and loves her husband.
Marion Cotillard Refutes All Allegations;
"I am not used to commenting on things like this nor taking them seriously but as this situation is spiralling and affecting people I love, I have to speak up," she wrote on Instagram.

"Firstly, many years ago, I met the man of my life, father of our son and of the baby we are expecting. He is my love, my best friend, the only one that I need.

"Secondly to those who have indicated that I am devastated, I am very well thank you. This crafted conversation isn't distressing. And to all the media and the haters who are quick to pass judgment, I sincerely wish you a swift recovery.

"Finally, I do very much wish that Angelina and Brad, both whom I deeply respect, will find peace in this very tumultuous moment. "
Check our page for more updates on the Brangelina split.