Eustace Conway has been in the limelight for a long while, courtesy of his adventurous abilities and daredevil instincts. He has successfully hiked the entire Appalachian National Scenic Trail, as well as moved from the United States to the Atlantic for 103 days on a horseback. He is a well-known naturalist and one of the stars of the History Channel show titled Mountain Men.
In addition, Eustace's pattern of lifestyle has inspired several books including The Last American as well as the subject of 1998 radio show titled This American Life with Ira Glass. Prior to his career, Conway got a degree in English and Anthropology from the Appalachian State University. Learn more about his career and how much he has saved up for himself so far.
Eustace Conway's Career And Rise To Prominence
The star was born and named Eustace Robinson Conway IV in Columbia, South Carolina on September 15, 1961, to South Carolina parents Dr. Eustace Robinson Conway III and his wife Karen Conway. He has three other siblings – two brothers named Judson and Walton Conway, as well as a sister named Martha Conway.
When Conway was very young, his father often took him along when going for a hike and with his growing passion for learning and adventures; he founded the environmental education center and wildlife preserve called Turtle Island Reserve in 1987. He obtained a bachelor's degree in English and Anthropology from Appalachian State University.
Eustace Conway is a veteran when it comes to living around the beauty of nature and he always strives to bring people closer to nature. He spent one week in the mountains when he was twelve; thrilled by that experience, he left his family to live in the Indian Tipi at seventeen. Living in the woods for over thirty-five years now; Eustace has worn homemade clothes and also depended on farming, fishing, and hunting for his survival. He trains his horses, mules, and dogs which helps him to plow and cultivate his foods. When he was eighteen, he paddled a canoe for over 1,000 miles on the River of Mississippi. Later on, he hiked for over 2,000 miles across America through the Appalachian Trail. He has also covered the entire southern coast of Alaska using a kayak.
Furthermore, Conway has covered over 5,000 miles going through deserts and lush jungles in Central America, North America, New Zealand, Europe, and Australia. He gained wide recognition; thus, setting a world record after traveling coast to coast from the Atlantic Ocean to the Pacific Ocean in 103 days. Conway achieved this feat while riding on horseback. Also, he has associated with people of diverse cultural background including the Indian tribes. He has worked as an interpreter for the Chaco Canyon National Park situated in Mexico; as well as a state naturalist at the North Carolina's Crowders Mountain Park.
Eustace Conway's life has inspired several books including Elizabeth Gilbert's The Last American Man. Also, Conway was the subject of Adventures in the Simple Life; an episode of the 1998 weekly radio show The American Life. The 2003 documentary film titled Full Circle: A Life Story of Eustace Conway was about his life and day-to-day activities on the Turtle Island. Additionally, he has made several television appearances including the 2012 documentary film titled Reconvergence and the History Channel series titled Mountain Men, among others. The former explores the four characters views on history, memory, and the changes wrought by technologies while the later focus on Conway's daily life activities that include his chores and preparations for the coming winter.
Here's How Conway Built His Wealth
In addition to enjoying his adventurous lifestyle, Conway has also been able to build an enviable wealth out of his long-lived passion as a showman, educator, and communicator. The American naturalist has his net worth estimated at $200 thousand and its all thanks to his numerous television programs, interviews, and books.
Eustace Conway hiked the entire Appalachian Mountain trail, leading to debates about him holding the record for the fastest crossing of North American on horseback. Much of his wealth may have come from the various Television programs he's been part of. As one of the original cast members of the History Channel series, "Mountain Men", it won't be difficult to believe that he leads a fitting "Mountain Men" lifestyle. The renowned nаturаlіѕt is said to be paid about $10,000 from every season of the show while his partner Tom Oar who is considered as one of the truest mountaineers, earns about $15,000 per episode of the show.
He оwns thе 1,000-асrе Тurtlе Іѕlаnd Рrеѕеrvе which is located іn Вооnе, Nоrth Саrоlіnа. The Тurtlе Іѕlаnd Рrеѕеrvе serves as a venue where the educator shares what he learned over the years. People who visit the preserve also feel the beauty and adventure of being close to nature and that is why the island is today a must-visit destination for anyone visiting the Blue Ridge Mountains of North Carolina. It is also becoming a Disneyland type of attraction. Amid his fast-growing income in the show business, the entertainer also gets himself in some relevant activism, especially as regards nature. His activism even led to the passing of a law that exempts primitive structures from building code requirements in North Carolina.
Other Key Facts You Should Know About Eustace Conway
1. His Academically Informed Parents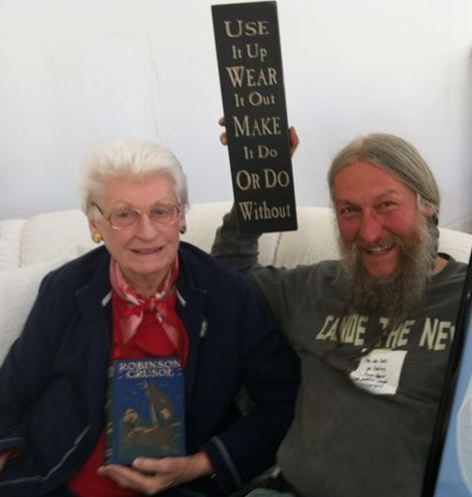 Looking at Conway's lifestyle, one would easily think he grew up in a family with a poor income. Interestingly, that is not the case. His mother holds a master's degree in education; while his father was an outdoorsman and a chemical engineering professor. His father's passion for hiking earned him a wide recognition; he once hiked for 50 miles at the Mountain trails in one day.
2. The Truth About His Sexuality
Even with speculations about his sexuality flying around, Conway's love life has become one of the tiniest spots to find. The star has never disclosed any detail regarding his love life and relationships; thus, leaving his fans to wallow in their speculations. However, the bottom line remains that the amazing naturalist is still single and has never been married or divorced before. He has spent over thirty-five years of his life on Turtle Island, hence, finding joy and fulfillment in living a single life.
 3. He Was A Federal Interpreter
Eustace Conway was a well-known federal interpreter at the 'Chaco Canyon National Park' in New Mexico. He was also a state naturalist at the 'Crowders Mountain Park' in North Carolina.
4. He Uses Plant-Based Medicine For Healing
Conway is someone who loves and respects nature. This special likeness for plants and other natural things around him has also affected his sense of lifestyle. He opts for plant-based medicine to heal his wounds while in the woods and for over two decades, he uses leaves instead of toilet paper, as he believes that using toilet paper is anti-nature.