For the millionaires who have a penchant for splurging but can't quite afford to acquire a private jet, well the airline industry has got you covered. Who said you needed a private jet to travel in style? Etihad's The Residence is all you need.
The famous airline industry launched the unprecedented uber first class cabin late 2014 on their ample A380 Airbus named. With a whopping fare of $42, 000 (Abu Dhabi – London) for a round trip ($21, 000 for one way), you can get yourself a space on this three-room suite with treats only experience can fully describe.
If the first fare got you stunned, how about this- a round trip from Abu Dhabi – New York costs a staggering $64, 000. Now that is the most expensive first-class plane ticket in the world. It is also the most expensive in commercial airline transportation, and the perks are no different from that of a private jet. Etihad's The Residence could even put some of them to shame. For the first class regulars, this super luxurious class will give your previous experiences the run for their money.
Like the saying goes, "Change is Constant", just when you thought you've seen it all, a new invention pops up. The Residence is clearly one of them. Etihad Airways have this luxurious suite on each of its A380 flight, and though having the same features, none looks like the other- the designs vary, each with its own color palette, custom carpets, and table marquetry.
The flying suite sits on approximately 125 square feet space of the extensive Airbus, a far cry from the few square meters available to those on the regular class. The Residence encompasses a living room, a bedroom, an en-suite bathroom, and OMG! your own personal butler. That's all too much to process at a time, let us break it down one after each.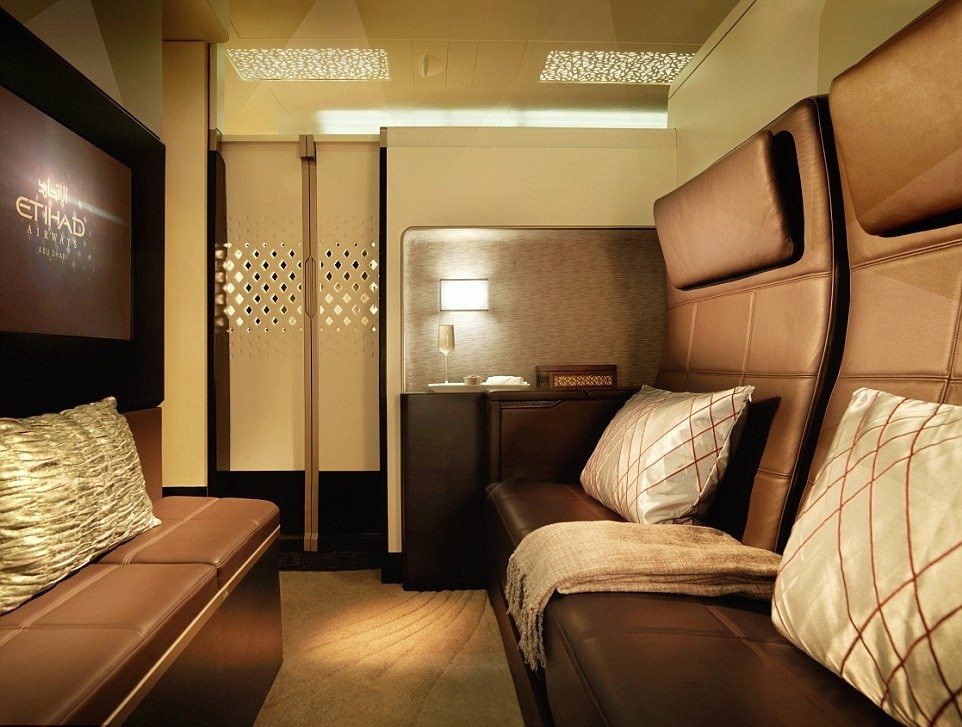 ETIHAD'S THE RESIDENCE: THE LIVING ROOM
The living room is absolutely stunning, the first point of attraction would probably be the 32 inch HD TV screen, or the ultra-comfy Poltrona Frau leather double-seat sofa. Extra features include; two dining tables, and a refrigerated drink cabinet, a minibar if you'd like. The living room also offers an entrance to the bedroom.
ETIHAD'S THE RESIDENCE: THE BEDROOM
The bedroom is fitted with fiber mattress double bed decorated with tender bedding, with a variety of pillows. The linens are made by Italy's Pratesi.
As tempting and alluring as the double bed is, you wouldn't want to let it have you sleeping all flight long when there are other fun stuff to indulge. But even if you are the "always in bed" type, the butlers are willing to serve you breakfast in bed. Whatever you crave, there is a standby chef ready to whip up whatever cuisine you might desire.
You will be served meals in the finest of wares like royalty. I'm talking Vera Wang crystal glassware, Bernadaud 24-karat gold-plated porcelain, and Studio Williams gold-plated cutlery. Plus there is a 27-inch TV available for you just to make your bed stay worth the while. There is absolutely no room for boredom.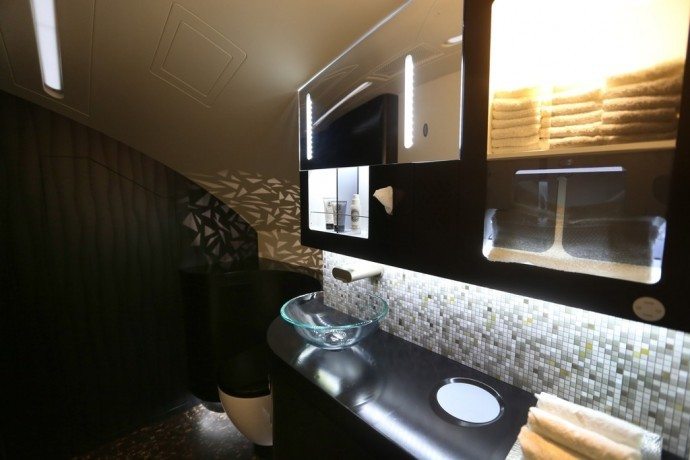 ETIHAD'S THE RESIDENCE: THE BATHROOM
You'd agree with me that when using commercial flights, answering nature's call can be an absolute pain in the ass and woe betide you, if you become unbearably pressed. First, you'd have to wait for the flight to reach a steady altitude, so you're free to move. Second, you'd have to make your way down the long hallway and most times wait in a queue. BUT with The Residence's en-suite sweet bathroom, all of that is scrapped. You have a bathroom to yourself with a shower, a hairdryer, bespoke toiletries, and bathrobes all made for you.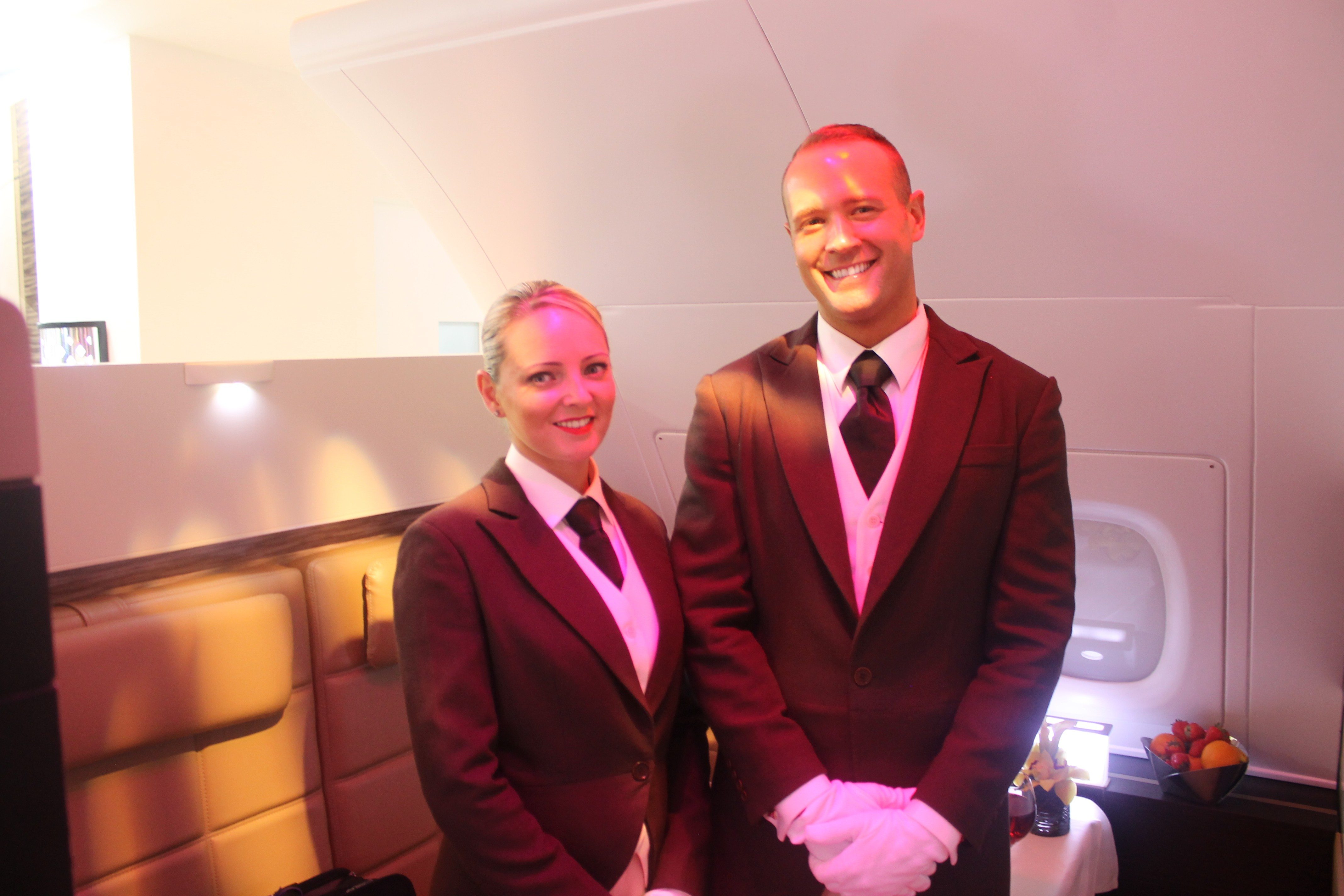 ETIHAD'S THE RESIDENCE: THE BUTLERS
And to crown it all, you have a personal professional butler. You don't even have to move an inch, he/she is available to you at the drop of the hat. The butlers are well-trained from the Savoy Academy, London, an eminent hospitality brand. Well, this is absolutely necessary as most of the users of this suite would be among the royals, a caliber of people with pampering as part of their daily lives.
When you don't seem to be enjoying what is aired on your screen, you have the franchise to request for a favorite movie, album, and even an x box game. And did I forget to mention the TV comes with a Bose headset? Yes! It does. With such quality entertainment to pass the time, you'd arrive at your destination at the snap of a finger.
See Also: The First Man To Board Etihad's Uber Luxurious Residence Suite
In addition to the above, the perks that come with the residence are endless. The pampering begins right before boarding, where you are not allowed to touch any of your luggage, of which you are permitted to board with loads of them weighing up to 99 kg.
A personal VIP attendant takes you through check-in so you avoid queuing up for immigration and security drama. You can also make post-landing plans with an Etihad concierge at your disposal on board. You get to make reservations for whatsoever you like; restaurants, shows, et al. There is also a chauffeur waiting to convey you to wherever on landing.
The residence offers just too much luxury that one might find boring if there's none to share it with, for this reason, the airline allows an extra person with no extra costs. If this isn't the finest luxury I don't know what is.