Hollywood has opened its big arms and welcomed several personalities over the years and while some of them have gone on to become superstars, some have had a modest career, making seldom appearances in minor and supporting roles. For Erinn Bartlett, who belongs in the second category, it has been a decent career, considering she has been in show business since she was a child.
Erinn Bartlett, although she has a few achievements and accolades of her own, is more known for her relationship with Oliver Hudson, who is also a fellow actor, known for his roles in Rules of Engagement and Nashville.
Who Is Erinn Bartlett?
She was born Erinn Anne Bartlett on the 26th of February, 1973 in Longmeadow, Massachusetts to parents Anne Bartlett and Brooks Bartlett. Not much is available about her background, particularly in terms of siblings but we know she had extensive education, studying up to college level where she graduated with a bachelor's degree in communication from Ithaca College.
Her first introduction to the world of show business came in 1989 when she enrolled and competed in Miss Massachusetts Teen USA. Erinn Bartlett was 16 years at the time, and she finished first runner-up in the competition. She returned to the pageant scene two years after in 1991, competing in the same event and eventually going on to win it, giving her the chance to represent Massachusetts in Miss Teen USA of 1991.
The competition, which was also held in her home state in Biloxi, Mississippi, saw Erinn finish 10th in the competition. Having gotten a taste of show business and TV entertainment, she relocated to Los Angeles where she chose to pursue a career as an actress.
Erinn Bartlett made her debut appearance in 1999 as Suzanna in the film, Pacific Blue before playing an unnamed character in the classic, Deep Blue Sea. In the following year and the start of a new millennium, she appeared as a named character in the films, The In Crowd and Little Nicky, playing Sheila and Fenner respectively. As the years passed, Erinn continued to make appearances across both film and TV shows, appearing in shows like Felicity, A Nero Wolfe Mystery, Monk, Out of Practice and films like Girl Fever, The Last Run, Raising Helen, The Benchwarmers and several others. Since she made her debut appearance in 1999, Erinn Bartlett has appeared in over 25 films and TV shows.
Erinn's Marriage To Oliver Hudson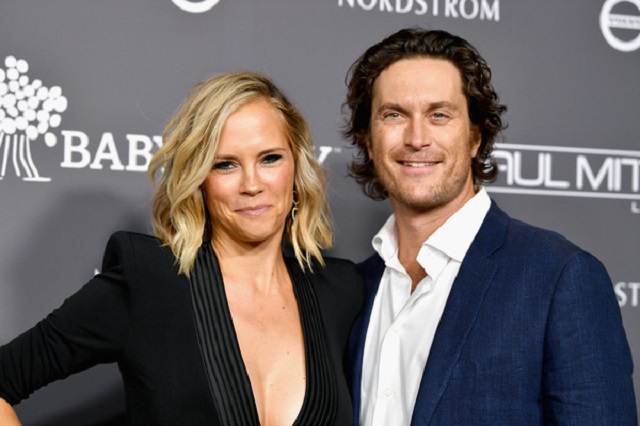 Since Erinn Bartlett appeared on national television representing Massachusetts in Miss Teen USA in 1991, she has been in the news for a variety of reasons. On February 21, 2004, she was in the news for her engagement to the actor, Oliver Hudson. The two of them met in 1999 during an acting event, with their friendship eventually developing into a relationship. Following their engagement, Erinn and Oliver got married on the 9th of June, 2006 in Cabo San Lucas in Mexico during a ceremony that was officiated by a Buddhist monk with 100 guests in attendance.
See Also: Who Is Theresa Randle? Father MC's Wife And Bad Boys For Life Actress
Unlike the rest of the important milestones in their relationship, a lot of time did not pass before Erinn Bartlett and Oliver Hudson welcomed their first child, a son, Wilder Brooks Hudson, who was born on the 23rd of August, 2007 in Los Angeles. Since their first child, they have given birth to two additional children, a second son, Bodhi Hawn Hudson who was born on the 19th of March, 2010 and a daughter, Rio Laura Hudson who was born in July 2013. Since they met each other in 1999, the two of them have remained together to become one of the oldest couples in Hollywood.
As for Erinn Bartlett's husband, Oliver Hudson, he is the son of the famous actress, Goldie Hawn and the musician, Bill Hudson. He was born in September 1976 and was raised with his sister, the famous actress, and model, Kate Hudson.
Just like his sister, he followed in his mother's path and became an actor, making his debut in the same year as his wife in 1999. He appeared in Kill the Man as an unnamed character and has since then appeared in over 25 movies and TV shows including major roles in shows like Nashville, Splitting Up Together and Scream Queens.