The name Erin Lim has become so synonymous with the E! Television channel that some people actually wonder if this is the name of the channel's founder/owner. This confusion comes from the fact that the name 'Erin' is initialized with the letter 'E' and also because of Erin's far-reaching work on the E! channel. Otherwise, the E! franchise was actually founded in 1987, some three solid years before Erin herself was even born.
So, how come Erin has become so closely associated with the entertainment-based channel? This is one of the things we are going to find out as we explore the person behind the name and how she carved her niche at the channel.
Erin Lim's Television Career And Rise At E!
Born on April 13, 1990, in California, Erin reportedly went to Chapman University Dodge College of Film And Media Arts, graduating in 2013. While studying for her B.A in Television and Broadcast Journalism, she worked as a host and executive producer at TV Orange from April 2010 to August 2013. She then joined MediaCorp Pte Ltd as an actress in 2013 before she went ahead to establish her production company – Black Pearl – the following year.
Also in 2014, a year after her graduation from the university, Erin joined the E! Network, thanks to her wealth of experience which provided her with the right skills for the job. She began with the network as a host for E! News Asia but has since grown to take up more responsibilities which have helped to broaden her horizons.
Lim is currently the host of E! News' The Rundown, which is one of E! Channel's first fully produced weekly shows for Snapchat. The program recently expanded to three days a week after early success on the platform and at the moment, the show is reported to attract an average of 13 million viewers per episode. She also serves as a correspondent for E! News and as a regular panelist on Live From E!, a well-loved digital show that focuses on pop culture themes which E! News developed for Facebook Live and other social media platforms and it has been airing since September 9, 2013.
Having spent more than half a decade working at E!, Erin has come to be known for her spell on the channel. In 2017, her work reportedly helped E! News to earn a Daytime Emmy Award nomination for 'Outstanding Entertainment News Program', a proof of her exceptional contributions to the growth of the network. She continues to collaborate with the E! News team to reinvent entertainment and celebrity news.
What Else Is Erin Lim Involved In Asides E!
In addition to her work on E!, Erin currently serves as a co-host for Tech TV's 'Storm Bytes alongside Benjamin Kheng of The Sam Willows in Singapore. She has also worked for several networks and production companies based in Los Angeles some of which include Shed Media US, NBCUniversal's Style Network, Intuitive Entertainment, and Mark Burnett's Finnmax. In all of these companies, Erin served in the area of production and development.
Meanwhile, Erin has always been interested in film production and she continues to pursue this dream alongside her career as a television host. She has traveled the globe in search of mind-blowing stories and has successfully produced and directed several social change/consciousness documentaries. Some of them include We're From Here, Achieving Greatness, In Her Boot, The Digital Era (California), Tainted (Singapore), On The Cape (Ghana). Erin Lim is driven and continues to strive to achieve transformation with the eye of a camera.
What She Has Earned From Her Career So Far
Thanks to her goal-getter spirit, the journalist has a strong financial backbone. Sources revealed in a late 2018 report that Erin Lim receives an annual salary of $60,000 for her work at E! while other sources reported that she has an estimated net worth of $1 million at the time. She supposedly earned that net worth mainly from her job as a TV show host, actress, and her production company.
There are indications that Erin also makes ad revenue from her social media pages. Since she currently has over 236,000 fans on Instagram and more than 25,000 followers on Twitter, her social media earnings must be reasonable at least.
In addition to all these, she has represented and has been the face of several prestigious brands in various industries over the years. These include Kentucky Fried Chicken, Heineken, Sony, Close Up Cupid Games, Singapore Tourism Board, to mention a few. Erin has also been able to gather a substantial amount of money from 'Black Pearl Production company which she founded in June 2014. She created and starred in her own series EL337 (Elite) which was quite a success in all ramifications, earning her high praise and recognition.
For someone like Erin who has the right looks and the ability to work in front and behind the camera, success in the movie industry is almost a guarantee. She has earned a generous amount as an actress and is known for her role in works like The Arrangement (2017) and The Other Two (2019). With all of her earnings, it's no surprise that her net worth has been on the rise. She is reportedly worth $2 million now.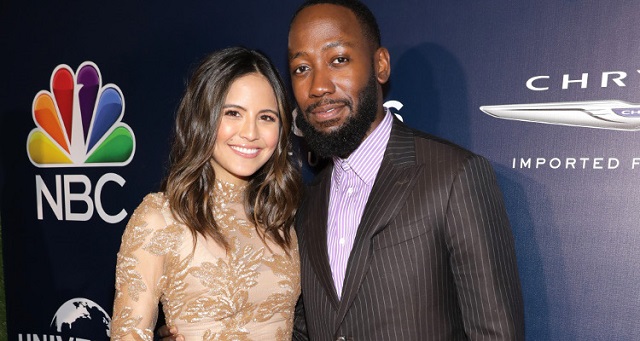 Relationships And Affairs – Who Is Erin Lim's Boyfriend?
Just as her career and bank account are in top form, Erin's love life is also flourishing. But for someone who is always in the public eye due to the nature of her work, she has been cautious about revealing too much especially about her private life. Erin Lim has been dating actor Lamorne Morris since sometime in mid-2016 but this remained only a subject of speculation until September 2017 when they made their affair public.
During the summer of 2018, Erin and Lamorne inadvertently made themselves a subject of media rumors. It was rumored that they had a secret wedding after Erin shared a vacation photo of her and Lamorne in a cozy location in Cannes, France. Eventually, it turned out to be fake news.
So, right now, Erin Lim is not married but still shares a romantic relationship with her boyfriend Lamorne Morris. Born on August 14, 1983, Lamorne is a respected African-American comic actor. Lamorne, who once worked for the Black Entertainment TV (BET), is probably best known for his role as Winston Bishop in New Girl, a sitcom that aired on the FOX Channel between September 20, 2011, and May 15, 2018. Lamorne is also reported to have worked as a game show host for the Cartoon Network's live-action game show, Brainrush, which ran between June and July 2009.
Also, read: Cleo Cole Elliott – Bio, Age, Net Worth, Is She Married or In A Relationship?
There is a strong indication that Erin Lim was in a relationship before her current one with Lamorne. As reported by Daily Mail UK, a certain Erin Lim, who judging by the picture in the post is no doubt Erin Lim of E!, lost her fiance named Emeka Udechuku in an auto crash just a week after they returned from a romantic trip in Phuket, Thailand, where he asked her to marry him.
According to the report, Erin had a daughter with late Emeka who, before he died, agreed to play a fatherly role to her son from a previous relationship. The said auto crash occurred in December 2015, a few months before Erin's romance with Lamorne reportedly began.
Having moved on, the journalist continues to enjoy her relationship with Lamorne and they keep flaunting their love on social media.