Game of Thrones might be the television king of the 2010s, pushing rating boundaries and becoming one of the biggest television franchises in recorded history. But back in the 90s, that title went to Baywatch. The show about a group of lifeguards was a juggernaut back in its heyday, boasting of over 1.1 billion global viewers at some point. This prestigious position was buoyed by Erika Eleniak, who was one of the show's most popular characters.
Erika Eleniak, an American-Canadian, has had a fulfilling career that has seen her appear in other iconic projects like E.T. The Extra-Terrestrial, the classic movie from A-list director, Steven Spielberg. Her popularity has waned since the 90s, but she still appears in films and TV shows, expanding her filmography and wealth.
Her Beginnings in Hollywood
Erika Eleniak was born on September 29, 1969, in Glendale, California, to parents of unknown identities as Erika Maya Eleniak. She was born as the eldest daughter in a family of five children; four daughters and a son. Erika's parents are of Estonia, German and Ukrainian ancestry and they raised their daughter in the American way, through the American education system, starting with high school education at Robert Junior High before graduating from Van Nuys High School.
If she attended college, that is a piece of information that is currently unknown to the media. But we know she began acting in 1980 as a child actress in the short film, Star Wars Underoos, playing the character, C-3PO Girl. Her first significant credit was at 13 years of age. She appeared in E.T. the Extra-Terrestrial, in one of the most iconic scenes in the film, the classroom scene.
Erika Eleniak's Impressive Acting Career
Following her first set of appearances in the early 80s, Erika Eleniak did not appear in any project again until the late 80s when she made a comeback with her first TV show, Silver Spoons, in 1987 as Samantha. In the same year, she appeared in another show as Lynn in The New Leave it to Beaver. The upward tick in Erika's professional and adult acting career continued as the years rolled by. She starred in projects like Boys Will Be Boys, Broken Angel, The Blob, and Charles in Charge, where she starred in a recurring role as Stephanie Curtis.
She has also appeared in several films. Mainly in the 90s, she made appearances in films like Chasers, Under Siege, Girl in the Cadillac, Captive. Others include The Beverly Hillbillies, The Pandora Project, and many others.
She continued her film appearances well into the new millennium. Erika also continues to appear in TV shows. Some of her most recent credits include Cor Values, Changing Hands Feature, and Boone: The Bounty Hunter.
Overall, since her first onscreen appearance in 1980, Erika Eleniak has amassed more than 56 credits in her filmography. She also has three award nominations to her name, including two wins. She won Best Female TV Star from Bravo Otto Germany between 1990 and 1992.
Her Most Significant Acting Role
Towards the end of the 80s, in 1989, she began to appear in the show, Baywatch as Shauni McClain. She appeared in a total of 45 episodes during her time on the show between 1989 and 1992. She also appeared in the show's TV Movie, Baywatch: Panic at Malibu Pier, reprising her role as Shauni.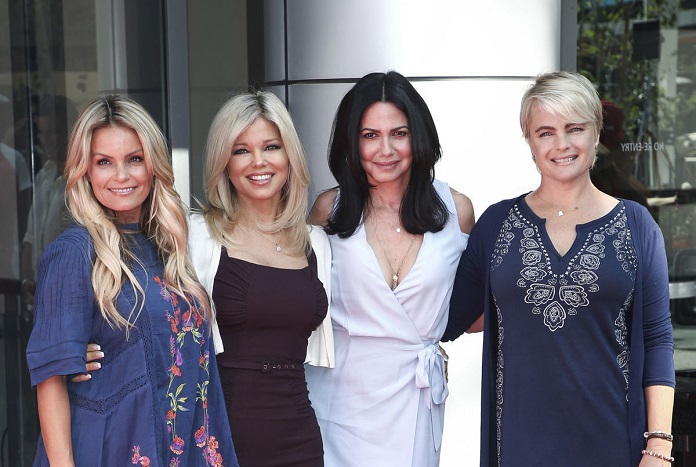 Erika has also appeared in an episode of Oprah: Where Are They Now?, in an episode about Baywatch and her character. She is due to appear in a documentary, Baywatch the documentary.
See Also: Olivia Rodrigo – Bio, Family Life and Celebrity Facts About The Actress
Dissecting Erika Eleniak's Modeling Career
Having always been a beautiful woman, Erika drew the attention of several magazines and brands in her heydays. Her most notable modeling achievement was her appearance in the July 1989 issue of Playboy magazine. She was named Playmate of the Month, and she had a centerfold appearance of her nude body.
Other accomplishments include 20 Magazine Covers. Some of those magazines include Hitkrant, Veronica, and more than 15 issues of Playboy, across Spain, Britain, Germany, Holland, and Italy.
And even though her modeling years are behind her, Erika Eleniak has aged like fine wine. She is still a beauty to behold, with a height of 5 feet 6 inches with a bodyweight of 52 kg. She still has her impressive body figure with measurements of 34 (bust), 24 (waist), and 32 (hip).
A Lifelong Career in Entertainment Has Made Her Rich
With decades under her belt in Hollywood, there is no gainsaying the fact that Erika has made a reasonable income for her efforts. Years of being a model and an ever-expanding filmography have given Eleniak an estimated $4 million net worth, according to Celebrity Net Worth.
No one knows precisely how each role contributed to her millionaire status. But a cursory look through her filmography shows Baywatch is one of the most significant contributors to her wealth. In modeling, her repeated appearances on Playboy is also a noteworthy source of her $4 million wealth.
What is Erika Eleniak's Up Ti Now?
She is still a Working Actress
Erika no longer has the name recognition she did in her heydays as part of the Baywatch cast. But she hasn't gone into hiding. She continues to appear onscreen, with a couple of projects lined up for the future. She is signed up to star in Marilyn Monroe Back? where she will play Marilyn Monroe. Erika will also appear in To Avenge, as Denise Castor.
She is Enjoying A Quiet Life with Her Partner in Canada
On the personal front, Erika has left the drama of Los Angeles behind for a quiet life with her partner in Calgary, Canada.
After she dated and got married to Philip Goglia on May 22, 1998, the marriage ended after six months. Since then, Erika Eleniak finally found love in the arms of Roch Daigle. He is a key grip crew member she met while she was filming one of her films, Snowbound, in 2001. The relationship proved to be so strong and perfect for Erika that she relocated from Los Angeles to live in Calgary, where Roch lived.
The couple has remained together ever since. They share a daughter, Indyanna, who was born in January 2006. Before she gave birth to Indyanna, she was pregnant with a baby in 2005, but it ended in a miscarriage.