It was in early October of 2017 that news of their breakup circulated. It came as a big surprise as they welcomed their child together the year before; fans and well-wishers of Tyra Banks were certain that the America's Got Talent host had finally found bliss in her love life with Erik Asla. Within hours of the report, sources believe that the Norwegian Photographer had moved out of their Los Angeles home. Although the split is believed to be amicable and mutual, there was no telling it was a sad day for both parties.
How Erik Asla Started Dating Banks
The year was 2013. Erik Asla had set out to do his photo duties at that year's Norway's Next Top Model; he had no idea he would meet love on the way. The same could've been said of Tyra Banks. Except that when both parties locked eyes at the event, they couldn't let go of each other.
Although they did a good job keeping their relationship off the public for a while, the paparazzi could not help but notice their uncanny holding of hands, smooching, and kissing at a lunch date. It was two years later before both of them came out in full trust that what they shared would survive the inevitable scrutiny that comes with media attention.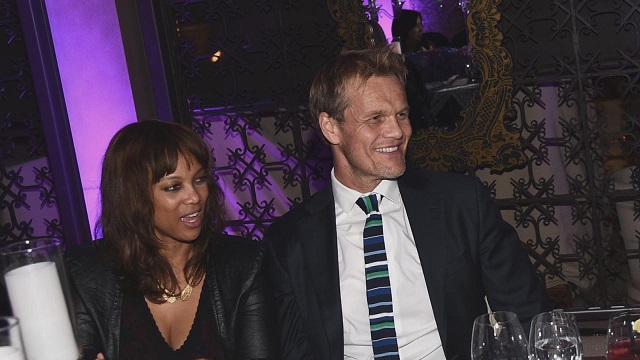 Their coming out seemed to hold steady and they even considered starting a family, although that decision came with its challenges due to Tyra Banks' fertility issues. Regardless, through the wonder of modern medicine, a surrogate mother helped bring a creation of Tyra Banks and Erik Asla to term, giving birth in January 2016 to a boy child they christened York Banks Asla.
Their relationship lasted five whole years and gave millions of fans hope that this time, Banks has found true love. The reason isn't farfetched. Since 1993, the beautiful actress had taken shots at nuptial bliss; from dating John Singleton, Seal, Chris Webber, to John Utendahl. So, has Erik Asla. Although the details remain sketchy, Asla has been in a relationship before. Though some sources say it was a full marriage, others maintain that he was only engaged. What's no contention, however, is that he had children from that previous relationship.
What We Know About Their Split
Before the relationship, Asla was not a popular face in the American celebrity space. But in the five years they were together, that changed pretty quickly. Considering Tyra Banks' heavy involvement in the modeling industry and her show America's Next Top Model, it comes as no surprise.
Although no one knew when exactly, it was pretty clear that the ex-couple planned on getting married. Especially after the birth of their son through a surrogate mother. But things went south in late 2017 when they called it quits. At the heat of the breakup, fans were keen to know what exactly went wrong but were greeted with the usual "irreconcilable differences". There are still speculations that Asla cheated on Banks but it is what it is, speculations.
Although the breakup was amicable, Asla reportedly cleared off all pictures of Banks from his Instagram handle. Well, throughout their time together, the photographer wasn't known for putting out so many photos of them together.
Who Is He Dating at The Moment?
Since they went their separate ways, Tyra Banks has moved on to date Canadian Businessman Louis Bélanger-Martin. Bélanger-Martin, a graduate of the University of Quebec, founded the companies DTI Software, Inc. and Groupe W, Inc. He also sits on the board of a few other successful companies, including Mobi 724 Global Solutions. Their relationship went public in August 2018 and seem to be going quite well.
Erik Asla on the other hand is not known to be dating anyone for now. According to sources, the father of four is currently single, or better still, not publicly in a relationship. He maintains a pretty low profile these days.
The Photographer Has Three Other Children
Erik Asla notably has a child with Tyra Banks but before the birth of his son, he has had three daughters from a previous relationship, details of which are still at large.
His daughters, Tatjana, Taylor, and Tatum have all grown into wonderful women with Tatjana taking after her father's ex-girlfriend to carve a professional career as a model. She is currently signed on to Elite Modeling.
Eric Asla Began His Career In Paris
Not much is known about the background and journey of Erik Asla until he became a noteworthy name in Hollywood. So far, we know he was born on May 21, 1964, in Norway. Other facts like his basic education history or even his higher education are unknown.
His journey to the top began in Paris before he headed over to the cultural home of modeling and art, Los Angeles. He began to work as an employee of Herb Ritts, starting as a photo assistant. The experience garnered from working for one of the most respectable names in fashion photography brought him success when he became his own boss. Since Erik Asla began his journey, he has worked for a plethora of brands, including Calvin Klein, Audi, Saks Fifth Avenue, Glamour, Elle, and many others.
His work led him to Norway's Next Top Model where his popularity status changed via a chance encounter with Tyra Banks. Although a popular man, Erik Asla prefers the modesty of keeping his life private but still manages to share his experiences and work with fans and admirers on social platforms like Twitter and Instagram.
See Also: Danny Fujikawa – Biography, Facts About Kate Hudson's Boyfriend
His Net Worth Compared to Tyra Banks' $90 Million
We mentioned earlier that Erik Asla might not be a name the average Joe anywhere in the world knows, like his ex-girlfriend, but as a professional photographer, he is a very much a successful man.
He has built a financial profile reflective of his professional success. Erik currently has his net worth estimated at $3.5 million. He earned his fortune from working for some of the top magazines and models in the world.
As of this writing, Asla has a following of 19.3k on Instagram where he shares a bulk of his content with followers. He also has a Facebook account that, so far, doesn't command much following. Arguably, these social media platforms have gained him some exposure that improved his earning power over the years. But compared to his ex-lover, Erik's wealth is not significant.