When talking about people who have set the culinary world on fire and taken it by the jugular, you can't help but mention Eric Ripert. The French Chef is internationally renowned for the wonders he creates in the kitchen especially when working with seafood. He has spent many years learning the trade and refining his skills at top restaurants across the globe, paving his way to the success and recognition he enjoys today. Eric Ripert's net worth is proof of just how big a deal the chef is.
Eric Ripert's Age, How Old Is He?
Asides from his adventures in the kitchen, Eric is also a published author with several bestselling books to his name. His book titles include Le Bernardin Cookbook, A Return to Cooking, On the Line, Avec Eric: A Culinary Journey with Eric Ripert, My Best: Eric Ripert, and 32 Yolks: From My Mother's Table to Working the Line. He has also made numerous appearances on several cooking-based TV shows such as Top Chef, in which he serves as a guest judge, Anthony Bourdain's No Reservations and Parts Unknown, Great Chef, and his very own Daytime Emmy-winning program AVEC ERIC.
Eric Ripert is also known for being the best friend and confidante of Anthony Bourdain. It was him who found the late chef in his hotel room in France after the latter committed suicide.
The culinary maestro was born in Antibes, France on the 2nd of March 1965. He grew up in Andorra after his family moved there when he was little. He fell in love with cooking and learned to cook from watching his mother and grandmother. At the age of 15, Eric moved to Perpignan, a city in southern France where he attended culinary school.
How The French Chef Made His Money
Upon completing his training at school, Eric landed his first job at 17, working for the prestigious La Tour D'Argent, a 400-year-old restaurant. Afterward, he went to work for Jamin serving under Joel Robuchon. He was given the position of Assistant Chef de Partie after a short while. He then took a break from his career to serve in the French Military before returning to Jamin to serve as Chef Poissonier.
Eric relocated to America in 1989 and ended up in Washington DC, working as a sous chef at the Jean Louis Palladin restaurant in Watergate Hotel. He moved again in 1991 to New York and worked as a sous chef for David Bouley for a short period before getting hired as a chef for Le Bernardin. He became the executive chef at the restaurant in 1994 and earned his first four-star rating from the New York Times the following year. Eric was only 29 at the time. In 1996, he became co-owner of Le Bernardin.
Under his direction, the restaurant has received three stars for excellence in cuisine from the Michelin guide, the maximum honor awarded. It has also been awarded four connect four-star ratings from the New York Times, making Le Bernardin the only restaurant to never drop a star in 10 years. In addition to its excellent status, the restaurant is considered the Temple of Seafood. Eric also collaborated with The Ritz-Carlton Hotel Company to open a restaurant called Blue in the Grand Cayman.
In his capacity as chef extraordinaire, Eric serves as Vice President of City Harvest's Food Council, an organization that brings together the best restaurateurs and chefs in New York to raise funds geared towards increasing the quantity and quality of food donations given to the needy.
For his culinary expertise, Eric Ripert has received several accolades including the James Beard Foundation's Top Chef in New York City Award, Outstanding Service Award, and Outstanding Chef of the Year Award.
What Is Eric Ripert's Net Worth?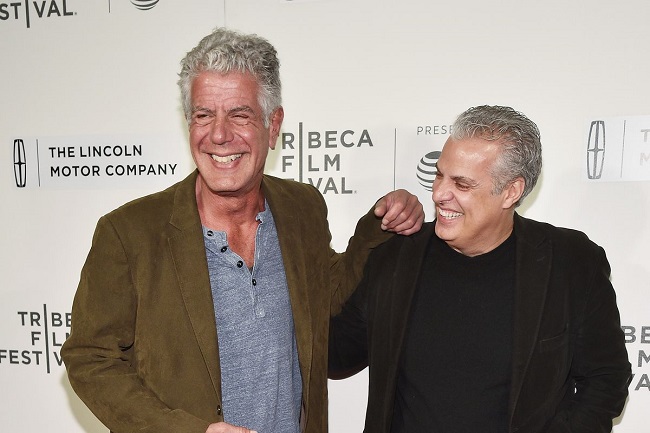 With more than three decades spent working as a chef, Eric has achieved an enormous amount of success that has consequently earned him a vast amount of money. As of 2019, Eric Ripert's net worth is estimated to be about $10 million dollars. He made most of his money from the salaries he receives as a chef, the revenue from his restaurant Le Bernardin, the sales of his books, as well as his appearances on television.
Eric Ripert's net worth is bound to increase in the coming years as the French Chef takes on new projects, diversifies his investments, and keeps on making deliciously expensive meals on offer at Le Bernardin.