Cooking is an art with which a lot of artists have come into the spotlight in recent years, delighting the world with their ability to transcend the taste buds through an innovative mixture of ingredients. Several of them have become famous as a result, one of them being Eric Ripert, a French chef who has consistently remained one of the best in the world since he came onto the limelight. There is so much to learn about Eric Ripert as a chef, and even more about his personal life, such as his married life and children.
In this article, we explore the less trodden path of Eric Ripert's love life and family members. Check it out below.
Who Is Eric Ripert?
Before diving into the married and family life of Eric Ripert, here is a quick look at who he is.
The French chef was born on the 2nd of March 1965 in Antibes, France. He began cooking at a young age via the influence of his mother and his passion for making delicious meals remained with him well into his teenage years when he set out to Paris to work in a restaurant. He worked under a couple of notable chefs in Paris, climbing up the ranks to Assistant Chef de Partie before eventually moving to the United States where he became a sous chef and ultimately, a chef. Since then, his food and restaurants have consistently ranked among the best in major cities like New York City.
Through his culinary career, he has become a media personality with published books and TV shows, earning multiple awards for them.
Is Eric Ripert Married?
He is a celebrated chef, a successful restauranteur, and a recognized TV host. Eric Ripert is also married; the French chef is married to Sandra Nieves.
Eric Ripert and Sandra Nieves have been together since 1998 after they got married in a destination wedding at Bali in 1998. The two met a few years before then in a restaurant where Sandra worked as a hostess.
Since getting married, they have given birth to one child, a son, Adrien, who was born in October 2003. The family lives together in an apartment in Manhattan, New York City.
Who Is His Wife, Sandra Nieves?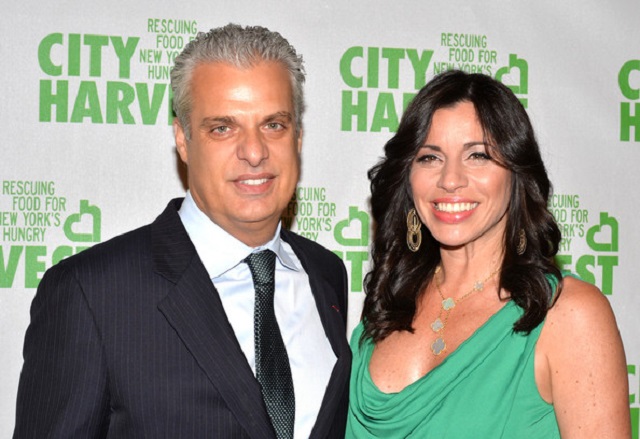 Not much is known about Eric Ripert's wife, Sandra Nieves. Despite the fact they have been married for over two decades, she has kept a distance away from the spotlight, only stepping out from the shadows to support her husband.
However, over time, a couple of basic information has emerged since Eric Ripert and Sandra got married. Sandra was born in 1967 and she used to work in a restaurant as a hostess. These days, however, Sandra Nieves works as a financial associate for the popular finance company, J.P. Morgan. She is also a real estate broker.
Who Are His Family Members?
Since becoming a celebrated chef with fans all over the world, through his books and interviews, we have had some insight into Eric Ripert's family members.
He has a mother, who, through her dedication to well-cooked and elaborate meals, inspired him to become a chef. Eric Ripert's mother, whose name remains unknown, was married to his father for a few years after he was born before they got divorced.
Despite the divorce, Eric Ripert maintained a close relationship with his father until he passed away when he was 11 years old. Eric's mother subsequently remarried, to a man named Hugo, who is credited by Eric Ripert to be responsible for the abusive parts of his childhood.
Outside of his immediate extended family, Eric Ripert's grandmother was also a skilled cook who was adept at making Italian and provincial soul food. He credits his mother and his grandmother for his instilling his passion for cooking.
See Also: Marcela Valladolid – Bio, Husband, Kids, Family Of The American Chef 
Other Facts About Eric Ripert
• Eric Ripert and the late chef, Anthony Bourdain were best friends. They have been friends since 2001. Eric was the one who discovered he was dead in his hotel room in June 2018.
• Despite a career in the food industry, Eric once served in the military. He served in the French Military for a year.
• His award collection includes awards from the James Beard Foundation, Michelin Guide, Zagat Guide, and multiple 4-star reviews from the New York Times.