The American football superstar Eric Berry has shown resilience and great endurance, thus, surviving a serious life-threatening disease – cancer. The player is currently among the highest paid safety/defensive back players in the National Football League. He has completed eight professional seasons and counting with the Kansas City Chiefs since the inception of his career in 2010.
Amazingly, Eric is a five-time Pro Bowler and has been named to the All-Pro First team three times. In addition, Eric is a cancer survivor and was named the 2015 AP Comeback Player of the Year upon his return to the game. Learn more about the American football safety star below.
Eric Berry Biography
The football safety was born as James Eric Berry on the 29th day of December 1988 in Natchez, Mississippi. He was born to Carol Berry and her husband James Berry. Eric Possesses an American nationality and is of black American ethnicity. He came from an athletic family, his dad played college football as a running back for the Tennessee Volunteers. Also, his younger brothers (twins) Evan and Elliott equally played for the Volunteers and are now free agents after the 2018 draft.
Eric started playing football as far back as when he was very young, he joined his first amateur team in high school. He graduated from Creekside High School where he competed both in football as well as other sports activities. Notably, he set the school record for long jump and 200 meters hurdle. He finished his high school career and was regarded as the third best player in the nation.
Berry went on to enroll at the University of Tennessee where he played college football under the guidance of coaches Lane Kiffin and Phillip Fulmer. He won SEC Defensive Player of the Year Award after making five interceptions with 222 return yards and 86 tackles in his freshman season. In his second season in 2008, Eric became the team's captain. Yet again, the defensive specialist got SEC Defensive Player of the Year honors for a second time and equally won the Jack Tatum Award for his stellar performance.
In 2009, Eric Berry recorded his breakout season; thus finishing the season with a record of 83 tackles and two interceptions. The player was named the recipient of Jim Thorpe and Jack Tatum Awards. He also declared for the NFL draft while forgoing his last college career season.
Career Stats and Injury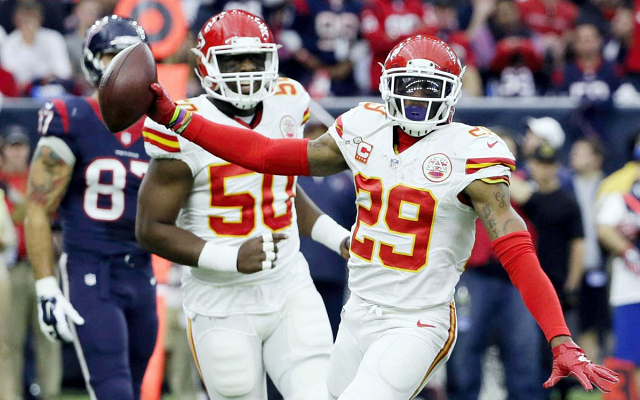 Eric joined the 2010 NFL draft where he was chosen by the Kansas City Chiefs as the fifth player overall in the first round of the draft. He signed a six-year rookie deal worth $60 million with the Chiefs in July 2010. Afterward, he made his first professional league appearance while featuring as the team's starting safety alongside Jon McGraw. Eric helped the Chiefs to maintain a 10 – 6 record while making 92 combined tackles and four interceptions at the end of the season. He also earned his first Pro Bowl call-up in the same year. The star has also made four more Pro Bowl appearances in 2012, 2013, 2015, and 2016.
He suffered an ACL injury in 2011 which led him to miss out of action the whole of 2011 season. After undergoing a successful operation, the defensive player rejoined the team in 2012 and was named as the starting safety for the Chiefs. That season, he appeared in sixteen games recording a total of 86 combined tackles and one interception. During the 2013 season, Eric had a total of 74 tackles and three interceptions in 15 gameplay. He suffered an ankle sprain in their game against Denver Broncos in 2014 and he also had Hodgkin's lymphoma the same season. As a result of that, he was placed on non-football illness list which ruled him out for the rest of the 2014 season.
Eric won the Comeback Player of the Year award in 2015 after posting a record of 61 combined tackles and interceptions. The safety was equally ranked number 55 on the list of NFL Top 100 Players in the same year. After that, he penned a one-year extension deal worth $10 million with the Chiefs in 2016. He concluded the season with 77 combined tackles and four interceptions. In 2017, Eric Berry became the highest-paid safety player in the NFL following his new contract with the Chiefs. The player signed a contract worth $78 million which will keep him with the Chiefs for six more seasons. In their first game against New England Patriots in 2017, Eric suffered a ruptured Achilles which kept him away for the remaining part of the season.
Does He Have a Girlfriend or Wife?
The American football safety has been doing well in his career; however, he is also successful in his love life. He has been in a few relationships but doesn't have a wife yet. Eric has been dating a gorgeous lady named Justine Brown. The pair have been spotted together on several occasions and they equally share their happy moments on social media. Nevertheless, they haven't confirmed their relationship to date. There are no much details available with regards to Justine. Obviously, a mere look at the pair would show you that they could make a great couple. We hope they seal their love with a nuptial bond soon.
Read: How Rich are NFL Team Owners?
Battle With Cancer
Although Eric has been active in the professional league for over seven seasons, his career hasn't been all rosy. The player has endured tons of injuries and sicknesses including cancer. It all started in December 2014 when Eric Berry started experiencing chest pains. Shortly after that, he was diagnosed with Hodgkin's lymphoma and was placed on the non-football illness list. His doctor Christopher Flowers revealed that his cancer could be properly treated using standard chemotherapy procedures.
Amazingly, after undergoing successful treatment, Eric was declared cancer-free after nine months. Apparently, the safety has joined a lineup up of other NFL cancer survivors. Some of these include Chuck Pagano (head coach of Indianapolis Colts), Josh Bidwell, and Nate Solder.