Emmy Rossum's net worth has significantly increased over the years, thanks to her over two-decades-long activities in show business. As an actress, she has had remarkable acting roles that have earned her a good number of prestigious awards but none of her past roles gave her as much public attention as did her "Fiona Gallagher" role in the TV series, Shameless. The comedy-drama series which is an adaptation of the British series of the same name, produced by English scriptwriter and producer Paul Abbott, has the singer-songwriter playing the main role in the show's first season through the 9th season. 
No doubt, Emmy Rossum's net worth is huge and is bound to increase with time especially as the showtime series is continuously being renewed but how much has the actress been able to amass for herself through her much-publicized role? This and more facts about her net worth are what we will be revealing to you as you read on.
How Much Has Emmy Rossum Earned So Far? 
The New York City-born daughter of a corporate photographer is reportedly worth about $12 million, which according to many is not so bad for someone who has been in the industry for over twenty years. She began making her wealth as a singer and member of the Metropolitan Opera Children's Chorus with director Elena Doria as its director. She joined the Chorus at the age of seven and for seven years she performed with the group and even had the chance to perform with singers like Luciano Pavarotti and Plácido Domingo. When she started her acting career fully in 1997, she began with a role as Alison Martin in a single episode of the legal drama series Law & Order and as Abigail Williams in As the World Turns. Although these were minor roles, it helped to prepare her for the major roles she would be portraying in the future.
Making significant progress in her acting career, the actress made her film debut on Maggie Greenwald's drama film, Songcatcher where she took a much more important role than her previous roles. She was known as 'Deladis Slocumb, an Appalachian orphan'. The film's success at the box office also gave a major boost to Emmy Rossum's Net Worth with a reasonable percentage. Songcatcher was produced with about $1,800,000 and it recorded about $3,050,934 at the Box office. Other Emmy Rossum's films that made huge success at the box office include Mystic River, The Phantom of the Opera, You're Not You, and Comet.
How Much Does Emmy Rossum Make Per Episode of Shameless?
The TV series Shameless did not just offer Emmy Rossum her first main role plus a chance to direct two of its episodes but it also gave her a better chance to increase her wealth. Before announcing her departure from the showtime's longest-running original scripted series in 2018, Emmy Rossum is said to be one of the highest-paid cast members in the series. According to reports, Emmy Rossum's net worth significantly increased following the $350,000 salary she receives per episode of Shameless. William H. Macy who also has a main role in the TV series, acting as Frank Gallagher, the father of Fiona Gallagher, is the only actor enlisted in Shameless with the same salary per episode as Emmy. As a matter of fact, the two are the highest-paid Shameless cast members so far.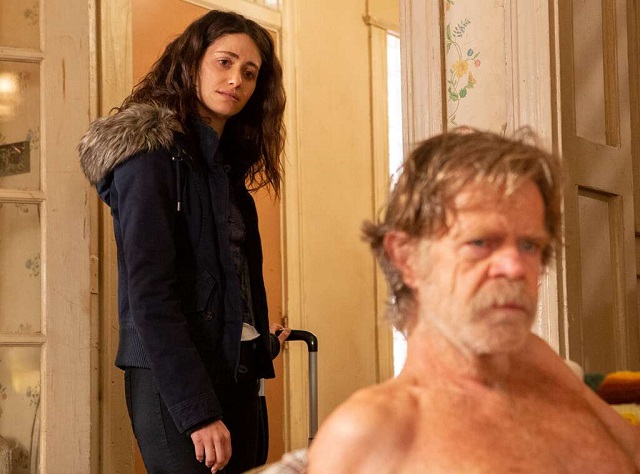 The multiple award-winning actress had her salary per episode increased after her protest against the disparity between her salary and that of her Emmy nominated co-star Macy. Her fight for equal pay even halted the production of the show's eight-season until a negotiation was made between herself and the producers.
See Also: What is Tyrese's Net Worth, Is He Really Broke as He Claimed?

Is Emmy Rossum Leaving Shameless and Why?
Showtime's cult-favorite show, Shameless season 10 is set to premiere on November 3, 2019, and sadly, Emmy Rossum will not be part of it cast members returning. The news about her departure from the showtime series circulated in the media shortly after the 9th season was concluded. The star actress first announced her departure in an open letter she posted on her Facebook page where she also commended the showtime's cast and crew for working together as a family. The news was then confirmed by the showtime's production body, saying her departure is saddening but the show has to continue.
Emmy's announcement about leaving the show after Season 9, came barely two years after she won the battle for equal pay. She was 23 years old when she joined the show and she left in August  2018, at the age of 32.