Emily Montague is an American actress whose graceful and almost effortless ability to aptly transform into her assigned movie characters has been applauded by her many fans who often describe her as "tireless" and "polished" on social media. With a very cute face and blonde hair flowing down her shoulders in wispy rows, Emily has been hailed as one of the truly beautiful women in Hollywood and has won the hearts of many to herself over the years.
Beginning her acting from the early 2000s, Emily has gone on to appear in several movies and TV series during her career. She is now best known for her performance in Fright Night, a 2011 horror/comedy movie as well as Days of Our Lives, a TV show, and The Endless, a 2017 Sci-fi/Thriller film.
Emily Montague Bio
Emily Montague was born on the 30th day of August 1984. The actress was born in Livingston, a township in New Jersey, USA. The identity of her parents has not been revealed as the actress has remained quite tight-lipped with that information over the years. It is also not known if she has any siblings with whom she grew up or if she happens to be the only child of her parents. This is mainly because the actress has always loved to keep a low profile and does not share much on social media.
Information about the high school or college that Emily Montague attended are quite vague at the moment. However, it is believed that she had a university education. She has since gone on to pursue a successful career in Hollywood.
Acting career
Emily Montague began her acting career in 2004 when she was cast in Paper or Plastic, a short film. Her role in the short film gave her the exposure and experience needed for bigger exploits ahead. 2004 was an eventful year for Emily. It was in that same year that she featured in Cold Case, a TV series in which she played the role of Heather. She went on to feature in Door to the Throne, a TV movie and then rounded up the year with appearances in Beauty in Chaos, a drama/war film. In 2005, after her eventful outing in 2004, Emily starred in a short film called Portrait of a Man and a Woman: Los Angeles, c. 2004.
2006 turned out to be a very busy year for Emily. First, she was cast in South of Nowhere, a TV series in which she played Josie. She then starred in Close to Home, another TV series in which she played Brooke Riggs. Shortly after, she featured as Hannah Guttman in yet another TV series called Boston Legal. Following this, she appeared in Mystery Woman: Redemption, a TV Movie before rounding up the year with an appearance in Quarters, a short film.
Emily got her big break on TV in 2007 when she was cast in Days of Our Lives, a TV series in which she played Abby Deveraux. Her performance in the series got her a lot of accolades and won her loads of fans in America.
In 2010, she starred in two TV series CSI: Crime Scene Investigation and Melrose Place. The next year (in 2011), she appeared in two more TV series; Rules of Engagement and Memphis Beat. She also starred in Fright Night, a horror/comedy film that earned her even more acclaim as an actress. Fright Night is now one of the movies for which she is best known.
Over the years, Emily has continued to wow fans with her sterling acting skills, appearing in high-ranking movies and TV series like Resolution in 2012, Bones in 2014, Scandal in 2016 and The Endless in 2017. In the process, she has raked in quite a lot of money and is reported to be worth around $1 million.
Who Is Her Husband (Damon Dayoub)?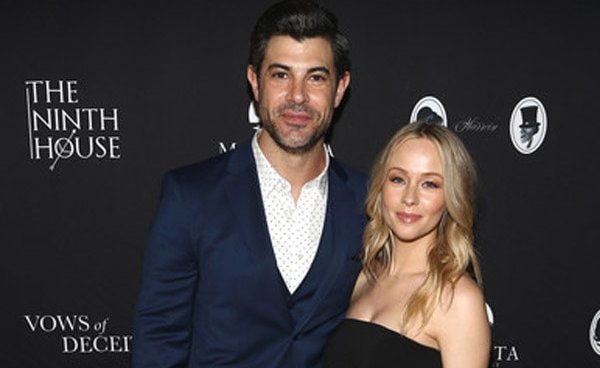 Emily Montague is a happily married woman. She is married to Damon Dayoub, an American actor who is known for his performances in movies like Danger One and Moontrap Target Earth.
The exact time in which Emily and Damon met and fell in love is not quite clear. However, we know that they got married in 2015 after dating for quite a while. The couple now lives peacefully in Los Angeles, California.
READ ALSO: Ellen Muth – Bio, Weight, Husband, Net Worth, Where Is She Now?
Who Is Emily Montague's Ex (Chris D'Elia)?
Before falling in love with Damon Dayoub and marrying him, Emily Montague used to be married to another man. She was married to Chris D'Elia, a popular American stand-up comedian, writer, podcast host, and actor.

The couple got married in 2006 and stayed married till 2010 when the marriage hit the rocks. The exact reason why they divorced is not known. They have both moved on with their lives and to different partners.

Fact Check: We strive for accuracy and fairness. If you see something that needs updating,