Emery Kelly is an up and coming American pop singer and actor who is one-third of the band named 'Forever In Your Mind'. He came to be known in 2013 after he auditioned for the season 3 of the TV music competition, The X Factor. Although he had been evicted at the Bootcamp stage of the competition, his performance impressed Simon Cowell that he gave him a second chance which saw him team up with two other evicted contestants and allowed to re-contest as the trio named Forever In Your Mind.
So far, Emery Kelly's career as a pop artist has been synonymous with the name of his band. He has also received a few acting roles as you are going to see here.
After getting eliminated from X Factor Season 3 just before the round of 16, the Forever In Your Mind trio went ahead to release a couple of EPs and singles. Here, you will get to know all there is to know about Kelly who has continued to play dominant roles in the pop group.
Emery Kelly Bio & Age
The pop singer and actor was born as Emery Mikeal Thomas Kelly in New York City, 3 days after Christmas, that is December 28th, 1997. He is American by nationality and multiracial.
Emery Kelly was raised in New York where he received education up to High School. His mother is Joanna Kelly. We do not have much detail about his father except that he was a firefighter. We also know that Emery has a sister called Veronica Kelly who is a rising actress.
While he was 16 in 2013, Emery Kelly was teamed up with Ricky Garcia and Jon Klaasen to form the pop group Forever In Your Mind as already hinted. After being evicted as group contestants from X Factor Season 3, the group did not get discouraged. Instead, they went ahead to release their first music video, it was for their single titled 'She Lights The World'.
Two years later, after Jon Klaasen had left the group and was replaced with Kelly's cousin Liam Attridge in 2014, the group released a song titled 'Sweet Little Something'. In December of that year (2015), the group again released a season-themed song entitled 'Wrapped Up For Christmas', with Emery Kelly playing a major role in it all. They have also released EPs like FIYM (2016) and Euphoric (2018) among other numerous releases.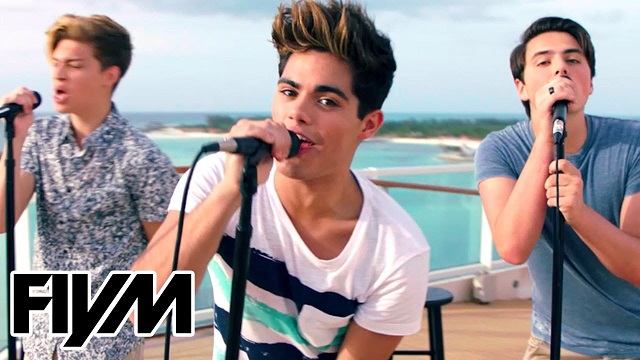 Emery Kelly also proved his mettle as an actor when he starred as Lucas Mendoza in the Netflix sitcom Alexa and Katie in 2018. He starred alongside Paris Berelc, Isabel May, Jolie Jenkins, Eddie Shinn, Tiffani Thiessen, and Finn Carr. He has also been cast in a couple of Disney Channel shows like Dog with a Blog, Best Friends Whenever, and Lab Rats.
The New Yorker is also an avid gamer and sports person. He enjoys skateboarding among other outdoor activities. He also enjoys listening to music and traveling.
Emery Kelly's Height
Emery Kelly stands at a height of 5 feet 9 inches (175 cm) and has a listed weight of 70 kg (154.4 lb). His hair color is black while his eye color is dark brown. The singer has pouty lips and usually leaves his curls unkept.
SEE ALSO: Kyyngg – Bio, Age, Girlfriend, Net Worth, Is He Gay Or Transgender?
Other Facts About The Singer
Social Media Presence
Emery Kelly maintains a presence on Twitter and Instagram. He has over 661,000 followers on Instagram and over 96,000 on Twitter at the time of filing this report.
Sexual Orientation and Dating History
Emery Kelly's sexual orientation is straight. We know this from the fact that he started dating the actress Bailee Madison in May 2015. The relationship did not last long as it ended in November of the same year. Since then, Kelly has remained very much single at least in the eyes of the media and the public.
Professional Association
Kelly and his band are signed to Hollywood Records and he is being managed by Paradigm Talent Agency located in Los Angeles.
Residence
Emery resides in New York and Los Angeles in the United States of America.
His Favorite Artists
Emery Kelly is a big fan of Chris Pratt, he looks up to the actor and his favorite actress is Emma Watson.
What's His Net Worth
As of mid-2019, Emery Kelly is reported to be worth an estimated amount of $1 million. We hope this continues to grow as the singer progresses in his career.