Considering there is an abundance of cooks and chefs who manage restaurants all over the globe, the food preparation aspect of the food industry might not seem like the most lucrative of professions. However, like every other profession, there are those who are able to rise to the top 1% in skill, talent and personality and amass a significant sum in net worth, such as Emeril Lagasse, who has been at the highest levels of the business for more than three decades.
He has forged a very successful career as a television personality, a chef, and a restauranteur. We took a look at Emeril's net worth and how he made his money below. Check it out.
Emeril Lagasse's Net Worth
According to several sources, the celebrity chef has an estimated net worth of $70 million. His high net worth comes from a long career where he is known for his long list of restaurants, his entrepreneurial spirit that has his name on everything from spice blends to cookware and as one of the early faces of the Food Network.
With his $70 million net worth, he has been able to live a comfortable life as well as give back to charity through his foundation, Emeril Lagasse Foundation, which has given over $6 million in grants to children's charities.
How Did Emeril Lagasse Achieve His Net Worth?
Emeril Lagasse's journey to a $70 million net worth began after he graduated from Johnson & Wales University culinary school in 1978. In less than a year after he graduated from the school, he rose to the position of Executive Chef at Dunfey's Hyannis Resort and four years after, got his first major award as Chef of the Year.
He left Dunfey's in 1982 and joined Commander's Palace in New Orleans as an executive chef, serving at the restaurant for seven and a half years before he went on to establish one of the biggest contributors to his net worth, his restaurant.
Emeril's Restaurant was established in 1990 and it quickly became a popular fixture in the New Orleans nightlife, earning Restaurant of the Year award from Esquire Magazine. Using his self-developed New Orleans style with the mastery of Creole and Cajun cuisine, the restaurant immediately became a money maker.
Since he established his first restaurant, Emeril Lagasse's $70 million net worth has been boosted by the establishment of multiple restaurants in his name. With a total of twelve restaurants in his name, majority of which are located in New Orleans and Las Vegas, such as NOLA, Emeril's Delmonico, and Lagasse Stadium
In addition to his long list of restaurants, the net worth of the celebrity chef has also come from a very long career as a TV personality. He began his career on TV on the show, Great Chefs in the early 90s, and he has hosted his own shows, like How to Boil Water, Essence of Emeril, Emeril Live, The Emeril Lagasse Show and several others.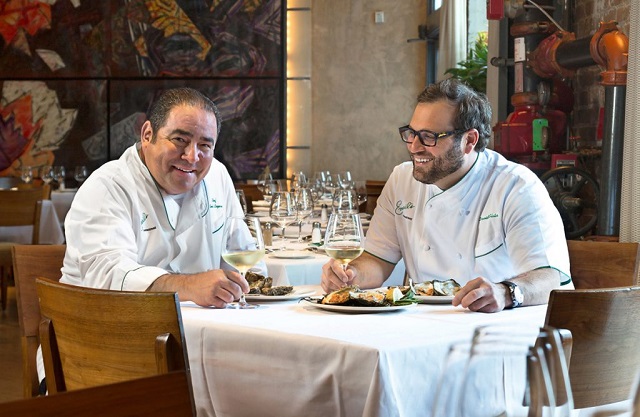 Through a long TV career that has spanned over two decades, Emeril has earned highly through yearly salaries for his various shows. He has also appeared in a couple of films and TV shows like Emeril, The Princess and the Frog, Treme, Last Holiday and Space Ghost Coast to Coast.
Leveraging on the national popularity he gained from his TV shows, Emeril Lagasse built on his net worth with entrepreneurship ventures like his own branded grocery product line, containing products like salsas, pasta sauces, marinades as well as a signature Essence spice blend.
He also has a kitchenware and cookware line, produced in collaboration with Wusthof and All-Clad, and he also has a line of kitchen electrical appliances in collaboration with T-Fal. The performance of his kitchenware and cookware line led to an acquisition by another famous personality in the food industry, Martha Stewart, who bought the rights to his line of products and TV shows for an estimated $50 million.
See Also: Robert Irvine's Net Worth And How The Celebrity Chef Made His Money
Not one to leave money on the table, another contributor to the celebrity chef's net worth is his trademark of some catchphrases which he popularized via his shows, like 'Bam!', 'Kick It Up A Notch', 'Aw, Yeah, Babe', and 'Feel the Love'. Being trademarked words and phrases, he owns the rights to every sold shirt or merchandize bearing the phrases.
He has also written more than eight cookbooks, releasing his first, New New Orleans Cooking in 1993. A majority of his bibliography has sold several thousands of copies.