Social media is really throwing up many celebrities in our time. One of those social-media made celebrities is a beautiful (actually sexy) girl popularly known as Elle Johnson. She did not only get famous by posting her alluring photos on Instagram, but also by having a globally famed quarrel with the admin of the photo and video-sharing social network. Don't mind. The details of the quarrel will be made available in the ensuing paragraphs of this post.
With hundreds of thousands of followers on Instagram and Twitter, Elle is already well known surely. However, here you will be acquainted with lesser known facts about her.
Biography
Elle is basically a model who has covered many men's magazines such as Maxim, FHM and Sports Illustrated. She is reported to have been born in Park City, Utah State in the United States of America. Her birth date is also reported to be October 25, 1990.
There is hardly any more detail we are able to come across about Elle's family. So, we do not know her parents or siblings by name. But, from her social media account (Instagram precisely), it is obvious that Elle is still residing in Park City, Utah State – where she was born and brought up. Could it be she is still living with her parents? Well, we can't tell for sure.
Concerning her education history, we don't have any reliable detail about where, when or whether she went to formal schools. There is a source that seems to suggest that Elle Johnson attended South Brunswick High School in North Carolina but we can't be sure if it is this same Elle Johnson or another. In any case, Elle manifests the intelligence of someone who is well educated.
Does Elle Johnson Have A Husband Or Boyfriend?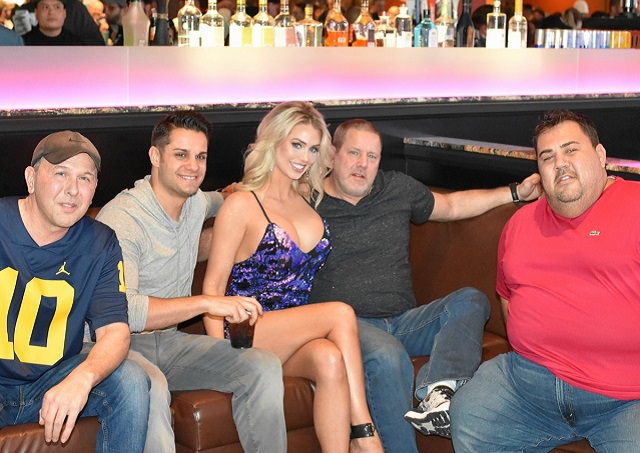 Elle Johnson is not known to be openly involved in a romance with anyone we know. All we know are clues of her possible romantic relationships or crushes.
On February 3, 2019, for example, she posted a photo of herself in the midst of four young men (the one shared above). She entitled the photo thus: "Hangin with the #Chicago Posse! I think they're betting #Patriots although Dominic in the red shirt is a prop bet guy". Singling out "Dominic in the red shirt" makes some fans think that he might be her man or her crush at least.
However, on March 30, 2019, she shared another picture of herself dressed sexily with the photo of late singer and actor Elvis Presley faintly in the background. She was placing her hand 'romantically' on Elvis' chest. She entitled that photo as follows: #Elvis and me. I'm no #AnnMargret, but I love the #King #VivaLasVegas #LasVegas #Vegas". Many who didn't know that the rock music sensation died way back in 1977 also began to speculate that her new crush was Elvis.
This later Instagram photo with Elvis has cast doubt on the earlier one with four young men. Could it be it was just the same 'platonic' feeling she was expressing towards the anonymous Dominic? We are still digging to know the man who is possibly dating Elle Johnson. So far, she is widely reported to be single.
Also read: Anfisa Arkhipchenko: Biography and Profile of The Model and TV Personality
Other Facts You Need To Know About Elle Johnson
Apart from what you have already known about Elle on the above paragraphs, here are other facts you need to know about her.
She Had A Quarrel With The Instagram Admin
On January 16, 2017, Elle Johnson shared a tweet lampooning the Instagram Admin for having banned her account for posting sexually suggestive photos. She described Instagram as "that abusive boyfriend who kicks you out & you still come back with love balloons". In another statement, she accused Instagram of discriminating against her, saying "I post nothing different from what SI_Swimsuit or other 'men's mags' post on Instagram".
However, true to her word, she returned to Instagram "with a love balloon". In October 2017, she opened a new account with the social networking service. Certain reports seem to suggest that, this was not the first time her Instagram account got taken down.
She Started An Online Movement For Women To Stop Putting On Bra
Elle Johnson is not only known for protesting against Instagram for banning her account, but she also started a movement for other women to join her in baring their breasts without censor. The movement goes by the hashtag #FreeTheCleavage. In one Instagram post she used to promote the hashtag, Ellen posted a bikini photo of herself with the title "Yo ho ho ho, a bra-less life for me!".
Physique
Elle Johnson is slim with a perfect 'figure-8' body with the breast-waist-hip ratio of 36-26-36. She stands at a height of 5 feet 7 inches and has a listed weight of 60kg. Her eye color is blue while her hair color is blonde.