Due to the level of popularity the sport brings to them, the lives of American football players are always under scrutiny, and that includes their wives. In the case of Alex Smith, quarterback for the Washington Redskins, Elizabeth Barry, a former cheerleader and now his wife since 2009, shares the spotlight with him.
Unlike Alex Smith who makes headlines practically every week in each football season, his wife, Elizabeth, lives a quiet life away from the media. In this article, we detail everything there is to know about her, including her relationship with Alex Smith and other facts.
Who Exactly is Alex Smith's Wife – Elizabeth Barry?
If there is one fact that stands out about Alex Smith's wife, it would be that she used to be a cheerleader. The former cheerleader was born on the 2nd of April in 1984. Before she met Smith, not much was known about her background, and since getting married to the star quarterback, that hasn't changed very much.
Details about the former cheerleader's background and education remain hidden away from the media, except for her professional life.
She was a cheerleader for the Oakland Raiders for a time in the early 2000s to the late 2000s. A career that not only brought her into the middle of football action but also led her to meet her husband, Alex Smith.
Her Relationship With Alex Smith
While Elizabeth Barry was shaking her pom-poms for the Oakland Raiders, Alex Smith was rolling out as a quarterback for the San Francisco 49ers. With both of them connected by football, fate eventually led them to each other, sometime in the mid-2000s.
They had their first date at a St. Patrick's Day Festival in San Jose, California, treating themselves to a nice dinner after the festivities. Their good first date led to many more and eventually, a relationship started. In 2007, Elizabeth Barry and Alex Smith took their relationship to the next level and got engaged.
Two years after their engagement, Elizabeth Barry became the wife of Alex Smith. They got married at the Palace Hotel in San Francisco, where the couple spared no expense in celebrating their union.
Alex Smith and Elizabeth Barry have become parents with the birth of their three children – Hudson, who was born in 2011, Hayes born in 2013 and their third child, a daughter, Sloan, who was born in February 2016.
The couple remains strong together, and there have been no signs of divorce since they became husband and wife.
Other Interesting Facts About Elizabeth Barry
She is a Philanthropist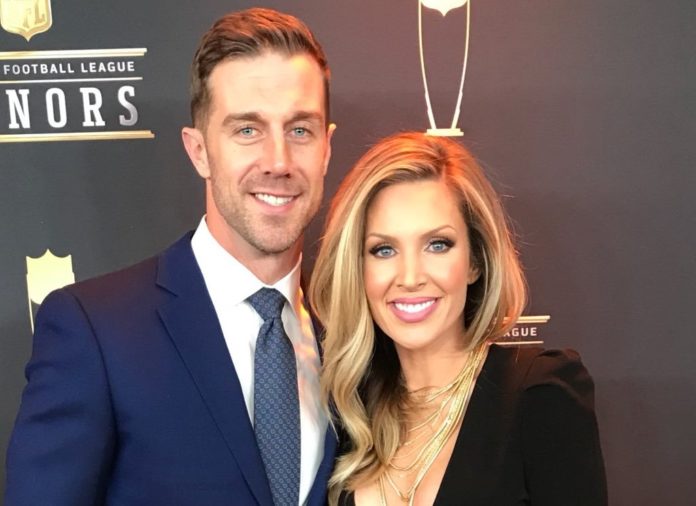 Since Elizabeth Barry became Alex Smith's wife, she has committed herself to take care of their home and raise their children. However, outside of her domestic responsibilities, she, along with her husband, have committed themselves to a variety of charity works. One of them, in particular, is the Hope House based in Kansas City, an organization focused on domestic violence prevention.
Aside from Hope House, she is also a significant supporter of the Alex Smith Foundation, a foundation established by her husband in 2007. The foundation, which is tasked with helping underprivileged children go to college, has spent more than $500,000 sending foster teens to college under the Alex Smith Guardian Scholars Program. As a partner in the charity, she has contributed in sourcing for funds and the proper allocation of funding raised by the foundation.
Elizabeth Barry is a Supportive Partner
She might not be one to court media attention for herself but she is not afraid of stepping out in defense of her husband. She once notably defended him against undermining criticism from a meteorologist, Gary Lezak, in 2016.
Also, a year after she got engaged to her husband, he lost his best friend, Andre Dabagghian. Andre was a part of their burgeoning family, having joined them on their first date in celebration of St. Patrick's Day.
During what was a difficult time for Alex Smith, Elizabeth Barry was an ever-present and supportive partner who helped the quarterback get through a difficult period in his life.
She has also been known to show up at various media events with her husband.
See Also: Who Is Baker Mayfield's Wife (Emily Wilkinson)? 
She is Very Active on Social Media
Elizabeth Barry might not be making the front-page news like her husband; still, fans of the quarterback and the couple can keep up with her and her family via social media.
She maintains an active presence on Twitter and Instagram, via the account, @lizbsmith11.