A veteran actress, Elaine Joyce is one of those professionals whose energy never seems to run out. After coming into the industry as a teenager in 1961, the indefatigable American veteran is still waxing strong and will soon be celebrating the 60th anniversary of her eventful career life. Apart from her career across film, TV, and Broadway, Elaine's personal life has equally been quite eventful. She has so far lived through three marriages and only one ended in a divorce. Through her married life, the Funny Girl actress is a proud mother of two.
Elaine Has Been Active Since The 1960s
Elaine Joyce Pinchot was born on December 19, 1949, in Kansas City, Missouri. Her father is Frank Pinchot while her mother is Iliclina (Nagy). She was raised in Kansas City together with her brother Frank Pinchot. The family's heritage has been traced to Hungary.
She made her TV debut in an episode of the CBS TV drama Route 66 in 1962, after her first role as an extra in the 1961 romantic musical drama film, West Side Story. This was followed by a series of uncredited roles in musical films such as The Music Man (1962), Bye Bye Birdie (1963), and Funny Girl (1968). She also appeared as a dancer in an episode of CBS's The Danny Kaye Show in 1965.
Also in the 1960s, she appeared in 4 episodes of Richard Bernard Eheart's comedy/variety program, The Red Skelton Show. Many years later, she would play Edith Olsen in Motel Hell, a horror-comedy. She followed it up with another horror film titled Trick or Treat where she acted as Angie Weinbauer in the year 1986. Between 1986 and 1987, the actress hosted the first season of The All-New Dating, a syndicated version of ABC's The New Dating Game.
She Gained Recognition for Her Broadway Role In Sugar
So far, Elaine Joyce has appeared in over 60 films and TV series which include City of Angels (1976), Mr. Merlin (1981-82), Magnum, P. I. (1983), Simon & Simon (1984-85), and Murder She Wrote (1984-93). You will also find her in Too Close For Comfort (1985), Uphill All the Way (1986), The Young and the Restless (1993-94), Days of Our Lives (1993), and Beverly Hills, 90210 (1995-96).
Nonetheless, many would argue that her most notable work was a stage project. In 1972, Joyce made her first Broadway appearance by scoring the titular role in Sugar, a musical remake of Marilyn Munroe's 1959 romantic comedy film, Some Like it Hot.
Her striking depiction of the character fetched her the 1972 Theatre World Award. Despite playing diverse roles in several hit films and TV series, it was Elaine's role in Sugar that earned her what happens to be the only accolade she has ever won in her acting career thus far.
Elaine Joyce's First Marriage Lasted for 12 Years
As already hinted, Elaine has been married three times in her life. The dexterous American actress was first married to the Broadway actor, singer, and dancer, Robert Jack Stein (popularly known as Bobby Van). After rumors of their wedding made rounds in October 1967, the duo scheduled their wedding on the 2nd of December 1967 but later postponed it to March 21st, 1968, because Elaine's brother had already fixed his wedding that same day. However, their wedding didn't materialize in March but they later walked down the aisle on the 1st of May 1968 in Las Vegas.
Surprisingly, Bobby Van filed for divorce a week later and cited "fraud" as the reason. He stated that the actress cajoled him to marry her by telling him that she wanted kids which he found out to be false. Nevertheless, the couple went on to live together for twelve years before Bobby succumbed to brain cancer on July 31st, 1980. He was buried in Mount Sinai Memorial Park Cemetery, Hollywood Hills, Los Angeles, California.
What We Know About Her Second Marriage
Following the death of her first husband in 1980, Elaine Joyce hooked up with the TV producer, John Levoff. He is known for his works as the executive producer of films like Capone Behind Bars (1989), A Family Torn Apart (1993), and I Married a Monster (1998).
The couple exchanged marital vows in 1985. However, they called it quit and went their separate ways in 1992 after being together for seven years.
Exchanging Vows for The Third Time With Neil Simon
Elaine Joyce tied the knot the third time, this time with Neil Simon who was a famous playwright, screenwriter, and author known for his works in Come Blow Your Horn, Brighton Beach Memoirs, The Odd Couple, Biloxi Blues, and Lost in Yonkers. After they dated for six weeks, the duo exchanged marital vows at their best friend's house in September 1999; in a private ceremony that was officiated by Judge Robert M. Letteau.
Before their wedding, Elaine Joyce learned about Neil's dilapidating health condition and suggested postponing their wedding, but they later wedded a month ahead of the slated date. Five years later, Neil had a kidney transplant after his friend Bill Evans donated one of his kidneys to him as he suffered kidney failure. He also suffered from dementia and Alzheimer's disease.
Unfortunately, Elaine Joyce's husband kicked the bucket on the 26th of August 2018 after being on life support for complications of pneumonia. Before his demise, he collaborated with his wife on the 2007 TV show, Second Time Around.
Meet The Children of The Actress
Having been married thrice, Elaine Joyce is a doting mother of two children. She has a daughter named Taylor with Bobby Van. Taylor was born on June 22, 1976. She also has a son named Michael with John Levoff. Michael was born sometime in 1986.
Elaine Joyce's daughter married her high school heartthrob, Evan Gray Meyer, on the 18th of October 2003 in an elaborate ceremony. The event which was held at the Beach Club in Santa Monica, California, was officiated by an old friend of her family, Robert M. Letteau, a retired Los Angeles Superior Court judge who also presided over her mother and step-father's wedding.
Michael Levoff is a Fordham University graduate of Business and Communications. He is currently the senior vice president of public affairs and strategy at Las Vegas Sands Corp. He has been working with the corporation since August 2019. Prior to that, he worked as a senior vice president, public affairs & development at Genting Americans Inc. from May 2014 to August 2019. Michael also worked as the vice president of public affairs partnership for New York City from March 2012 to May 2014.
Elaine Joyce's son with John Levoff married Raine Halley Katz, a Google marketing strategist in New York on November 14, 2014, at the Four Seasons Resort in Hualalai, Kailua-Kona, Hawaii. The ceremony was officiated by Libby Kelson-Fulcher, a Universal Life minister.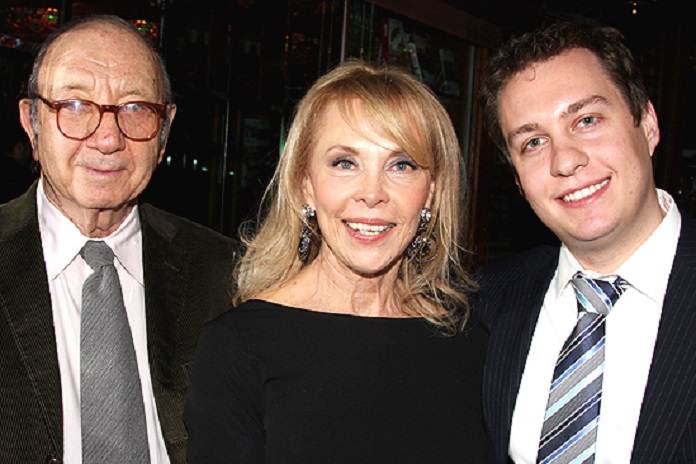 Raine is the daughter of Laura Jill Katz, a college admission counselor in Cranbury, and Ira Marc Katz, a consultant at Insigniam, a management consultancy in Narberth, Pennsylvania.
Elaine Has Made About $1.5 Million from Acting
Having been active in the entertainment industry for over five decades, Elaine Joyce has amassed huge wealth from her career. According to various reports, she has made as much as 1.5 million from the roles she has played.
Beyond scoring copious acting roles, Elaine also gathered her fortune through serving as a panelist and host of several notable shows. Her talk show appearances include The Andy Griffith Show (1967), The Mike Douglas Show (1974–1980), and The Carol Burnett Show (1969).
As for game shows, she has appeared in I've Got a Secret (1976), Tattletales (1974–1975), The $10000 Pyramid (1978–1986), Super Password (1985–1986), What's My Line? (1968, 1973–1975), and Match Game (1973–1979). What she earned from all these are best known to her but it is apparent that they contributed in no small manner to her wealth.
The Actress Is a Multi-millionaire
This is so because, in addition to what she has earned from her career, she inherited huge wealth from her late husband Neil Simon.
From what we gathered, what she inherited includes two Ritz Tower apartments in Park Avenue, Manhattan, New York City, $12 million cash, his watch collection, and equally, his household furnishings. She was also ordered through his will to donate Neil's original manuscripts and notebooks to charity or anyone she pleases.