Since she made her on-screen debut in the 2003 TV drama series The Wire as Tosha Mitchell, Edwina Findley has appeared in over 25 movies and TV shows. She has also made appearances in theatre and has forged a very successful career for herself. Although she may not be an A-list actress, Edwina Findley has a few major appearances to her name in popular projects such as Treme, If Loving You Is Wrong and Shots Fired.
She hasn't just made a name for herself on Television but racked up a few credits to her name in movies like Get Hard, where she appeared alongside Kevin Hart and Will Ferrell. Below, we take a look at her background, career and other interesting facts you need to know. Read on…
Who is Edwina Findley?
You are more likely to find her go by the name Edwina Findley Dickerson these days, but her birth name was Edwina Findley and she was born on the 30th of October, 1980 in Washington D.C.
Not much is known about her background, particularly her parents but she grew up in the US capital and attended Duke Ellington School of the Arts where she was a musical theater major. She also attended and graduated from New York University where she studied acting.
It is believed that her academic dedication to acting came from a childhood desire to become an actress and she began her career in theatre, appearing in plays like Crowns, Funked Up Fairytales, Crumbs from the Table of Joy and several others. After a significant period acting on stage, she began her career in front of the camera in 2003, when she began to play Tosha Mitchell in a recurring role on the HBO acclaimed show, The Wire.
After her time came to an end on the show, she has gone on to appear in over 25 more movies and TV shows, making her feature movie debut in 2005 in the TV movie, Angel, where she played Charlene. Her first big-screen role came in 2012 when she appeared as CeCe in Red Tails and has featured in others like Middle of Nowhere, Insidious: Chapter 2, Get Hard, Free in Deed and much more.
In Television where Edwina Findley has had the biggest impact, she has played minor roles in shows like One Life to Live, Blue Blood, Law & Order, Brothers & Sisters, Veep, Black Lightning, and Fear the Walking Dead. Her major TV projects include Shots Fired where she played Shirlane, Treme where she played Davina Lambreaux between 2010 and 2013, and her most popular role yet, as Kelly Isaacs in If Loving You Is Wrong. She starred on the show between 2014 and 2017.
Not only has she fulfilled her childhood dream as a professional actress to a degree of success, but she has also received a couple of recognition, including an award nomination by the Independent Spirit Award for her performance in Free in Deed as Best Supporting Female.
Aside from her acting career, Edwina has dedicated herself to philanthropy and she is the co-founder of the nonprofit organization, AbundantLifeU. The NGO focuses on helping young people uncover their purpose and achieve their dreams. As part of her role for the NGO, she travels across the country speaking and teaching young people, women, and leaders at various events.
Is Edwina Findley Married?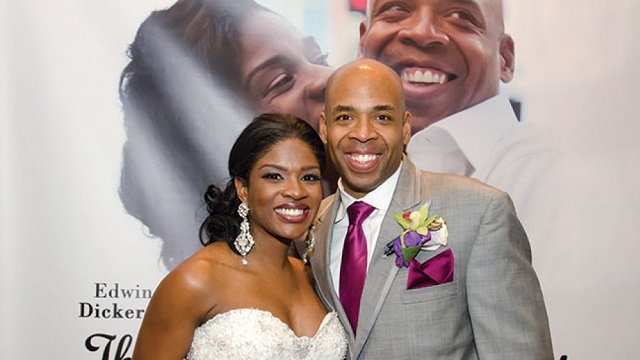 Edwina Findley has been a married woman since 2012. She has been married to Kelvin Dickerson since the 17th of November, 2012 and they have since given birth to a child, a daughter, Victoria Rose who was born in November 2016.
What is Her Height?
Edwina is a beautiful woman of African American heritage and it is all apparent in her 5 feet 6 inches body height, complemented with a bodyweight of 59 kg. Not much is known about her body measurements such as her bust, waist, and hip sizes, but multiple appearances on the red carpet or major events have shown Edwina Findley to be an attractive woman with great physical shape. Being African American, she has dark hair and black-colored eyes.
See Also: Haley Pullos: Facts About The Actress That Played Molly Lansing-Davis In GH
Other Facts About Edwina Findley
1. She is a true African American i.e her father is an actual African who is from Liberia in West Africa while her mother is from California. She was also conceived in Liberia but was born in Washington D.C.
2. During her time at NYU's Tisch School of Arts, she was honored with the Outstanding Artist and Scholar Award, Founder's Day Award and was inducted into the Tisch University Scholars Program. She also made the Dean's list.
3. She was once a roommate of Hollywood icon, Viola Davis.