If you ask any standup comedy fan to list their favorite comedians in history, more than 90% would have Eddie Murphy firmly lodged somewhere around the top ten. Comedy Central certainly does; the network places him at number 10 on its list of the 100 Greatest Stand-Ups of All-Time list. While Eddie Murphy is well respected for his work in standup, it is his work onscreen, playing different roles that made him a household name.
He has appeared in more than 60 films, several of which are classics of the comedy genre. From Beverly Hills Cop series to The Nutty Professor, he has shaped generations with his work as a comic actor. Below, we took a look at five acting roles that prove he isn't just your ordinary comedian.
1. Reggie Hammond in 48 Hrs
At the age of 21, Eddie Murphy would have been forgiven for an average or lousy performance when he made his debut in 48 Hrs. However, Eddie went on to deliver one of the best performances of his entire career in the action-comedy film, which is often considered the first "buddy cop" film made.
Playing the role of Reggie Hammond, a convict, alongside Nick Nolte's Jack Cates, Eddie Murphy stood out like a veteran of the big screen. He delivered a performance that is considered today to be a standard of the action-comedy genre. It is even more impressive when you consider that his role was initially supposed to be played by Richard Pryor, a man who is arguably considered the greatest comic of all time.
2. Donkey in Shrek
The concept of a talking animal in animation is not exactly a new idea, and it carries an embedded hilarity. However, only Eddie Murphy could elevate the gag into one of the best voice acting comedy performances of all time with his work in the animated movie series, Shrek.
His role as Donkey, an annoying fast-talking donkey, was nothing short of genius. It is no wonder that despite playing the supporting role in the Shrek series, many fans of the series point to his character as their favorite.
Moreso, it wasn't just fans who found his performance in the film exceptional, so did critics and award bodies. He earned a BAFTA Award for Best Performance by an Actor in a Supporting Role, another from Saturn Awards, Annie Awards, MTV Movie + TV Awards, and more.
3. Billy Ray Valentine in Trading Places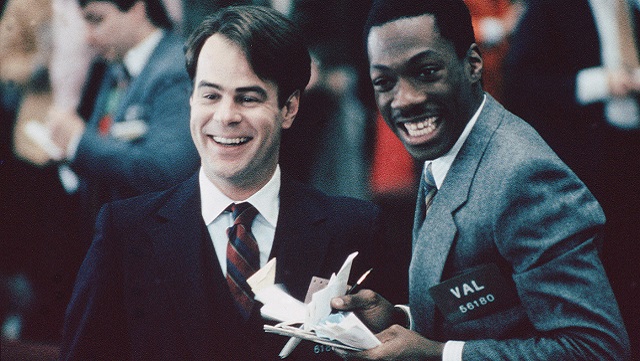 It is one thing to deliver a masterclass as a comedic actor in your first-ever onscreen role; it is another to do so in your first two films. Eddie Murphy did that with his role as Billy Ray Valentine in Trading Places, his second movie role.
His character, Billy Ray, was a hustler who became rich off the scheming antics of two brokers. The film was an exercise in how a stand-up comedian can fully transition their comedic timing, acting ability, and space awareness onscreen, and Eddie scored a perfect mark.
The film not only became the second successful film of his career in as many attempts but solidified him as a movie star. He won a Golden Globe nomination and an Image Awards nomination for his performance.
4. Axel Foley in Beverly Hills Cop
Beverly Hills Cop was released in the same year the cult classic; Ghostbusters was released. Beverly Hills Cop outgrossed Ghostbusters at the box office, all thanks to the performance of Eddie Murphy. He delivered a performance worthy of the reputation he had cemented over the course of his first two movies.
Playing the cop, Axel Foley, Eddie Murphy gave an exciting performance worthy of the role of a man seeking revenge. It was the first role outside the more relaxed and comedic characters in his first two films. His performance cemented his ability to take on a meatier role. Unfortunately, one cannot say the same of his performances in the sequels that followed.
See Also: How Eddie Murphy Achieved a Net Worth of Over $100 Million 
5. James 'Thunder' Early in Dreamgirls
Dreamgirls was one of the successful roles in the middle years of Eddie Murphy's career. The film, which was about three black female singers in the 1960s, saw Eddie play the role of James 'Thunder' Early as one of the key supporting actors.
His performance in the role was exemplary and a reminder of how great he was in his early years. And if the audience felt he was remarkable while he shared scenes with Jamie Foxx and Beyonce, so did the Academy Awards, who gave him his only nomination to date.
An Academy Award nomination for Best Supporting Actor is not something you expect from a standup comedian. But, it is just one of the many reasons that prove Eddie Murphy isn't just your ordinary comedian.