It is not every day that a story of a young boy dropping out of school ends on a happy note with fame and wealth, but the life of Rob Dyrdek is one of the few exceptions to the story. Despite the fact Rob Dyrdek dropped out of high school, he has acquired more than $50 million in net worth, with the bulk of it coming from his career as a skateboarder.
To his fans and fans of skateboarding, Rob Dyrdek is an inspiration, and many wonder how he turned his passion to a source of enormous wealth, especially considering the sport is not considered one of the most lucrative in the world. Well, in this article, we answered those questions, and you will read all about them below.
How Rob Dyrdek Achieved His Net Worth
At the age of 11, Rob Dyrdek rode on his first skateboard, a gift he got from professional skateboarder Neil Blender. By the time he was 12 years old, all he did was think about skateboarding, including how much tricks he wanted to do and how he was going to do them, which is why it came as no surprise that before he celebrated his 13th birthday, Rob Dyrdek was already getting a significant boost in his net worth by securing sponsorships from corporate brands.
His journey from teenager daydreaming inside of his classroom to international skateboarding star with a net worth of $50 million involves sponsorships, entrepreneurial ventures, acting and reality TV personality.
Sponsorships
Without a shred of doubt, the most significant contributor to Rob Dyrdek's net worth is the wealth of sponsors he has gotten over the course of his career as a professional skateboarder. At the age of 12, Rob signed his first sponsorship deal with the same company that sponsored Neil Blender.
Over the years, Rob Dyrdek added more, such as Silver Trucks, EA Skate, Monster Energy, and DC Shoes (formerly Droors Clothing). He was with DC Shoes from 1995 to January 2016. Rob sponsors also included Alien Workshop, a skateboarding company.
Entrepreneurship
Another major contributor to Rob Dyrdek's enormous net worth is his entrepreneurial ventures. He began life as an entrepreneur when he was a teenager, establishing his first company, a skateboard parts selling company, Onion Trucks, at the age of 18.
The company was not an overall success, but it became his introduction into the world of business, which has helped him to a $50 million fortune. He invested in Alien Workshop, the company that once sponsored him. He also established a Skateboarding league, Street League Skateboarding.
He founded the league in 2010, and it has grown in strength since its inauguration, with a significant broadcasting deal with Fox Sports 1 and league winner walking home with more than $2 million in prize money.
Other entrepreneurial ventures of Rob Dyrdek include his production company, Superjacket Productions, through which he has produced programs like Ridiculousness, The Dude Perfect Show, Crashletes, and a few others.
He is also a co-founder of Black Feather Whiskey, Ultracast, and an investor in the UFC as well as Beach Whiskey. Rob Dyrdek holds a majority of his business interests under his holding company, Dyrdek Machine.
Film and Television
Outside of his entrepreneurial ventures and the income he earned through sponsorships over the course of his professional career, Rob Dyrdek's net worth has also come from his long career as a TV personality. He has worked as an actor and a reality TV personality.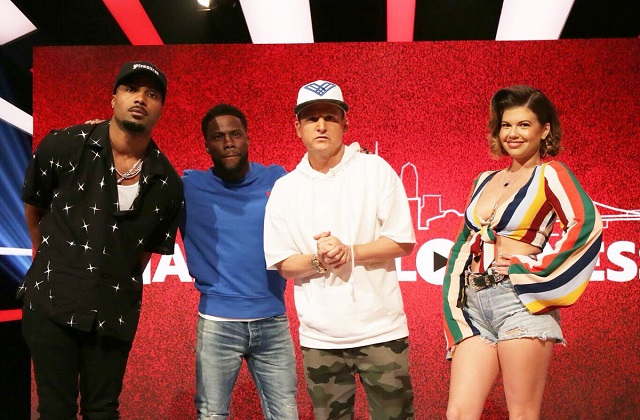 His first foray into television was in 2006 when he began appearing on the show, Rob & Big. He starred on the show between 2006 and 2008, in a total of 21 episodes, earning $60,000 per episode. After the show ended, he began another reality show, Rob Dyrdek's Fantasy Factory, which ran between 2009 and 2015, earning $100,000 per episode across a total of 66 episode appearances.
He has appeared in other programs such as Amazingness and Ridiculousness, both of which were produced by his production company, Superjacket Productions.
As an actor, Rob Dyrdek has earned his net worth through appearances in more than eight films and TV shows. Some of the credits to his name include Righteous Kill, his debut film, where he played a character named Rambo, the film Street Dreams, and the TV show, Rob Dyrdek's Wild Grinders. In the latter, he appeared in 55 episodes between 2012 and 2015.
Other media works that have fetched Rob Dyrdek money and contributed to his net worth, including video game appearances and licensing. He featured in the video game series, skate.