| Age/Date of Birth: | January 17, 1982 |
| --- | --- |
| Height: | 6 ft 4 in or 193 cm |
| Ethnicity/Race: | African American |
| Nationality: | American |
| Net Worth: | $120 million |
| Wife or Girlfriend: | Gabrielle Union (2009-Present) |
| Parents: | Dwyane Wade, Sr. and Jolinda Wade |
Everyone probably knows Dwyane Wade as a retired American professional basketball player who played in the shooting guard position for NBA's Miami Heat and Chicago Bulls.
Since we all know the man, let's start off with the lesser-known facts about him. You probably don't know that Wade is regarded as one of the best-dressed men in the world. He was named and honored alongside the likes of Barack Obama, Nicolas Sarkozy, the former President of France, and other leaders across the world for this in 2006 and 2007.
Before that, the basketball star was named in People Magazine's 50 Most Beautiful People. But, greater than that, Dwyane has a beautiful heart. He has been actively involved in promoting human welfare. To cite an instance, Wade reacted to the 2010 Haiti earthquake with huge compassion. He co-founded Athletes Relief Fund for Haiti which raised over $800,000 for the victims 3 days after it was launched.
While you wouldn't be bothered with other instances of his humanitarian benevolence, you should know that Wade takes his Christian faith very seriously. He loved the number 3 jersey because it reminds him of his faith's Three-In-One God (Trinity) doctrine.
The NBA Star Got Married to His Current Wife in 2014
Full Name: Gabrielle Monique Union-Wade
Date of Birth: October 29, 1972
Occupation: Actress, Activist, and Author
Years Active: 1993 – Present
Dwyane Wade is married to Gabrielle Union, the popular American actress known for her romantic comedy films. She was once married to former NFL player, Chris Howard. They met in 1999, married in 2001, and fell apart in 2005.
Following the divorce, Wade and Union became lovers in 2009. They were having a good time together but couldn't get to spend more time together due to their careers; so they parted. This happened earlier in 2013 but in December of that same year, Wade and Union figured out how to fix their affair. With that, they got engaged and eventually became life partners on 30th August 2014.
It is believed that they signed a prenuptial agreement before getting married. They had their honeymoon in the Maldives and Tanzania. In her book, We're Going to Need More Wine, Union disclosed that she's had no fewer than 8 miscarriages. The couple welcomed a daughter via surrogate in 2018.
Dwyane Wade's First Wife Was His High School Sweetheart
Full Name: Siohvaughn Funches
Date of Birth: September 6, 1981
Occupation: Public Speaker, Counselor, and Author
Duration of Marriage: 2002 – 2010
Since Gabrielle got married to Wade, she has been a good stepmom to the two sons the basketball player had with his first wife, Siohvaughn Funches.
Funches was Dwyane's high school girlfriend. He married her in 2002 and first expressed his intent to part ways with her in 2007. They had a long court fight but eventually, got divorced in 2010.
A graduate of the University of Phoenix where she obtained a degree in psychology, Siohvaughn got certified by Capella University for counseling. It is also known that she studied at The John Marshall Law School.
Meet the Kids He Had With Siohvaughn Funches
1. Zaire Blessing Dwyane Wade
Date of Birth: February 4, 2002
Occupation: Basketball Player
The first child of the former basketball player, Zaire was born the same year his parents got married. He has followed his father's path and is striving to make it to the NBA. Zaire played basketball at Sierra Canyon School in Chatsworth, Los Angeles. He now plays for Brewster Academy in New Hampshire, an independent boarding school.
2. Zaya Wade
Date of Birth: May 29, 2007
Occupation: Undetermined
Zaya is the second child from Dwyane Wade's marriage to Funches. He is barely a teenager and it is hard to tell what career path he would settle for. Although Zaya was assigned male at birth, she identifies as a transgender girl and according to her father, she had known right from when she was 3 years old that she was transgender.
Who Is Dwyane Wade's Love Child?
Full Name: Xavier Zechariah Wade
Date of Birth: November 10, 2013
Parents: Dwyane Wade and Aja Metoyer
Recall that the former basketball player and Gabrielle Union parted ways before they got back together and got married? To fill the gap Gabrielle left, Dwyane got pretty close with his childhood friend, Aja Metoyer. As life would have it, Aja became Wade's baby mama. She gave birth to the player's son, Xavier Zechariah, on the 10th day of November 2013.
Wade and Union Have Only One Child Together
Full Name: Kaavia James Union Wade
Date of Birth: November 7, 2018
Gabrielle Union has been heartbroken several times while striving to have a child. Childbearing has been rough on her as she has suffered as much as nine miscarriages and left disappointed several times because of failed IVF.
Given that, one can see why she regards Kaavia as a miracle baby. She was born via surrogate on the 7th of November 2018.
Wade's Divorce from Siohvaughn Cost Him $5 Million
It is no secret that the end of Dwyane Wade's marriage to Siohvaughn warranted an acrimonious court battle. The former basketball player filed for divorce in 2007. The public and contentious battle that ensued had Siohvaughn claim that Dwyane wouldn't provide for his family. She also alleged that he was abusive towards her and cheated several times.
Dwyane insisted that Funches was mentally unstable and out to make money from their failed union. He sued her for defamation and at some point, Siohvaughn was ordered to go through a mental health evaluation.
Their battle dragged on until March 2011 when Wade won custody of his two sons with Funches. He was awarded sole care, custody, and control of the kids while Siohvaughn got what was described as "regular parenting time".
While Dwyane won custody of their kids, he would later be ordered to pay Funches $5 million for divorce settlement. In addition to that, she kept their mansion in South Holland and four cars. Without a doubt, the amount is massive but it didn't take away Dwyane Wade's status as a multi-millionaire.
His NBA Career Earnings Contributed Most to His $120 Million Net Worth
Beginning his career with the Miami Heat in 2003, his 13-year love story with the side ended in 2016 after he signed a two year $47.5 million contract with the Chicago Bulls to much dismay of fans. Wade, explaining his reason, said that he felt unwanted and unappreciated by Pat Riley, Miami Heat's President.
Wade's first salary for playing for the Miami Heat was $2.6 million. As his career progressed, so did his paycheck; in his last year with the franchise, his salary was $20 million following a two-year, $31.1 million contract he inked in 2014. From 2003 to 2016, Wade made over $138 million in salary alone. Like LeBron James, he employed the method of signing short-term deals in order to increase his flexibility and allow room for better annual deals.
His deal with the Chicago Bulls left his annual salary at over $20 million. He earned roughly $7 million less the following year and after his return to Miami Heat in 2018, he couldn't command up to $2.4 million.
Breaking Down His Salary Over the Years He Played in NBA
Dwyane Wade's 16-years NBA career had him play for three teams, including the short time he spent with the Cleveland Cavaliers. This saw him earn over $190 million in salaries, below is a breakdown.
2003/04 – $2,636,400
2004/05 – $2,834,160
2005/06 – $3,031,920
2006/07 – $3,841,443
2007/08 – $13,041,250
2008/09 – $14,410,581
2009/10 – $15,779,912
2010/11 – $14,200,000
2011/12 – $15,691,000
2012/13 – $17,182,000
2013/14 – $18,673,000
2014/15 – $15,000,000
2015/16 – $20,000,000
2016/17 – $23,200,000
2017/18 – $17,021,382
2018 -19 – $2,393,887
Endorsement Deals Also Decide How Much Dwyane Wade Make a Year
Beyond his earnings from playing basketball, the star also earned a great deal from endorsements. He boasts of about 15 endorsement partners including Gatorade, Pepperidge Farm, Hublot, Mission and Naked Band Group.
In 2015, Forbes calculated his earnings from endorsements at $12 million, bringing his total earnings for the year to $27 million. This left him as the 6th highest-paid player in the league that year. The following year, Naked Brand Group launched a Wade-brand line of underwear and his income soared.
The American business magazine reported that he earned a total of $32 million that year, $12 million came from endorsements. He improved the amount the following year (2017) as it was estimated that he earned a total of $36.2 million that year. As he remained a prolific endorser with about 15 partners, it wasn't a surprise that $13 million out of the total amount was earned from his endorsement deals.
In 2018, he was ranked among the highest-paid athletes in the world. In all, he earned $31.8 million that year and $14 million came from endorsements. Dwyane sold his own line of branded Nike sneakers until 2012 when he left them to sign a long-term deal with Li-Ning, China's sports accessory company. The deal included over $60 million worth of equity stakes in the company. In addition to his plethora of endorsements
He Owns a Wine Label, Neckwear, and Socks Line
The former professional basketball player has leveraged the popularity that came with his career to build his wealth in no small manner. Back in 2013, he decided to step up his stake in fashion and launched a line of socks with Stance under the Wade Collection brand. When the socks line was launched, it encompasses about 13 brightly colored patterns.
After that, he launched a collection of neckwear and accessories with The Tie Bar. Released under the Dwyane Wade for The Tie Bar label, the line offer included bow ties, tie bars, cuff-links, neckties, and pocket square. It was said that the cuff-links would retail for $30, the tie bars for $20, and the tie and bow ties for $25.
In addition to the above, owns Wade Cellars which he collaborated with Jayson Pahlmeyer to launch. The wine label now features a variety of collections that retail between $20 and $95 per bottle.
An Overview of the Major Sources of His Wealth
Salaries from his NBA career
Earnings from endorsement deals
Li-Ning equity stake
Income from his wine label
Profits from neckwear and socks line
Dwyane Wade Spends His Money on Luxury Cars and Mansions
For someone as rich as he is, with various business interests that keep the income coming, it is only natural that Wade has indulged in splashing his wealth on exotic cars and luxurious mansions.
His car collection is made up of expensive rides like Audi A7, Cadillac Escalade EXT, Lamborghini Gallardo, Mercedes SLR McLaren, Porsche 911 GT2 RS, McLaren MP4-12C, 2019 Ferrari GTC4Lusso T, Maserati Ghibli, Alfa Romero Giulia, 2017 Jaguar F-PACE, Ferrari F12 Berlinetta, McLaren 720s Spider, McLaren 570s, and Hummer H2 SUT.
The NBA star owns a $10.6 million mansion on La Gorce Island. It is a 13,000 square foot Mediterranean-style home with 6 bedrooms, a pool, and a private dock. Dwyane and his wife also own a $6 million Mediterranean-style villa in Sherman Oaks. Earlier in 2020, it was reported that the couple parted with $17.9 million to purchase another mansion in Hidden Hills, L.A.
The retired Miami Heat guard bought a 14,000-square-foot mansion for $10.645 million in 2010 and renovated the building which he later put up for sale asking for $32.5 million. He would later slash the price to $26.5 million.
Early Life and Career Beginnings
Wade was one of those kids with a difficult upbringing. Born in a gangster-ridden area of South Side Chicago, Illinois, on 17th January 1982, his parents separated when he was just 4 months old. As a young child, Wade was already an eyewitness to several gang violence and police raids.
His mother's drug addiction and involvement with drug kingpins only worsened the situation. To escape the misery, his older sister Tragil tricked him into believing they were going to see a movie but actually took him to live with their father in a less-violent area of the neighborhood. Wade was 8 at the time. His father who was a retired Army sergeant remarried a year later and moved the family to Robbins, Illinois.
In Robbins Illinois, Dwyane started his journey to a successful NBA career. He turned to basketball to overcome any chance of involvement with gang violence. He often played with his older stepbrothers and new friends under the tutelage of his father who at the time was coaching a local recreation center.
Later, Wade enrolled in Harold L. Richards High School in Oak Lawn and continued playing basketball. He found success with the varsity team and even became its star player, but the major break didn't come until after much hard work and a 4-inch increase in height.
Despite setting records at Harold High, Wade's poor academic performance gave him only three college recruitment chances. He settled for Marquette University in 2000. After sitting out the first season due to academic problems, Wade debuted in the 2001/2002 season and later lead his team to her first-ever Conference USA championship.
Wade's success in basketball only increased from that point. He had to forgo his senior year to enter the 2003 draft. He was selected in Round 1 as 5th overall by the Miami Heat and his success continued. Together with fellow rookie LeBron James, he received a unanimous selection to the 2004 NBA All-Rookie Team. Wade's star shone brighter following the departure of Shaquille O'Neal who was the team's star player at the time.
The star played his first NBA finals game in the 2005/2006 season against Dallas Mavericks. It was the first NBA final in the history of the Miami Heat, and not only did they snap the championship trophy; Wade received the Finals MVP trophy. The player went on to win two other championships with the franchise in 2012 and 2013, reaching the finals in 2014.
List of All His Career Achievements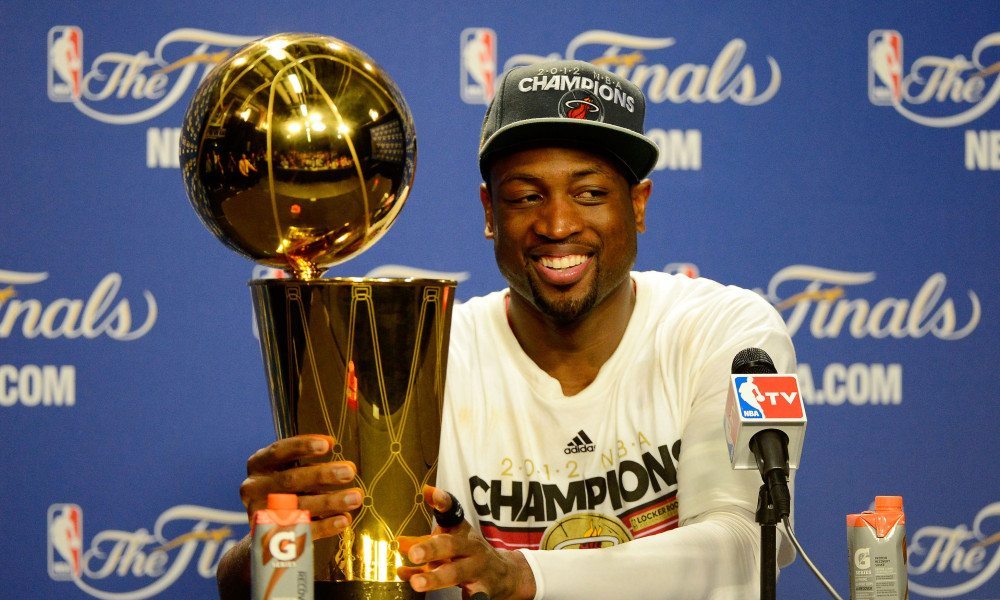 Wade was part of the 2008 Olympic NBA unbeaten team that defeated the world champions, Spain, to snap the gold medal. Below are other major achievements of his career.
Third-team All-American – SN (2002)
Consensus First-team All-American (2003)
Conference USA Player of the Year (2003)
NBA All-Rookie First Team (2004)
Bronze Medal With Team USA (2004 Summer Olympic Games)
3× All-NBA Second Team (2005, 2006, 2011)
2005 Best Breakthrough Athlete ESPY Award
Bronze medal with Team USA (2006 FIBA World Championship)
2006 Sporting News Sportsman of the Year
2006 Best NBA Player ESPY Award
2006 Sports Illustrated Sportsman of the Year
2× All-NBA First Team (2009, 2010)
3× All-NBA Third Team (2007, 2012, 2013)
3× NBA All-Defensive Second Team (2005, 2009, 2010)
3× NBA Champion (2006, 2012, 2013)
13× NBA All-Star (2005, 2006, 2007, 2008, 2009, 2010, 2011, 2012, 2013, 2014, 2015, 2016, 2019)
NBA Finals MVP (2006)
NBA Skills Challenge Champion (2006, 2007)
Gold Medal With Team USA (2008 Summer Olympic Games)
NBA Scoring Champion (2009)
NBA All-Star Game MVP (2010)
No. 3 retired by Marquette Golden Eagles
No. 3 retired by Miami Heat
Miami Heat all-time leading scorer
Miami Heat all-time assists leader
Profile Summary
First Name:
Dwyane
Last Name:
Wade Jr.
Also Known As:

Wade, Flash, D-Wade, The Flash
Sex/Gender:

Male
Profession:

Former professional basketball player
Famous For:
Being one of the most explosive shooting guards of his time
Colleges/Universities Attended:

Marquette University
Educational Qualifications:

N/A
Religion:

Christianity
Birthday & Zodiac

Age/Date of Birth:

January 17, 1982
Zodiac Sign:
Capricorn
Birth Place:

Chicago, Illinois, United States
Nationality:
American
Ethnicity/Race:

African American
Country of Residence:

The United States of America
Physical Attributes

Height:

6 ft 4 in or 193 cm
Weight:

100 kg or 220 lbs
Eye Colour:

Dark Brown
Hair Color:

Black
Other Body Measurements:

Chest – 48 in or 122 cm, Arms / Biceps – 15.5 in or 39.5 cm, Waist – 36 in or 91.5 cm
Relationships

Marital Status:

Married
Spouse/Partner:

Gabrielle Union (2009-Present)
Family and Relatives

Father:

Dwyane Wade, Sr.
Mother:
Jolinda Wade
Children:

Zaire Blessing Dwyane (b. February 2002), transgender girl named Zion 'Zaya' Malachi Airamis Wade (b. May 29, 2007), and daughter, Kaavia James Union Wade (b. November 7, 2018)
Siblings:
Darnell McDaniel (Brother), Tragil Wade (Sister), Demetris McDaniel (Brother), Kodhmus McDaniel (Brother), Deanna Wade (Sister)
Other Relatives:

N/A
Net Worth
Estimated Net Worth:

$120 million
Salary:
He earned a salary of 235,138,473 all through his basketball career
Source of Wealth:

Baketball career