Dustin Diamond is an American actor, musician, and stand-up comedian. He rose to fame in the 90's for his role as Screech on the teen sitcom "Saved By The Bell" and its spin-offs. While his former co-stars have gone on to achieve much success in Hollywood, sadly, the same can't be said about Diamond who more often than not appear in the tabloids for awkward reasons like making a sex tape, writing a controversial tell-all autobiography, and even doing jail time. Read on to discover more.
Dustin Diamond Biography
Dustin Neil Diamond was born on January 7, 1977, in San Jose, California. He launched his acting career quite early as a child. In the late 80's, he made appearances in movies such as "Purple People Eaters", "She's Out of Control" as well as the TV series "The Wonder Years and It's a Living".
In 1988 Dustin began playing the lovable and nerdy Screech on Disney TV show "Good Morning, Miss Bliss" which lasted for one season and canceled in 1989. The show followed a group of high school students and their teacher Miss Carrie Bliss portrayed by Hayley Mills.
After its cancellation, the show's reboot under the title "Saved by the Bell" aired on NBC for 4 seasons from 1989 to 1993. Subsequently, the show was followed by two spin-offs- "Saved by the Bell: The College Years" which aired primetime from 1993– 1994 and "Saved by the Bell: The New Class" (1993–2000).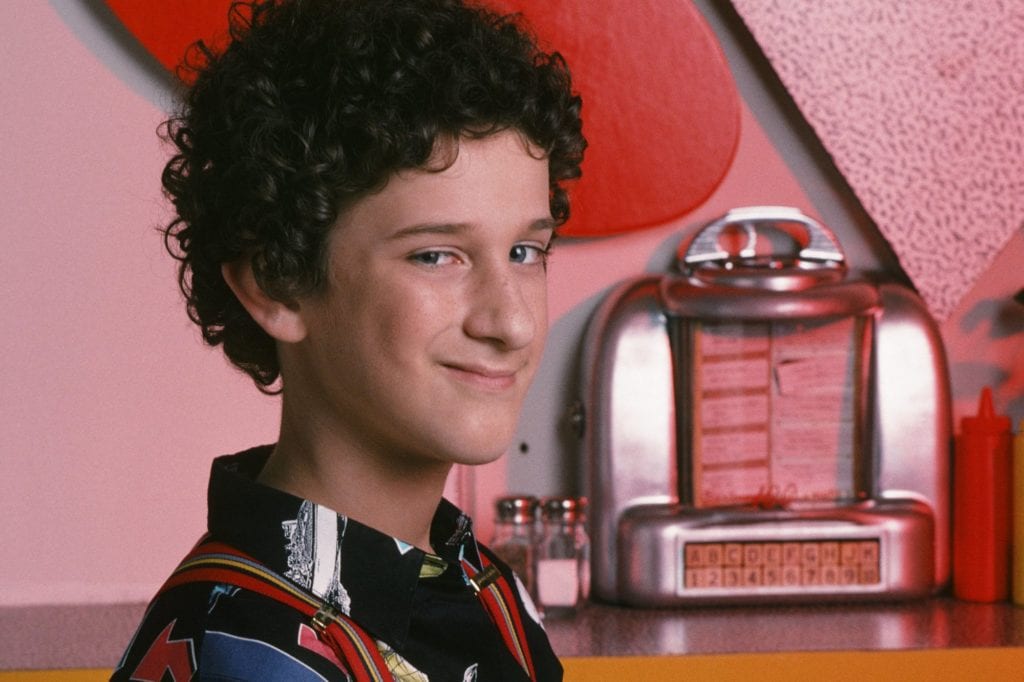 Dustin like other stars on the show continued to experience more popularity as the show's rerun was put in syndication. Apart from the sitcoms, Dustin also appeared on the show's TV films like "Saved by the Bell: Hawaiian Style" (1994) and "Saved by the Bell: Wedding in Las Vegas" (1994).
Dustin Diamond's Net Worth
After the show's end, The Save By The Bell stars went on to solidify their star status by achieving more success in Hollywood. However, Dustin seemed to be achieving much less than his co-stars. This has been hugely blamed on his extreme efforts to shake-off the "good boy character" of Screech by putting up the bad boy persona; a move that has only been counter-effective.
See Also: Drake Bell's Height, Girlfriend, And Gay Rumors
However, Dustin's first post-Bell year seemed a bit promising. He dabbled in stand-up comedy and began touring the states. Additionally, he made cameo appearances in a number of films like "Made" (2001), "Dickie Roberts: Former Child Star" (2003) and reality TV shows like "The Weakest Link", "Celebrity Boxing" and "Hollywood Squares". Dustin also showed off his musician side in 2003 by playing the bass guitar on the debut album of the alternative rock band "Salty the Pocketknife".
Despite all the activity, Dustin didn't quite receive the kind of fame or money he was looking for. Consequently, he opted to make a sex tape after learning that Paris Hilton had made $14 million off hers. However, contrary to his expectations, the tape released with the title "Screeched – Saved by the Smell" was met with backlash from fans.
Initially, Dustin denied any part in the tape claiming that the man in the video wasn't him but a body double. However, he later admitted making the tape for money while maintaining he was digitally edited into the video.
In 2007, Dustin was caught up in more controversy with his appearance on the 5th season of reality TV show Celebrity Fit Club where he seemed to have a contentious relationship with almost every co-star.
The last straw that broke the camel's back came in 2009 when he published a tell-all autobiography titled "Behind the Bell". Among many things, Dustin claimed that his "Saved By The Bell" co-stars slept with each other while some were on drugs like steroids. He also claimed to have slept with 2,000 women including Linda Mancuso the VP of NBC's children's programming who happened to be 18 years older than him.
In a 2013 interview with the OWN Network, Dustin claimed the book was ghostwritten by an author who interviewed him and that the contents were exaggerated. On an episode of The Dr. Oz Show that aired November 10, 2016, Dustin apologized to his co-stars for the damage the book might have caused to their careers. He also claimed that his situation at the time was taken advantage of.
Dustin was arrested in Ozaukee County, Wisconsin on December 26, 2014, for possession of a switchblade and was alleged to have stabbed a man in a bar on Christmas day. However, on May 29, 2015, he was acquitted of the most serious charge of all but found guilty of two misdemeanors – disorderly conduct and carrying a concealed weapon. He was sentenced to four months behind bars on June 25, 2015, but was released on probation three months later. However, after being found guilty of violating his probation terms, he was arrested again in May 2016 but released shortly after.
Following his interview on The Dr. Oz Show in November 2016, it appears Dustin is done being a douchebag and is ready to make something out of himself. Maybe Hollywood would begin to look his way, and he could begin landing lucrative gigs that would eventually grant him a spot in the millionaires club like his "Saved By The Bell" co-stars like Mario Lopez, Mark-Paul Gosselaar, Elizabeth Berkley, and Tiffani-Amber Thiessen. Despite the different money-yielding engagements he has ventured in, Dustin's earnings is yet to grow into millions as his wealth is estimated at $500,000.
Does Dustin Diamond Have A Wife Or Girlfriend?
Dustin Diamond has been to the altar once in his life. He married his girlfriend Jennifer Misner. Their marriage took place in 2009 but ended up in a divorce in recent years. The over a decade marriage yielded no children. Though neither of the two has till date spoken up on why they separated, speculations abound and they say Dustin was cheating on Jennifer with Amanda Schutz. From all indications, there could be truth in the allegations. This is because the duo was frequently spotted together even before the divorce was finalized. Also, Dustin Diamond got engaged to Amanda Schutz less than two years after he divorced Jennifer.
Professionally, Amanda is a clown best known by her clown name "Loli Pop". She is the founder of Loli Pop Entertainment LLC. She provides entertainment for children. Amanda has also starred as a clown in an episode of "The Real Houses of New York City".