While Dorinda Medley is mostly known as an American television star who appears on Bravo TV's The Real Housewives of New York reality show, she is also an entrepreneur who is often described in many quarters as tough, beautiful, and smart. This is because of her resilience in making it big as a businesswoman despite the setbacks she has experienced.
People admire the fact that even after going through several tragic events, including the death of her spouse, the Sandisfield, Massachusetts native has been able to move on with life to keep creating business ventures that have gone a long way to make her a very wealthy woman. Today, she continues to wow as an American socialite who is capable of impressing people with her sense of dressing; but how exactly did she come to be famous?
Understanding How Dorinda Medley Became Famous
Dorinda Medley was born on the 13th of December 1964 in The Berkshires, Sandisfield, Massachusetts. Information regarding the identity of her parents and siblings is scarce, however, she is believed to have a brother called John. Details of where she had her elementary or high school education are also not available but it is on record that she attended the Franklin & Marshall College, a private residential liberal arts college in Lancaster, Pennsylvania.
The reality star had always had eyes for fashion and so when she finished college, she moved to the city of New York where she found work in the showrooms of Liz Claiborne, one of America's most popular fashion designers. While at the showrooms, she gained enormous experience and lots of exposure in the fashion world which inspired her to gain success herself.
Dorinda Medley would later move to London where she founded a cashmere company called DCL Cashmere. The company became quite successful as it thrust her into the limelight thanks to the high-profile clients it pulled. It was only a matter of time before the businesswoman became a celebrity in London but she left about a decade later to try to conquer the New York market.
In 2015, Dorinda Medley who had now become a well-known American socialite found enormous fame when she joined the cast of The Real Housewives of New York City. The show gained her a lot of fans who now follow her online in an attempt to keep up with her life.
Apart from her appearances on the show, Medley has been a part of many charity campaigns, among other activities that have kept her relevant and famous. For instance, she started teaching aerobics in 2019, launching an interactive workout class called Dorobics.
The Wealth She Has Amassed Over the Years
Dorinda Medley made a lot of fortune in London when she founded DCL Cashmere. The business boomed and even attracted royalty to it. She has also worked as a real estate broker and now features on the very popular television show, Real Housewives Of New York.
Having been quite successful in all these endeavors, the reality TV star has made a considerable amount of wealth over the years. As of 2020, her net worth is estimated to be around $20 million.
Compared to other cast members of The Real Housewives of New York City, Medley isn't the richest but she equally isn't the least wealthy. To the best of our knowledge, she is wealthier than Sonja Morgan and Ramona Singer as their net worths have been respectively estimated at $8 and $18 million. Luann de Lesseps, Tinsley Mortimer, Carole Radziwill, and Bethenny Frankel are all richer than her. Respectively, they are worth $25 million, $35 million, $50 million, and $70 million.
Among other things she does with her money, a great portion of her wealth goes to charity. Dorinda supports a long list of charitable organizations like Gabrielle's Angel Foundation, Joy.J Initiative, Ali Forney Center, NYLovesKids.org, Born This Way Foundation, and many more.
Read Also: Who Is Lenedra Carroll? Her Spouse, Children, Net Worth, Family
Exploring The Family Life of Dorinda Medley
While still working at the showrooms of Liz Claiborne, Dorinda Medley met Ralph Lynch, a man who would later become her first husband. After meeting Ralph, she bonded very well with him and decided to move with him to London in order to begin raising a family and start a business. It was after moving to the city of London with Ralph that Dorinda set up DCL Cashmere.
As her business soared, Dorinda and Ralph welcomed a baby, a daughter named Hannah Lynch. Caring for her family did not affect her running her business as she was able to become successful. Dorinda was able to manage this for about a decade until her marriage collapsed, prompting her to return to the U.S. Sources say she sold her company before leaving the United Kingdom.
How She Met Her Second Husband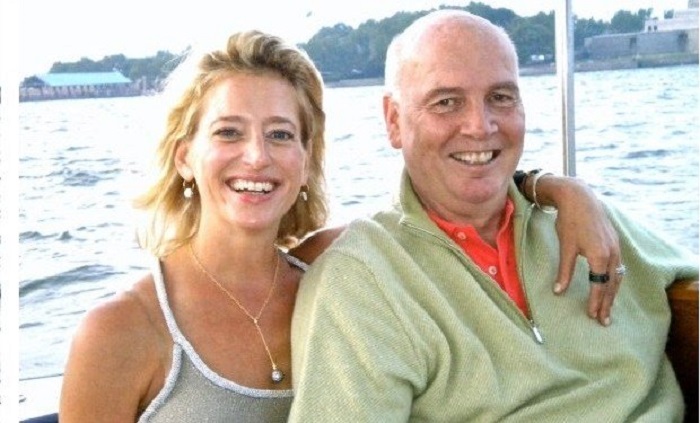 When she returned to the USA with her daughter, Dorinda Medley did not rest on her oars. She quickly moved into another line of business; becoming a real estate broker. While at her job, she met and fell in love with a man named Richard Medley who happened to be a former Washington power broker and respected speechwriter.
The two began to date and finally got married in 2005. Together, they joined several fund-raising campaigns for many charitable causes. Their passion for these causes led them to work with notable personalities like Angelina Jolie, Desmond Tutu, Madeleine Albright, Brad Pitt, Bill, and Hillary Clinton. However, Dorinda's happy adventure ended abruptly when her husband Richard died in 2011.
Following his death, many expected Dorinda Medley to curl up into her shell and just fade away. However, she stunned everyone by finding the strength to move on from her misery to other things. She soon met and fell in love with John Mahdessian, the owner of Madame Paulette, a legendary couture restoration house in New York.
The pair dated for seven years before it emerged that they had fallen apart. Medley confirmed this sometime in May 2020. Asserting that the breakup was sad, she upheld that it was the best thing for her as her expectation levels have grown.