What was DMX's net worth?
DMX was a New York–born rap artist, songwriter, and actor who had a net worth of negative $1 million at the time of his death. The American rapper sadly died at the age of 50 on April 9, 2021, after suffering a heart attack as a result of a drug overdose.
| Net Worth: | -$1 Million |
| --- | --- |
| Salary: | Not available |
| Income Sources: | His music and acting careers |
| Age/Date of Birth: | December 18, 1970 - April 9, 2021 (50 years at the time of his death) |
| Height: | 5 ft 11 in or 180 cm |
| Nationality: | American |
| Last Updated: | 2021 |
During the peak of his career in the late 1990s and early 2000s, he was worth in excess of $10 million. Sometime in 2012, he was worth $2 million but in July 2013 he filed for Chapter 11 bankruptcy, claiming $10 million in debts as he got embroiled in numerous legal battles. While the filing was later dismissed by the U.S. Bankruptcy Court in Manhattan on November 11, 2013, after it was challenged by the Department of Justice's bankruptcy watchdog trustee program, DMX's net worth has since been valued at -$1 million. With years past since he filed for bankruptcy, X started working hard to manage his finances more carefully, holding shows with the help of his longtime friend and producer Swizz Beatz.
How DMX Managed To Built a Net Worth of More Than $10 Million During His Prime
DMX enjoyed great success as a rapper in the late 1990s and early 2000s. At some point, it felt like the New York native could never go wrong with the music he was putting out as he released two albums in one year in 1998 that both sold multiple platinum according to the Recording Industry Association of America (RIAA). His first five albums further all received platinum certifications. He has been able to sell about 30 million album copies worldwide.
On the film acting front, X also got to star in a few projects like Romeo Must Die, Exit Wounds, and Cradle 2 the Grave which featured big-name actors and performed very well in the Box Office.
Music Success
DMX's musical journey began with him performing as a beatboxer. He would later write his own lyrics and record the demos; Unstoppable Force and Three Little Pigs in 1991, the same year he would feature in the Unsigned Hype column of The Source magazine.
In 1992, music looked like it was beginning to pay off as X signed his first recording deal with Ruffhouse record label, a subsidiary of Columbia Records. He subsequently released his debut single "Born Loser" which received very little airplay, prompting the label to release him from his contract.
Despite the setback, DMX remained focused and continued to make music. He released his second single in 1994 titled "Make A Move". He was then able to make guest appearances in the music of rappers such as Ja Rule, Jay Z, and LL Cool J which helped to bring him more to the limelight.
By 1998, X had become a big-time rapper following the release of the single "Get Me A Dog" under Def Jam Recordings. Later in the year in May, he released his debut album It's Dark and Hell is Hot which debuted at #1 on the Billboard 200 chart and sold over 5 million copies. The next five albums that followed all debuted at #1 on Billboard 200, making DMX the only musician in history to accomplish such feat. His second album, Flesh of My Flesh, Blood of My Blood was released in December 1998 and it debuted at #1 on the Billboard 200 chart, making DMX the first rapper in history to release two Billboard #1 albums in the same year. Over 3 million copies of the project was sold.
X's third album in 1999 titled …And Then There Was X produced the R&B chart-topping single "Party Up". Other singles from the album included "What These Bitches Want" and "What's My Name?". It was certified six-times Platinum. His fourth album, The Great Depression, did not do as well as its predecessors but it still managed to get triple Platinum certifications. Popular songs from the album include "Who We Be", "We Right Here", and "Shorty Was The Bomb".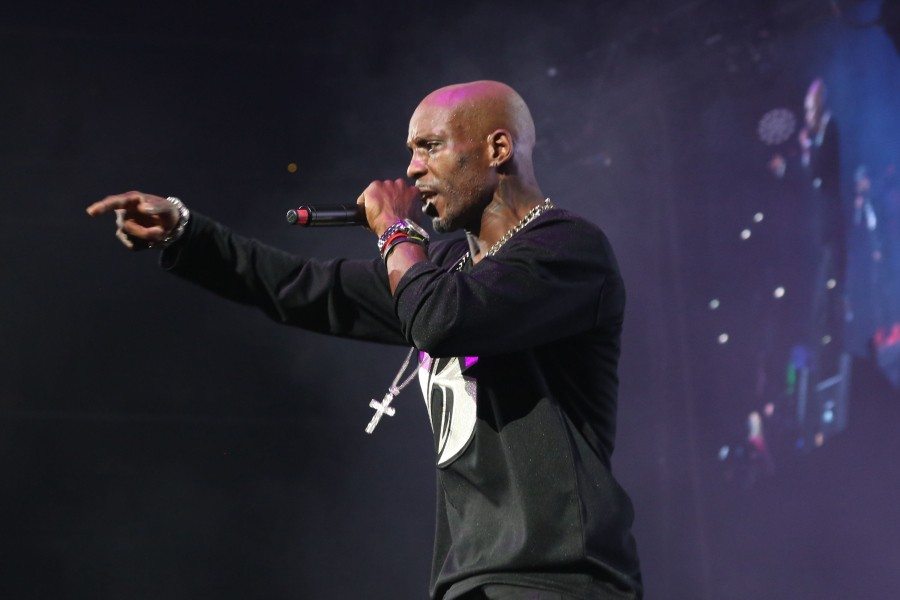 After his fifth album Grand Champ in 2004 which received Platinum certifications from the RIAA and featured singles like "Where Tha Hood At" and "Get it on the Floor", DMX publicly announced his retirement from music. He would, however, make a comeback in 2006 when he signed to Columbia Records and released his sixth studio album, Year of The Dog…Again. The album sold 125,000 copies in its first week and became X's first album not to top the Billboard 200.
DMX's seventh and final studio album, Undisputed, was released in 2012. The album debuted at #19 on the Billboard 200 after selling 17,000 copies in its first week.
1998 – It's Dark and Hell Is Hot & Flesh of My Flesh, Blood of My Blood sold a joint total of over 8 million copies
1999 – … And Then There Was X sold over 6 million copies
2000 – The Great Depression sold over 1 million copies in the U.S. alone
2003 – Grand Champ sold over 1 million copies
DMX

Only rapper in history to have his first 5 full-length releases go No. 1 on the Billboard 200

Those albums have 14 Million RIAA Certifications
281 Billboard 200 Weeks

It was almost 6! Year of the Dog went No. 2 – beaten by compilation NOW 22 by just 1k units

LEGEND

— Hip Hop By The Numbers (@HipHopNumbers) September 4, 2019
Film Acting Career
While going about his music career, DMX starred in a handful of movies. The first one was Belly in 1998 which featured rappers Nas and Method Man as well as Taral Hicks and R&B singer T-Boz. Famed music video director Hype Williams made his film directing debut on the crime drama film project that made over $9.5 million at the box office on a budget of $3 million.
X's second film was Romeo Must Die in 2000. It starred Jet Li and Aaliyah and grossed $91 million against a production budget of $25 million. 2001 action film, Exit Wounds, which starred Steven Seagal alongside the rapper received negative reviews from critics but performed well at the box office as it made a worldwide total of $79.9 million against a budget of $33 million.
Following the success of Romeo Must Die, Jet Li and DMX teamed up again for Cradle 2 the Grave in 2003. The movie received largely negative reviews but enjoyed modest commercial success as it grossed over $56 million on a budget of $25 million. X has since then not featured in any successful film project as his next major roles were Direct-to-DVD releases.
1998 – Belly made $9.5 million
2000 – Romeo Must Die made $91 million
2001 – Exit Wounds grossed $79.9 million
2003 – Cradle 2 the Grave made $56 million
DMX's Net Worth at The Time of His Death in 2021 and How He Lost His Fortune
DMX was reported to be worth -$1 million in 2021 at the time of his death. This may be surprising to all his fans who followed his career and were witnesses to the kind of success he enjoyed from his film acting and musical career. Those close to the New York native would have, however, seen this coming as he was addicted to drugs and had multiple run-ins with law enforcement, thus facing numerous legal issues.
X admitted and openly spoke about his addiction to crack cocaine. He said it began when he was 14 years old after he smoked a marijuana cigarette laced with the drug. The entertainer has since then used drugs, which has been the basis of his arrest on multiple occasions. As you would expect, X was no longer able to perform at a high standard and so he was no longer able to make quality music.
Another factor that evidently contributed to his dwindling finances was the numerous extramarital affairs he had while he was married. While most of these affairs never made the light of day, DMX had children with some of these women who took him to court demanding child support. In 2007, he was ordered to pay her $1.5 million to a woman named Monique Wayne who had a son for him in 2004. In July 2015, he was arrested and locked up for failure to pay $400,000 in child support.
The Rapper was a Father to Fifteen Children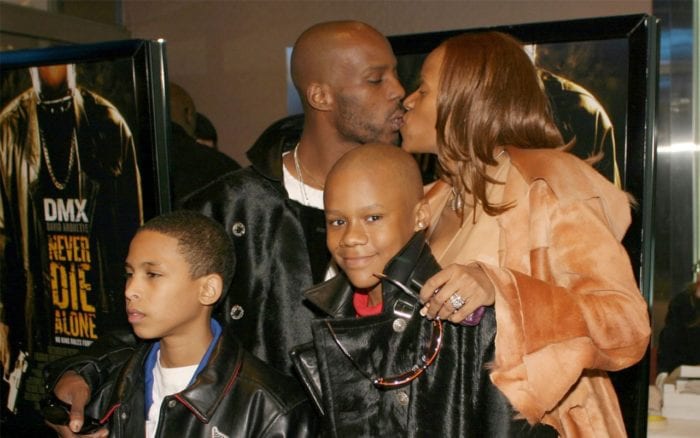 As earlier stated, DMX had multiple extramarital affairs. From all, including his marriage to his wife Tashera Simmons, he fathered fifteen children. X and Tashera, who got married in 1999 and separated in 2010, have just four children together. They are Xavier Simmons, Praise Mary Ella Simmons, Tocoma Simmons, and Shawn Simmons. The other eleven are from different women.
Tashera and X were married for a long and excruciating eleven-year period, a time during which the rapper took other women to bed all across the United States. Speaking at an interview, Tashera revealed that she felt bad about getting a divorce even after everything her husband put her through. She said she took her vows very seriously but could not continue to damage herself especially after X's continued infidelity and frequent run-ins with the law.
Most of DMX's children are not known to the public. He refuted being a parent to some of them but DNA tests proved otherwise as was the case in 2004 with Monique Wayne. For many years, X denied being the father of Wayne's son until DNA tests proved the child to be his. The rapper's youngest and fifteenth child, Exodus Simmons, was welcomed to the world in August 2016 from his relationship with his longtime girlfriend, Desiree Lindstrom.
The Numerous Legal Issues That Led To DMX Spending A Lot of Time Behind Bars
Since he was released from prison on January 25, 2019, DMX remained a free man and was working on himself in order to not get involved/do anything that would see him go back to jail. Before that, the rapper had been in and out of jail for several reasons that include animal cruelty, resisting arrest, carjacking, reckless driving, driving without a license, drug possession, and identity falsification.
DMX's first run-in with the law was as a sixteen-year-old in 1986 when he stole a dog from a junkyard. He was sentenced to two years in a juvenile facility for the crime. While X and his cellmate would later escape, his mother was able to force him to turn himself in and finish his sentence. In 1988, he spent a short time in prison for carjacking.
In the 1990s, DMX continued to have run-ins with law enforcement however none of them led to him facing jail time. In 2000, this changed as X was sentenced to 15 days in jail for possession of marijuana. He served another jail sentence in 2001 for marijuana possession and driving without a license.
Between June and December of 2004, X was locked up on charges of cocaine possession, criminal impersonation, criminal possession of a weapon, criminal mischief, menacing, attempted carjacking, and driving under the influence of drugs or alcohol, while claiming to be a federal agent. He was given a conditional discharge but in late 2005, he was sentenced to 70 days in jail for violating parole.
In 2009, DMX spent 90 days in jail after pleading guilty to charges of drug possession, theft, and animal cruelty. The following year, he had two stints behind bars; first for four months for violating drug probation and the second for ninety days for a reckless driving charge he received in 2002 in Los Angeles.
While X was arrested a few times in the next few years, he never got to spend a long time behind bars until 2015 when he was sentenced to 6 months in jail for failing to pay $400,000 in child support. In 2018, he was sentenced to one year in prison followed by three years of supervised release after he pleaded guilty to a single count of tax fraud. He was released in January 2019.
Earl Simmons best known as DMX died on April 9, 2021, after suffering a heart attack at his home in New York, according to his longtime attorney, Murray Richman.
"We are deeply saddened to announce today that our loved one, DMX, birth name of Earl Simmons, passed away at 50-years-old at White Plains Hospital with his family by his side after being placed on life support for the past few days,"
Family's statement
He will forever be missed
Profile Summary
First Name:
Earl
Last Name:
Simmons
Estimated Net Worth:

-$1 Million
Salary:
Not available
Source of Wealth:
His music and acting careers
Last Updated:

2021
Also Known As:

Dark Man X, The Dog, X, D
Sex/Gender:

Male
Profession:

Rapper and actor
Famous For:
The huge commercial success of his 1999 album titled And Then There Was X.
Colleges/Universities Attended:

Yonkers High School, Yonkers.
Educational Qualifications:

Not available
Religion:

Christianity
Birthday & Zodiac

Age/Date of Birth:

December 18, 1970 - April 9, 2021
Zodiac Sign:
Sagittarius


Birth Place:

Mount Vernon, New York, United States
Nationality:
American
Ethnicity/Race:

African American
Country of Residence:

USA
Physical Attributes

Height:

5 ft 11 in or 180 cm
Weight:

81 kg or 178.5 lbs
Eye Colour:

Dark Brown
Hair Color:

Black
Other Body Measurements:

Chest: 44", waist: 30", hips: 35", biceps: 22"
Relationships

Marital Status:

Dating
Spouse/Partner:

Desiree Lindstrom
Family and Relatives

Father:

Joe Barker
Mother:
Arnett Simmons
Children:

He has 15 children, including Xavier Simmons, Praise Mary Ella Simmons, Tocoma Simmons, Shawn Simmons, and Exodus Simmons
Siblings:
Two stepbrother and two stepsisters named Bonita Simmons and Shayla Simmons
Other Relatives:

Not available