Being the son of a woman who was a professional basketball player and a man who represented his country in handball at the highest international level, it is not in any way a surprise that Dirk Nowitzki, born as Dirk Werner Nowitzki, turned out to be an A-list professional basketball player. Growing up, the German athlete was very much taller than his mates and started out with handball and tennis but was unable to endure the taunting he received as a result of his height, he later switched to basketball.
Beginning Of Dirk Nowitzki's Basketball Career
At the age of 15, Dirk Nowitzki joined the local sports club, DJK Würzburg, and there, his talent was quickly spotted by Holger Geschwindner, a former international basketball player from Germany, who wasted no time in offering to become his personal coach. With the approval of Dirk Nowitzki and his parents, Geschwindner set to work, molding Dirk into the great player he eventually became by coaching him 2 to 3 times every week in the beginning. By the time he had spent one year under the coach, Dirk had recorded a lot of progress that Holger Geschwindner presented him with a choice between settling at the local level or setting his eyes on playing against the best at the international level.
Having chosen the latter, Dirk Nowitzki's training went many notches higher as he entered a full-time training plan, honing his skills every single day of the week alongside DJK Würzburg players, some of whom also became international players. At age 16, the star player made the DJK squad. On the squad, he established himself as an outstanding player with his combination of ball-handling, quickness, and shooting range, and eventually drew the attention of many European and National Basketball Association (NBA) clubs which wanted to recruit him after watching him play in the Nike Hoop Summit in 1998.
How Many Rings Does Dirk Nowitzki Have?
Dirk Nowitzki rejected a lot of college offers after high school and went straight into the NBA as a prep-to-pro player. During the 1998 NBA Draft, he was selected by the Milwaukee Bucks with the 9th overall pick and immediately traded to the Dallas Mavericks. This made him the fourth German in history to ever play in the NBA and the only DJK Würzburg player to ever make the NBA.
He played on the professional scene for 21 years and never moved to any other team until he retired in April 2019, becoming the only player in the history of NBA to ever play for only one team for 21 seasons. During his career in the National Basketball Association, Dirk won one championship ring in 2011 when the Dallas Maverick defeated the Miami Heat 4 games to 2 wins in the team's first NBA championship. He also received the NBA Finals Most Valuable Player Award that year.
Dirk Nowitzki recorded many other career achievements, including being selected for the NBA All-Star Games 14 times and the All-NBA Team 12 times. The former power forward is also the first European player to ever start in an All-Star Game and also to be awarded NBA's Most Valuable Player in 2007. He also has the highest score recorded by a foreign-born player in the history of the NBA and is the first Dallas Maverick player to be voted into an All-NBA Team.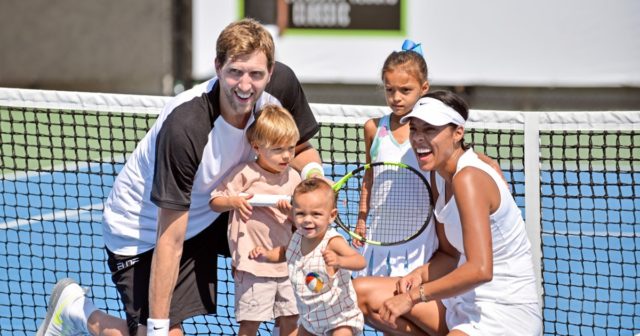 The Würzburg-born player is also a 4-time All-NBA First Team, 5-time All-NBA Second Team, 3-time All-NBA Third Team, 3-time FIBA EuroBasket Top Scorer, 6-time Euroscar Player of the Year, and a 2-time FIBA Europe Men's Player of the Year. He was also the 2002 FIBA World Championship MVP and FIBA World Championship Top Scorer, 2005 Mister Europa Player of the Year, 2006 NBA Three-Point Shootout champion, and 2011 German Sports Personality of the Year, among many other achievements.
His Salary And Net Worth
Dirk Nowitzki made around $250 million all through his career and has a net worth estimated at $140 million as of 2019. This positions him on the 13th spot on the list of richest NBA players. At the beginning of his professional career in 1998, he started off with a pay of $1.47 million. However, before the 2001–02 season, he became the second-highest-paid German athlete after he signed a six-year contract extension with the Mavericks worth $90 million. In 2017, he was number 56 on Forbe's list of highest-paid athletes.
During the 2018-19 season, which was his final season, Dirk Nowitzki signed a 1-year, $5,000,000 contract with the Dallas Mavericks, including $5,000,000 guaranteed, and an annual average salary of $5,000,000.