Howard Matthew Moses Long, who is popularly known as Howie Long, has been in the spotlight for over 3 decades. He got recognition as a football player, spending 13 seasons in the NFL before he became an actor and then a sports analyst. It comes as no surprise that the durability of fame he has enjoyed so far has also rubbed off on his personal life with his wife, Diane Addonizio, whom he has been married to since 1982.
Meanwhile, Diane Addonizio is not just another WAG. While her relationship with Long might be her claim to fame, she has had a long and successful career of her own as a lawyer and businesswoman respectively.
Diane Addonizio's Life Before Howie
Diane was born to Roman Catholic parents whose identities are not known at the moment. However, it is understood that her father worked as a Security Director for the Illinois Institute of Technology (IIT) subsidiary. Her birth reportedly took place on the 16th of March 1962, in the Monmouth County town of Red Bank, New Jersey, and it is believed that she was also raised there. Further details of her background, including early education and siblings, are nowhere to be found as Diane Addonizio has been able to do a good job in keeping such facts away from the prying eyes of the press.
Diane Addonizio attended Villanova University, an Augustinian Catholic university situated on the outskirts of Pennsylvania, USA, where she earned a degree in Classical Studies. A fascination with the legal profession led her to USC School of Law where she earned her J.D and began her career as a lawyer.
Her Works As  An Entrepreneur And Author
For a while, Diane Addonizio worked in a law firm and built a career as an attorney before she decided to retreat from practising active law in favour of life as a businesswoman, making strategic investments with her income. Using the income supplemented with her husband's status as an NFL icon, Diane has built a wealth of investments that have made her more than a comfortable woman.
Besides being a homemaker, lawyer, and businesswoman, Diane Addonizio was also part of the NFL Head Up Football Advisory Committee. As an author, she released her first book in 2000 entitled 'He's Just My Dad!'. The book reveals humorous and surprising insights into the parenting styles of many sports legends and also contains pictures of over 200 athletes and their families.
However, Diane Addonizio hasn't chosen to keep her wealth to herself. She has been actively involved in a number of charitable works, although she is not one who revels in the spotlight. Her dislike for the attention that comes with fame extends to social media as she is not active on any of the major platforms.
How Much Is Diane Addonizio Worth?
We mentioned earlier that while she is married to a successful and famous man, Diane Addonizio has built something reputable on her own. Through her own business savviness and income earned as a lawyer, she has been able to build a personal net worth of $1 million. With her husband's ginormous net worth of $16 million, however, it is no surprise that the couple lives in a mansion in Charlottesville, Virginia, valued at over $6 million.
Diane's Love Story With Howie Long
Diane Addonizio and Howie Long are reassuring proof that long-lasting love is still very much possible in a world that is increasingly getting defined by its number of failed relationships. Their love story began while they were Classical Studies undergraduates at Villanova University. Howie Long who was a year senior to Diane in the university had been an admirer and their relationship began after he took her on a date.
The two watched an NFL game on TV in Howie's dormitory on their first date, in what is perhaps a symbol for the defining element of their relationship. When asked about how she fell in love with Howie, Diane Addonizio recalled that Howie was attractive and that she had never met anyone that big who was that good-looking. Even though she knew that he was always driven, like a volcano about to erupt, that didn't prevent her from falling in love with him.
However, every relationship has its own problems and theirs isn't an exception. During the formative stage of their relationship, Diane Addonizio didn't know that holidays never meant anything to her future husband until when he didn't send her a love card on the first Valentine's Day they celebrated together after they had started dating. This infuriated Diane so much and she didn't hide her feelings when she discussed it with him. It was then that he revealed to her that he wasn't a holiday person and it really took her a while to adjust to that.
See Also: Kimberly Caddell – Everything To Know About Keenum's Wife
Insights Into Her Long-term Marriage With The NFL Legend
The success of Howie and Diane's first date grew into a full-fledged relationship which eventually spawned a marital bliss of over thirty-five years. The cute couple got married on the 27th of June, 1982 in a private ceremony after a few years post-graduation from college. Three years after they became husband and wife, Diane Addonizio and Howie Long welcomed the first new member of the family, a baby boy named Christopher Howard who was born on the 28th of March, 1985.
Three years after the arrival of their first bundle of joy, they welcomed another child, Kyle Howard on the 5th of December, 1988 and then a third in 1990, a boy named Matthew Howard, completing the trio of boys born to the couple. Interestingly, all three sons of Diane Addonizio have made waves in the NFL just like their father.
The Longs' American Football Legacy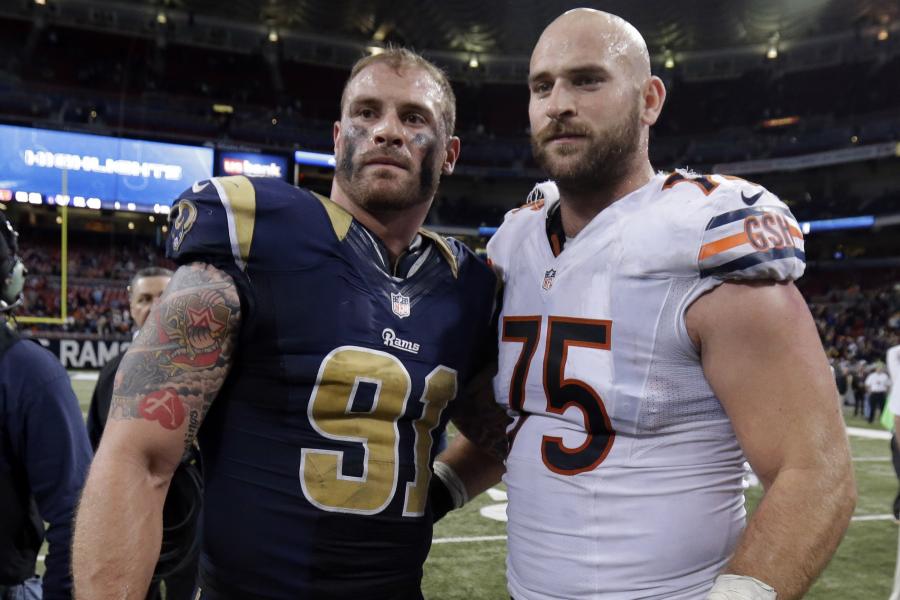 Her first son Christopher is a retired American football defensive end who played in the NFL for eleven seasons, mainly with the St. Louis Rams. Her second son, Kyle is a former American football guard who played all seven years of his professional career with the Chicago Bears of the NFL while her last child, Matthew, is a scouting assistant and personal assistant for the NFL team, the Oakland Raiders.
Diane Addonizio has been very passionate about her children's well-being. Thus, she partook in a panel discussion that was held to discuss football safety at the Walter Payton Center with over 300 mothers of football players being in attendance.
Although her husband might be the athlete, Diane Addonizio does not look physically fragile beside him, as she has a height of 5 feet 8 inches and a modest figure. She often makes public appearances in support of her husband and was spotted together with him at the NFL Hall of Fame red carpet held on the 4th of February, 2019. The two have become role models for young couples with long-term relationship goals, as their love grows stronger with each passing year.