Athletes put a lot of work in becoming the best they can be at the sport they're involved in. While not every athlete becomes an automatic showstopper, several make their rounds as their careers progress. Starting with a high school football career, Dez Bryant rose through the NFL to become a highly decorated player.
His career may have been plagued with absences due to injuries and such, that didn't stop Bryant from putting in the work and becoming a millionaire in the process. Earning his first award in his college rookie year, Dez Bryant has become one of the Dallas Cowboys' most valued players with the feats he achieved while playing for the team.
Dez Bryant's College Years
Dez Bryant attended Oklahoma State University, where he played with the Oklahoma State Cowboys team from 2007 to 2009. In his freshman year, which is also his first season with the Cowboys, Bryant's record of 43 receptions for 622 yards and six touchdowns in twelve games earned him the second rank on the team by the end of the season. However, by his sophomore year, Bryant really pushed the envelope with his achievements.
By the end of the season, Dez Bryant had 87 receptions for 1,480 yards, 19 touchdowns, and two punt returns for touchdowns. With his skills and performance, he led the Cowboys to a Holiday Bowl appearance against the Oregon Ducks from the University of Oregon. Despite making 13 receptions for 167 yards and a receiving touchdown, the Cowboys lost the match 42 – 31.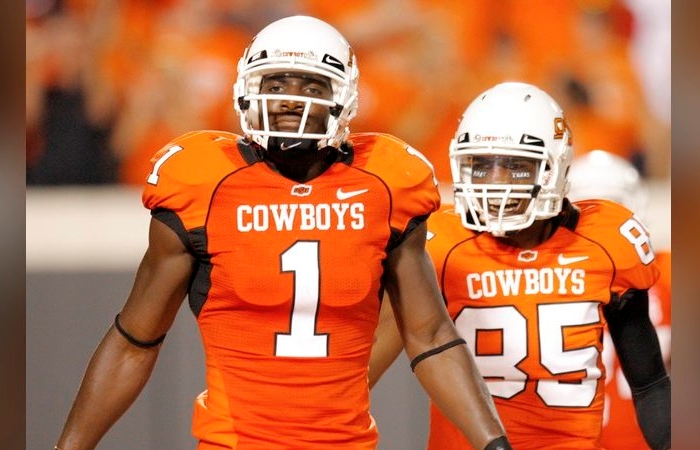 His 2009 season was mired in controversy though. On October 7, he was suspended after violating an NCAA bylaw by failing to fully disclose a meeting he had with former NFL player, Deion Sanders, to the NCAA. Dez Bryant got to play only three games in the season, posting a stat line of 323 receiving yards, four receiving touchdowns, and a punt return touchdown. Considered the best wide receiver in 2009, Bryant was deemed a potential Heisman Trophy winner if not for the suspension.
Professional Career with The Dallas Cowboys
The 2010-2014 Seasons
By November 2009, Bryant announced he would enter the 2010 NFL Draft, thereby foregoing his senior season at Oklahoma State. Believed to be the best wide receiver available, he was targeted by several teams, including the Denver Broncos. Because of some character concerns, the receiver ranking in the draft dropped until he was selected by the Dallas Cowboys. He signed a five-year rookie contract with the Dallas Cowboys. Mainly playing a support role for the team's offence, Bryant had a well-received rookie season with 45 receptions for 561 yards and six receiving touchdowns.
In the 2011 season, Dez Bryant showcased his skills and proved his worth as an NFL draft first-round pick. Cementing his place as an upcoming star and valuable player in both the Dallas Cowboys and the NFL as a whole, he recorded season stats of 63 receptions for 928 yards and nine touchdowns. The 2012 season was one of Bryant's best, with end-of-season stats of 92 receptions for 1,382 yards and 12 touchdowns. This season also marked his personal best for yards received. The season wasn't without its little downs though, as he fumbled the ball five times and lost it twice in his turnover issues.
In 2013, Bryant appeared in his first Pro Bowl season, finishing as one of the league's top players. With 1,233 receiving yards, the wide receiver ended the season with 13 touchdowns and 93 receptions. Working as quarterback Tony Romo's primary weapon, Bryant ended up an integral part of the Dallas Cowboys' offence in the season. This success continued to the 2014 season, where Bryant appeared in the year's Pro Bowl season. He finished the season with 88 receptions in 1,320 yards and 16 touchdowns.
The 2015-2017 Seasons
By the beginning of the 2015 season, Dez Bryant re-signed with the Dallas Cowboys. The wide receiver and the NFL team came to a new five-year contract. This seemed like a bright outlook for Bryant's future with the Dallas Cowboys until the receiver was hit with an unfortunate foot injury that had him on the sideline for seven games.
By the end of the season, Bryant had stats of 401 receiving yards, 31 catches, and three touchdowns. The 2016 and 2017 seasons weren't as top-notch as a typical good year for Bryant would be. Combined, Bryant finished with 119 receptions, 1,634 receiving yards, and 14 touchdowns. By April 2018, the Dallas Cowboys released Dez Bryant from his contract with the team.
Dez Bryant with the New Orleans Saints
Nine weeks into the 2018 season, specifically on November 1, 2018, Dez Bryant and the New Orleans Saints were able to reach an agreement; he signed a one-year deal. Misfortune would find the wide receiver again, as just two days after signing the new deal, Bryant tore his Achilles tendon while training with the team. The injury was confirmed with an MRI scan as so severe Bryant had to be placed on injured reserve. The entire season ended without Dez playing a single game.
By 2019, Dez Bryant announced he would go into rehabilitation to train during the 2019 season with the intention of not retiring from professional football. However, Bryant is yet to sign with any team as of early 2020.
His Аwаrdѕ & Асhіеvеmеnts
Though he has missed several games, and even an entire season, to both injuries and a suspension earlier in his career, Dez Bryant has still been able to play the sport so well he has been honoured with several awards over the years.
He was awаrdеd thе Ѕесоnd-tеаm Frеѕhmаn Аll-Аmеrіса in 2007.
In 2008, he was awаrdеd thе Fіrѕt-tеаm Аll-Аmеrіса by AFCA-Coaches, Associated Press, Walter Camp, Sporting News,Pro Football Weekly, and Sports Illustrated.
2010 saw the wide receiver nаmеd tо thе NFL Аll-Rооkіе Теаm.
Іn 2013, Вrуаnt entered the NFL Top 100 Players at number 35.
The same year, he also appeared in his first Pro Bowl.
Dez Bryant worked up the ranks in 2014 when he was placed 25th оn thе NFL Тор 100 Рlауеrѕ оf 2014.
He was picked as а Fіrѕt-tеаm Аll-Рrо рlауеr іn thе same year.
Іn 2015, the wide receiver was 15th оn thе NFL Тор 100 Рlауеrѕ оf 2015.
By 2016, he got ranked as the 51st оn thе NFL Тор 100 Рlауеrѕ оf 2016.
Then by 2017, Bryant remained in the Top 100 Players by ranking 60th.
Bryant also earned a few records in the Dallas Cowboys' history of players.
He achieved the most games with at least two receiving touchdowns in a single season, which happened in four games; twice in 2012 and 2014.
He also had the most games with at least two receiving touchdowns in his career. This amounts to 15 games total, a record he ties with former Dallas Cowboys wide receiver, Bob Hayes.
Dez Bryant had seven consecutive games with a receiving touchdown, a record he ties with Terrell Owens, Bob Hayes, and Frank Clarke.
How Much Is Dez Bryant Worth?
How much would a player like Dez Bryant be worth? Quite a lot, if his career record is any indication. In his rookie year, Bryant's five-year contract with the Cowboys was worth $12 million with about $8.4 million guaranteed. His 2015 contract renewal with the Cowboys, worth $70 million, landed him a spot among the world's highest-paid athletes in 2016, according to Forbes. The contract came with $45 million of the total worth guaranteed and an extra $20 million as a signing bonus. $7 million of this bonus was deferred to March 2016. Even with the injuries suffered, Bryant's merchandise sales were the fifth-highest in the league, topping sales amongst non-quarterbacks.
Dez Bryant also enjoyed endorsement deals with Nike's Jordan brand, BodyArmor and Panini. The deal with BodyArmor happened in January 2016. It was aimed at spreading awareness about the brand's sports drink in Texas. He also became a shareholder in the company as part of the deal. In total, he earned $23.5 million in 2016. His one-year deal with the New Orleans Saints in 2018 was worth a nice $1.25 million. All in all, Dez Bryant has a net worth estimated at a nice $35 million. He is managed by Kim Miale and JAY Z and works with Roc Nation Sports.