In America, there is no shortage of ways to achieve fame and become a famous personality. From entertainment to politics to journalism, there is a myriad of ways to achieve popularity in the United States of America. Demetria Obilor has taken the path of journalism, working as a traffic reporter on a television channel in Texas.
However, if you are familiar with her, you would know that it is not her work of reporting traffic news that has made her a modestly popular personality. While she became famous for performing her responsibility as a journalist, it was down to a body-shaming scandal in 2017, where she became the subject of a racial attack by one of the viewers of her show that brought her nationwide attention. You can learn all about the scandal and the life of Demetria Obilor by reading below.
All About Demetria Obilor's Childhood And Career
Demetria Obilor arrived in the world as one of the four children born to her parents on the 29th of March, 1991. She is the only daughter as she has three brothers who are named Uzoma, Ikenna and Obilor. There is no information about the exact identity of her parents, but she is known to have been born to a Nigerian father and an American mother in Kansas City. Obilor spent the first 14 years of her life growing up in Kansas before her parents relocated to Las Vegas in 2005.
For her education, she went back to her home city in Kansas, where she studied Broadcast Journalism at the University of Kansas, graduating in 2012. While she was a student, she began to gather some experience as a journalist by working for an NBC affiliate station in Kansas City, named KSHB-TV as a production tech. Her work impressed the management of the station as a student, and she was subsequently offered a position as a traffic reporter for the morning news after she graduated, which kickstarted her career as an onscreen journalist.
During her time at KSHB-TV, outside of working as a traffic reporter, she also worked on growing the station's social media presence, and she was able to grow the station's following to over 1000 followers during her time at the station. She has also worked for KUJH-TV, where she worked behind the camera as a writer and graphics creator.
After her graduation, Demetria Obilor joined KLAS-TV, a CBS affiliate station in Las Vegas, where she continued her work as a traffic reporter. She also worked on a show, What's Driving You Crazy? while she was with the station. While she worked in Las Vegas, she competed in the Las Vegas' Container Park Fashion Show and won the grand prize.
Her Stint With WFAA Dallas And Rise to Fame
It was in the year 2017 that Obilor left Vegas and headed to Dallas, where she got a job with ABC affiliate WFAA, Channel 8. She served as a traffic anchor for the station's Daybreak program, as well as a news reporter. Demetria gained a massive following for her uniqueness; indeed she stood out for her boldness and her courageous style of approach.
While she worked for the station, she became a subject of the national conversation when she gave the most positive response to a body shamer. After her response went viral, she became an inspiration to many and attracted more admirers to herself. At the time, Demetria Obilor used her social media handles as a way of righting the wrongs of racism in American society. On a few occasions, she posted mean comments made about her by racist followers and body-shamers and indeed put them in their place.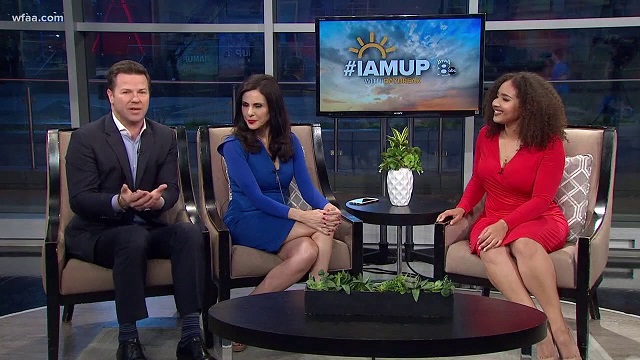 This Is Why She Left WFAA
Reports of Obilor's departure from WFAA were confirmed in October 2019. It came as a rumor at first, with several sources speculating a farewell from the swashbuckling reporter from the network. It was no longer a rumor after it was reported that she made her leave on October 15. This came as sad news to viewers of Daybreak who had already gotten used to the dauntless figure. This also gave rise to speculations as to what may have led to her departure.
Earlier in August 2019, it was reported that Demetria Obilor would be leaving the network at the end of her contract. A memo from the manager of WFAA did reveal that Demetria indeed made a decision not to renew her contract with the network after it elapsed that year. Obilor also confirmed the rumors by making a video, saying she would be leaving WFAA on October 15. The video on her Twitter handle made rounds on the internet and attracted mixed reactions from the public.
The question many have attempted to answer is: Why did she leave? Many people believe that it must have been as a result of a disagreement with her colleagues that led to her departure. Another leading opinion is also the speculation that she had had enough of the discrimination on and off-screen and decided to disassociate herself from the show. But in an attempt to clear the air, Demetria did say she was leaving because it was time to explore and pursue other opportunities.
What Has Demetria Obilor Been Up To Lately?
Although she has quite a conspicuous presence on social media, Demetria is not that loud about her endeavors. But, this has not stopped her fans from sniffing for information. Obilor did say on her last day at WFAA that she was going back to Vegas to be with her family. She also mentioned that she would explore other opportunities in the journalism field after her stint at WFAA.
Those who follow her on her social media accounts – @DemetriaObilor on Twitter and @demetriaobilor on Instagram, will understand what we mean by the fact that she is still keeping people informed in their respective locations. We do not know what the future holds for the beautiful reporter, but we do know she is living her life to the fullest.
See Also: Gio Benitez Biography, His Gay Husband, Parents, And Family
A Sneak Peek Into Her Personal Life
As far as relationships go, every evidence suggests that Demetria Obilor is not in one. Granted, Obilor is a private individual who seldom shares her personal life with the public, but her social media posts and a look through her event appearances suggest that the popular TV reporter is single.
More so, no name seems to come up concerning who she has dated in the past. At the moment, having gotten the exposure of a national journalist but still working for a local news affiliate, Obilor seems to be dedicating her time to building and moving her career to the next level.