When names like LeBron James and Steph Curry have been called among the Tier 1 of NBA talents, the natural follow up is Tier 2 which consists of superstars like DeMarcus Cousins and Kevin Durant who may not share the god-like attributes and popularity of the Tier 1 players but are exceptional players in their own right.
DeMarcus Cousins, in particular, has recently had further confirmation of his exceptionalism when he was tapped by the Golden State Warriors to become part of their essentially All-Star team of brilliant and remarkable players. DeMarcus' time in the NBA which began in 2010 has seen him play for teams like the Sacramento Kings and the New Orleans Pelicans.
There is a number of things to learn about DeMarcus and we cover some of them below.
Who is DeMarcus Cousins?
Fans of the ball and hoop game will most certainly know DeMarcus Cousins. He is only one of the most efficient scorers in the league and he has spent over eight years as a member of the National Basketball Association. He made his name while playing for the Sacramento Kings where he spent seven seasons of his career before spending time at New Orleans and California for Golden State Warriors.
He was born on the 13th of August, 1990 to Monique and Jessie Cousins who raised him in Mobile, Alabama along with four sisters and a brother, Jaleel Cousins – who like DeMarcus, is also a professional basketball player.
DeMarcus began his road to the NBA with a high school career at LeFlore Magnet High School where he achieved personal accolades like making the Parade All-American team in 2009 and playing in the 2009 McDonald's All-American Boys Game. At the end of his high school career, DeMarcus was one of the most highly rated players in the entire country with scouting organizations giving him five out of five stars. A look at his career shows he has justified that rating.
When college offers came knocking, DeMarcus had an array of options and eventually went with Kentucky Wildcats, the basketball team of the University of Kentucky. DeMarcus Cousins spent just one year in college posting an average 15.1 points per game and 9.8 rebounds before he decided to sign up for the NBA Draft.
When the 2010 Draft came around, highly rated talent – DeMarcus Cousins – was one of the hotly contested players in the pool and he was eventually picked by the Sacramento Kings as the fifth player in the Draft. His first professional contract, welcoming him to the millions, on offer in the NBA was a $7 million rookie contract for the first two years of his pro career.
His first two years in the league was a mixed bag for DeMarcus Cousins. While he constantly showed what he was capable of as a player, he suffered several disciplinary issues from both his team and the league. This, however, did not keep Sacramento Kings from offering him a four-year deal at the end of his rookie contract in 2013. He spent a total of seven seasons with the Sacramento Kings recording several personal achievements, including career highs like his average points per game which finished at an incredible 27.8 points per game during the 2016/17 season. So far in his career, he has played over 500 games, with a career average of 21.5 points per game. He has also been selected as an All-Star player four times in 2015, 2016, 2017 and 2018.
For the National team, DeMarcus has recorded more team achievements including winning two gold medals at the 2016 Olympics and 2014 World Cup. He currently plays for the Golden State Warriors.
What is His Salary?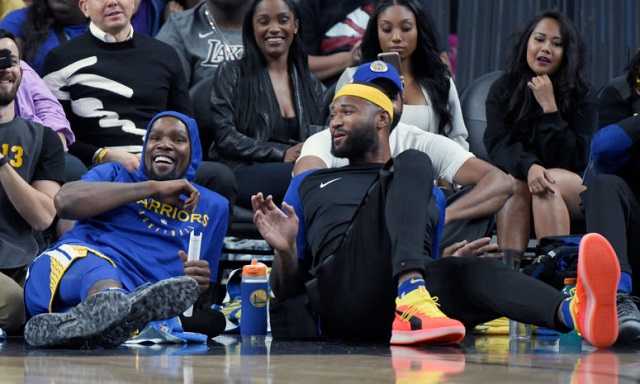 After spending time on the sidelines after a torn left Achilles, DeMarcus Cousins found it difficult finding teams willing to take him on as a player following his release from the New Orleans Pelicans. He was subsequently signed by the Golden State Warriors on a one-year deal with a salary of $5.3 million. This has also gone on to further cement his estimated net worth of $15 million.
Is He Dating Anyone?
DeMarcus Cousins is, without a doubt, one of the most popular names in the NBA but despite this enviable status, there isn't much to know about his personal life. The little that we have been able to gather about the player suggest that he is no longer just dating anyone, he is engaged to be married to a woman named Morgan Lang.
It is speculated that the two of them have been together since 2014 but not much is known about the wife-to-be. The little information available to the media at this time says she is an alumnus of Arizona State University. Professionally, she appears to be a model.
Personally, DeMarcus Cousins has two children from what is believed to be a previous relationship. Both children are named Vana Cousins and Amir Cousins.
See Also: Serge Ibaka Bio, Wife or Girlfriend – Pearl Thusi and Relationship With Keri Hilson
How Tall is He?
For the position DeMarcus Cousins plays, which is the Center, height is a crucial factor and thankfully, he's got plenty of it. The Alabama-born Center has a height of 6 feet 11 inches; he also weights a commensurate weight of 122 kg to go along with it.

Fact Check: We strive for accuracy and fairness. If you see something that needs updating,