Names like LeBron James and Steph Curry have been called among the Tier 1 of NBA talents, the natural follow up is Tier 2 where the likes of DeMarcus Cousins fall in, while he may not share god-like attributes and popularity of the Tier 1 players, Cousins is no doubt an exceptional player in his own right.
DeMarcus Cousins, though would be most remembered for his time with the Sacramento Kings, has also played for the New Orleans Pelicans and the Golden State Warriors. He has amassed over $80 million from annual salaries and endorsements.
Road To Playing In The NBA
DeMarcus began his road to the NBA at LeFlore Magnet High School where he achieved personal accolades like making the Parade All-American team in 2009 and playing in the 2009 McDonald's All-American Boys Game. At the end of his high school career, DeMarcus was one of the highly-rated players in the entire country with scouting organizations giving him five out of five stars. A look at his career shows he has justified that rating.
When college offers came knocking, DeMarcus had an array of options and eventually went with Kentucky Wildcats, the basketball team of the University of Kentucky. DeMarcus Cousins spent just one year in college posting an average of 15.1 points per game and 9.8 rebounds before he decided to sign up for the NBA Draft.
Glory Years With The Sacramento Kings That Led To His Huge Net Worth
DeMarcus Cousins would no doubt be most remembered for his years with the Kings. Highly rated talent, and one of the hotly contested players in the pool for the 2010 NBA Draft, the Kings beat everyone to him selecting him with the 5th pick.
His first professional contract, welcoming him to the millions, on offer in the NBA was a $7 million rookie contract for the first two years of his pro career.
His first two years in the league was a mixed bag for DeMarcus Cousins. While he constantly showed what he was capable of as a player, he suffered several disciplinary issues from both his team and the league. Nonetheless, he earned a salary of $3.3 million in his first season with the Kings and then pocketed $3.6 million for the 2011/12 season.
At the end of his rookie contract in 2013, DeMarcus Cousins was offered a lucrative four-year contract extension valued at $62 million; it would also become his biggest NBA contract ever. Following the deal, his salary skyrocketed to eight figures, as he earned $13.7 million for the 2014/15 season.
He spent a total of seven seasons with the Sacramento Kings recording several personal achievements, including career highs like his average points per game which finished at an incredible 27.8 points per game during the 2016/17 season. That same season, he took home a staggering salary of $15.7 million.
Contract Details with The New Orleans and Golden State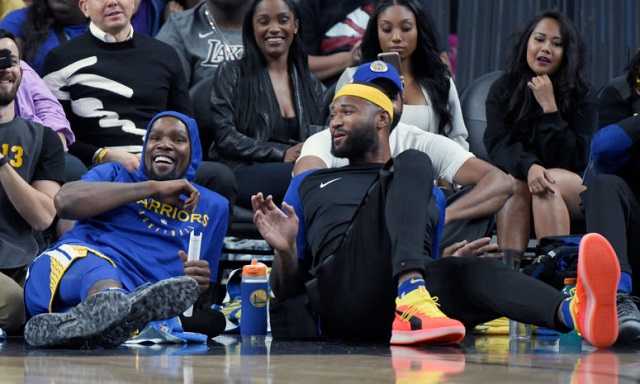 DeMarcus was traded to New Orleans Pelicans on February 20th, 2017. Cousins moved on to break several records with his outstanding performances on court as he became the first National Basketball Association player to register as many as 40 points, 20 rebounds, and 10 assists in a game since 1972 when Kareem Abdul-Jabbar achieved such feat. DeMarcus Cousins achieved this feat on January 22nd, 2018, when he posted 44 points, 24 rebounds, and 10 assists.
Sadly, after the game, he underwent season-ending surgery on January 31st, having suffered a torn left Achilles. Nevertheless, the NBA star made away with a career-high annual salary of $18 million that season.
After spending time on the sidelines as a result of his injury, DeMarcus Cousins found it difficult to find a new team after the Pelicans released him.
He was subsequently signed by the Golden State Warriors on a one-year deal with a salary of $5.3 million. On April 16th, 2019, the four-time All-Star sustained another injury – a torn left quadriceps which had him ruled out indefinitely.
He, afterward, made a comeback during the 2019 NBA Finals between Golden State Warriors and Toronto Raptors. It has been reported that between June 2018 and June 2019, Cousins racked up about $45 million from salary and endorsement, as he inked a remunerative endorsement deal with Puma in 2018.
DeMarcus Cousins later sealed a one year contract with the Los Angeles Lakers in July 2019 worth $3.5 million. He, however, suffered a debilitating injury in the following month, when he tore his ACL during a practice session. As a result, he would likely miss the whole of the 2019/2020 season. His contract with the Lakers was waived on February 23rd, 2020, as such, DeMarcus Cousins is currently a free agent.
So far in his career, he has played over 500 games, with a career average of 21.5 points per game. He has also been selected as an All-Star player four times in 2015, 2016, 2017, and 2018. For the National team, DeMarcus has recorded more team achievements including winning two gold medals at the 2016 Olympics and 2014 World Cup.
Through his exploits in the NBA, the prolific center sits on a net worth of $37 million. He has accrued a total salary of over $80 million for more than nine seasons he has spent in the National Basketball Association.
Despite his performances being hindered by injuries in recent years, the basketball star ended the year 2019 as the 41st best-paid center and the 251st best-paid NBA Player.
The NBA Center Also Has A Thriving Family Life
The highly skilled center walked down the aisle with the love of his life, Morgan Lang on August 24th, 2019. The two dated for not less than three years and eventually got engaged on July 4th, 2018.
The lavish Georgia wedding which was planned by Lily V events took place at St. Regis Hotel, Atlanta. It had in attendance big names in the NBA including Draymond Green, Andre Iguodala, Anthony Davis, and Matt Barnes.
The two lovebirds looked happily in love in their stunning outfits; Cousins' bride was all dressed in a champagne-colored ruched gown by Daughters of Nonyelum while the basketballer opted for a tux by Rich Fresh.
Three months after the wedding, the couple expanded their family with the arrival of a son. The famed athlete also has two children from what is believed to be a previous relationship. Both children are named Vana Cousins and Amir Cousins.
DeMarcus' wife, Morgan is an alumnus of Alabama State University. Professionally, she appears to be a model and equally serves as the founder of Body Lang Boutique situated in her hometown of Mobile, Alabama.