A very beautiful and highly talented woman, Deborah Falconer is an American actress who rose to fame in the '80s and early '90s as a movie star. She has starred in a number of movies, stunning people with her talent in perfectly interpreting roles. A multi-talented woman, she is also a singer and songwriter who has released a number of albums which have fetched her some accolades around the USA.
Falconer gained more popularity around the USA and beyond when she became the wife of Robert Downey Jr, one of America's most famed actors in contemporary times. The couple remained married for some time before parting ways. We have dug up some facts about Deborah for your reading pleasure. Read on to find out more about her.
Who Is Deborah Falconer?
Deborah Falconer was born on the 13th day of August 1965. The singer and actress was born in Sacramento, the capital city of California; where she also grew up with her family.
Deborah was born to a mother identified as Laura Elaine Falconer and a father called Henry Irvin Falconer. According to reports, Deborah is the only child of her parents.
Not much is known about how Deborah spent her early days in Sacramento, however, we know that she attended Fairfield High School in Fairfield, California. It is not certain if she has a college education.
Deborah Falconer kick-started her acting career when she was about 22 years old in 1988 after she was cast to play Wendy in The Wrong Guys, a comedy film. This first role handed her some experience needed to do more work on screen.
About three years later in 1991, she starred as John Densmore's girlfriend in The Doors, a biographical film. The same year, she landed roles in two other films; she played Allison McBride in Brotherhood of the Gun and then starred as Rivkah in Pyrates.
In 1993, Deborah Falconer played Chloe in Mr. Bluesman, a comedy/crime movie. The same year, she scored the role of Barbara in Short Cuts, a comedy/drama movie.
She built a singing career for herself
Apart from her acting career, Deborah also had stints in singing. Some critics have argued that her singing career has been more impressive than her acting. As a singer, she had released three studio albums to the admiration of fans.
Her first studio album was released in 2003 and was titled Brave Like Me. This was followed by her second album called Untangle which she released in 2010. Her most recent work is her third album titled Lift Your Gaze which was released in 2014.
Deborah Falconer has toured with different bands and has appeared on stage at different shows and with renowned stars including people like Elton John, winning the admiration of many.
Marriage to Robert Downey Jr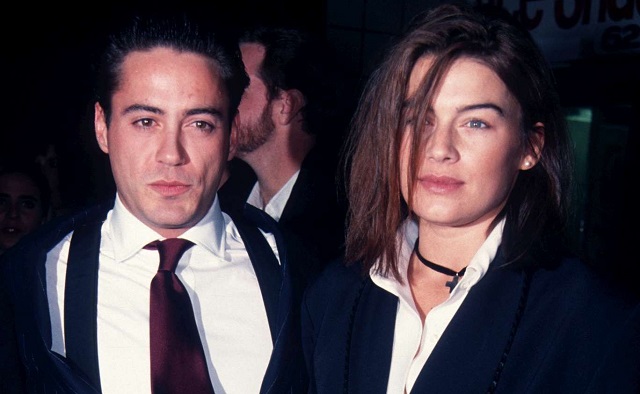 Deborah Falconer was once married to Robert Downey Jr, a very popular American actor who is highly regarded in Hollywood. The couple met in 1992 and dated for about 42 days before they eventually tied the knot as husband and wife on 29th May 1992.
The couple welcomed their only child, Indio Falconer Downey on 7th September 1993. Deborah and Robert were married for about 10 years and during this time, they appeared to be head over heels in love as they appeared in public together several times while displaying affection for each other.
However, their marriage went sour in 2001 and they separated that same year. According to sources, the marriage collapsed because Robert had a drug abuse problem. Their divorce was finalized three years later.
What's her net worth?
Apparently, Deborah Falconer has been able to rake in a substantial amount of money over the years with her work as an actress and singer. She has appeared in a handful of movies and has released three studio albums. She has also performed on stage, winning fans' admiration and making money in the process.
At the moment, Deborah Falconer's net worth has been pegged between $500,000 to $700,00 by different sources.
Read Also: Lola Falana – Bio, Net Worth and Family of The Singer and Actress
Body measurements
Deborah Falconer is a beautiful woman who has a great body shape and fans love her for this. The actress stands at 5 feet 9 inches (175 cm) and maintains a weight of 60 kg (132 lb). Apart from this, details of the rest of her body measurements are not known.