What is Daymond John's Net Worth?
As of 2021, Daymond John's net worth is estimated at $350 million
Net Worth:
$350 Million
Age/Date of Birth:

54 years old (23 February 1969)
Height:

1.69 m
5 feet 6 inches
Ethnicity/Race:

African American
Nationality:
American
Wife or Girlfriend:
Heather John
Parents:
Father: Garfield John
Mother: Margot John
Daymond John may be popular as one of the impeccably dressed stars but as regards his reputation, he is preferably described as the co-founder and chief executive of sportswear maker FUBU ("For Us By Us."). He is also a well-known investor of reality show Shark Tank. His vast business idea has seen him manage a multi-million dollar empire that encompasses fashion and media.
John is today a well-established young businessman, consultant, motivational speaker, investor, and author whose life story has gone a long way to inspire millions of business-minded individuals.
A Detailed Look at How Daymond John Makes His Money
Daymond Garfield John was born on February 23, 1969, in Queens New York. He had early entrepreneurial experience as he was part of a program in high school that permitted him to work full time. After his high school graduation, he started a van commute business.
In the early '90s when the trending wool hats with open tops were sold at $20 per piece, Daymond thought it was overpriced and immediately developed an interest in the apparel business. He asked his mom to teach him how to sew and together with his neighbor Carl Brown they made their own version of the hat, branded them with FUBU (meaning For Us By Us) and sold them on the streets of New York at $10 each, the high demand saw him make about $800 on a daily basis.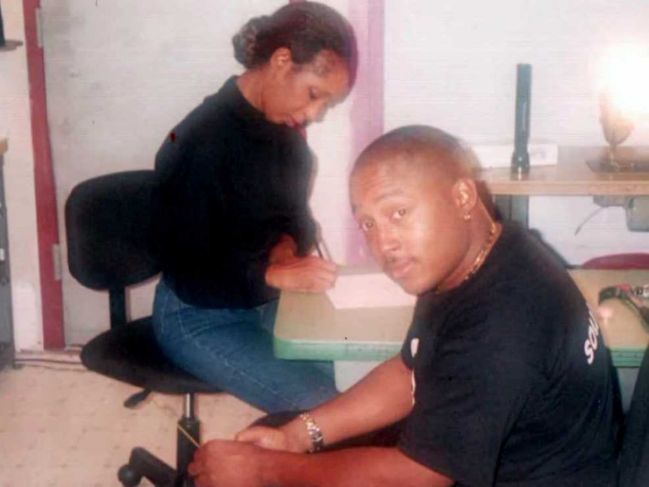 In 1992 and at the age of 23, Daymond's mom supported him by mortgaging their home to acquire a $100,000 capital to grow the business. Part of the house was transformed into a factory where the clothes were made and branded. They went from hats to include sweatshirts, T-shirts, hockey, and football jerseys. While running the business, Daymond waited tables at Red Lobster to help with basic needs.
Rapper LL Cool J played a huge role in the marketing of the merchandise when he wore it in public campaigns and incorporated 'for us by us' in his rap lyrics. Soon, FUBU received over $300,000 worth of orders for their goods, received an invitation to participate in Macy's Las Vegas fashion trade show and investment from electronics giant Samsung.
The company grew even more rapidly as it rode on the popularity of hip-hop fashion trends receiving endorsements from celebrities like Will Smith, Magic Johnson, Busta Rhymes, Janet Jackson, and more. After focusing on foreign markets in the early 2000s, FUBU returned its focus to the US in 2010 with the re-branded name FB Legacy. The company now has collections including tuxedos, suits, intimate apparel, footwear, swimwear, watches, and more. Although his brand's popularity has since waned, the company has earned more than $6 billion in worldwide sales.
How Much Is Daymond John Worth Now?
Daymond has been part of the "Shark Tank" cast since it debuted in 2009. Shark Tank is a show where successful entrepreneurs and potential investors known as angel investors listen to business pitches from people and in turn invest their money into anyone that seems promising to them. Daymond's net worth is estimated at $350 million and he has invested over $7.5 million on Shark Tank. He has also appeared in other shows like "The Game" and "The Real".
In addition to overseeing his clothing line and his investment in Shark Tank, John owns and invests in a wide variety of other businesses including Talbott Teas – a Chicago based gourmet tea company with about $3 million profit. As of 2013, the business mogul said he earned up to half a million dollars from the company.
Daymond John has become an active motivational speaker and business consultant helping celebrities and other entities expand and increase their revenues. He is an ambassador for Shopify. In addition to his numerous business interests, he has penned three books, "Display of Power" is an autobiography based on his early business career and early life, "The Power of Broke" is a motivational book featuring stories of successful entrepreneurs like Rob Dyrdek and Loren Ridinger, the third book is titled "The Brand Within".
His Notable Achievements Include Becoming A New York Times Best Selling Author
Over the course of his career, Daymond John has achieved several significant and career defining wins. This includes, but is not limited to, turning FUBU to an internationally recognized brand, joining the Emmy Award-winning Shark Tank and co-founding 'Daymond John's Success Formula' which is a program created to educate budding entrepreneurs and business owners on how to start and/or grow their business.
However in the face of all these successes, becoming a New York Times and Wall Street Journal best-selling author is at the top of the list; this is due to the fact the businessman has been diagnosed with dyslexia, a learning disorder characterized by difficulty of reading.
Over the course of his career, Daymond has written four books and they are:
Display of Power: How Fubu Changed a World of Fashion, Branding and Lifestyle, co-written with Daniel Paisner (2007), published by Naked Ink.
The Brand Within: The Power of Branding from Birth to the Boardroom (2010), published by Display of Power Publishing.
The Power of Broke: How Empty Pockets, a Tight Budget, and a Hunger for Success Can Become Your Greatest Competitive Advantage, co-written with Daniel Paisner (2016), published by Crown Business.
Rise and Grind: Outperform, Outwork, and Outhustle Your Way to a More Successful and Rewarding Life, co-written with Daniel Paisner (2018) published by Currency.
Other Significant Achievements Include Winning An NAACP Image Award for Outstanding Instructional Literary Work
Given his long and illustrious career, it is fair to expect that Daymond John has racked up several awards in the process. Serving as a testament to his versatile career, his award wins cuts across different fields including his work as an author and entrepreneur. These include:
NAACP Image Award for Outstanding Instructional Literary Work for The Power of Broke: How Empty Pockets, a Tight Budget, and a Hunger for Success Can Become Your Greatest Competitive Advantage
NAACP Entrepreneurs of the Year Award (x2)
The Essence award
2015 Presidential Ambassador for Global Entrepreneurship
Brandweek Marketer of the Year
Crain's New York Business Forty Under Forty Award
Congressional Achievement Award for Entrepreneurship (x2)
Advertising Age Marketing 1000 Award for Outstanding Ad Campaign
Brandeis University International Business School's Asper Award for Excellence in Global Entrepreneurship
2018 ISPA Alex Szekely Humanitarian Award
Ernst & Young's New York Entrepreneur of the Year Award
Ernst & Young's Master Entrepreneur of the Year
Details 50 Most Influential Men
 Hennessy VSOP Privilege Award
What Does He Spend His Money On?
Houses
Having acquired much wealth as a self-made millionaire, John sure has landed properties to his name. One of his well-known houses is his six-bedroom house in Southampton. The property which is worth $7.5 million has a swimming pool, a brick patio, antique fireplaces, rustic floors, and has a beautiful view from all over the entire window.
Cars
Talking about his luxury cars, the multi-billionaire dollar business mogul sure has some expensive cars but because he is yet to reveal any of his car models, we can only assume that his fleet of cars will be amazing considering the worth of his house. Meanwhile, we do know of his multi-million dollar private jet which he purchased in 1999 but later sold it off in 2002.
The Award-Winning Entrepreneur Is Married To Heather Taras
Heather Taras
Date of Birth: N/A
How Long Have They Been Married: 2018 – Present
Number Of Children She Has With Daymond John: 1
The 5′ 7″ tall American businessman, who is also the only child born to his mother, is currently married to his longtime girlfriend, Heather Taras. Just about six months after the couple had their first child Minka Jagger John, Daymond John popped the long-awaited proposal to Heather on the set of his ABC show, Shark Tank, holding a custom-designed 9.5-carat emerald-cut diamond ring for her. Notable stars like Mark Cuban, Barbara Corcoran, Robert Herjavec, Kevin O'Leary, and Lori Greiner were all present during the proposal. The marriage between the two then happened in 2018.
Despite being married to a rich and famous personality, Heather Taras still keeps her identity undercover. There are no details of her life, where she originates from or what business she does; even their wedding ceremony was very private. While there are no pictures shared by the couple to provide a hint to the public about what their wedding ceremony looked like, Daymond John has countlessly revealed just how excited he is with his new home. He also does not fail to shower his wife with praises on how she has been supporting him.
Minka Jagger John
Date of Birth: 2nd March 2016
Place of Birth: United States
The adorable Minka Jagger John was born on the 2nd of March, 2016 to the delight of her parents. Due to her young age, there is limited information about her available but based on what can be gathered from social media, the young girl shares a close relationship with both parents who frequently dote on her.
The FUBU founder has expressed that he cannot wait to teach Minka everything he knows about building an empire and developing a strong work ethic which he, in turn, learned from his mother.
Daymond John Has Been Married before
John's marriage to Heather Taras is not his first neither is Minka Jagger John his only child. In fact, this TV personality has been previously married to an undisclosed lady, and together they had two daughters whose names are Yasmeen and Destiny.
Being a quiet and conserved person, John has never said a thing about his previous marriage nor his ex-wife in the media. However, he did blame his busy life schedule as the reason why his first marriage fell apart. He also revealed that he almost lost communication with his two daughters but that his ex-wife, later on, agreed to allow him to see them.
Daymond John was not the only private person in that relationship; his ex-wife was also very private and stayed completely out of the limelight during their marriage. As a result, nothing is known about her. Facts such as her name, age, or even how long they were married has never been made public knowledge. Interestingly, John's first two daughters, Yasmeen and Destiny – from his first marriage – take after their parents in that regard.
Beyond their names, no other information about his first two daughters have been made public. Both Yasmeen and Destiny have successfully kept details about their schools, careers, date of births and their lives away from the media. They are also not on social media at the moment, and as such, fans of the FUBU millionaire have no idea what his older daughters look like. This is a particularly applaudable feat as most children of celebrities are barely ever able to achieve this level of anonymity.
Profile Summary
First Name:
Daymond
Last Name:
John
Also Known As:

Daymond Garfield John
Sex/Gender:

Male

Profession:

Businessman, investor, television personality, author, and motivational speaker
Famous For:
Being the CEO and founder of FUBU
Colleges/Universities Attended:

Bayside High School
Educational Qualifications:

High school education
Religion:

NA
Birthday & Zodiac

Age/Date of Birth:

54 years old (23 February 1969)
Zodiac Sign:
Pisces
Birth Place:

Brooklyn, New York City, U.S.
Nationality:
American
Ethnicity/Race:

African American
Country of Residence:

The United States
Physical Attributes

Height:

1.69 m
5 feet 6 inches
Weight:

72 kg
158.7 lbs
Eye Colour:

Dark brown
Hair Color:

Black
Other Body Measurements:

NA
Relationships

Marital Status:

Married
Spouse/Partner:

Heather John
Family and Relatives

Father:

Garfield John
Mother:
Margot John
Children:

Yasmeen John
Destiny John
Siblings:
Seven
Other Relatives:

NA
Net Worth
Estimated Net Worth:

$350 Million
Salary:
NA
Source of Wealth:

Business