Actor David Schwimmer is among the top-notch stars of Hollywood who made the movies of the 1990s successful. David catapulted to fame after he portrayed the character of Dr. Ross Geller in Friends – one of the most successful comedy series of the '90s. Thanks to his break out role, the entertainer's acting career have experienced a steady ascent, especially with hits like Six Days Seven Nights, Kissing a Fool, Duane Hopwood, and Madagascar franchise. David has become a big name in the film industry as an adept actor in the movies and TV series, as well as on the stage.
David Schwimmer also has a finger in behind the camera operations as a movie director with quite a good number of films and TV series under his belt. Notable among them are Trust, Since You've Been Gone, and The Tracy Morgan Show. His credits as a producer include Shoot the Moon, Humanoid, and Growing Up Fisher. David has earned tons of wealth for his contribution to Hollywood, but how much is the American entertainer worth?
How Much is David Schwimmer Worth?
Though the majority of David Schwimmer's earning came from his career as an actor, a good percentage of the credit goes to his Role on Friends. According to reports from Wealth Gorilla and Celebrity Net Worth, his worth is estimated at around $85 million.
This may sound like the big bucks, but David is not the wealthiest among the Friend's stars by a long chalk. This begins to ring true when we consider actress Jennifer Aniston whose net worth was last estimated at an astounding $220 million. However, her wealth did not all come from Friends; she has played the lead in a handful of films in addition to her starring role in the sitcom. So it is easily understood that she has a huge paycheck to show for her efforts.
There are still co-stars of the sitcom who far exceed David Schwimmer in the wealth department. Both Matthew Perry and Courtney Fox can each boast of $120 million. However, we have seen a few that have earned close to what David has such as Matt LeBlanc with $80 million, and Lisa Kudrow with $90 million.
Here's How The Actor Mades His Wealth
Friends was ranked as one of the biggest and most-watched sitcoms of its time, snatching the attention of almost 22 million viewers. Thus, it follows that its stars would get huge compensations. However, the earnings were not always that phenomenal for them. The debut season saw them getting a relatively measly $22,000 for each episode, but with time, they figured out that it was possible to be making more.
The cast refused to commence filming for the second season until it was agreed that their paycheck will be increased to $100,000 for each person per episode. Even that seems paltry when compared to the $1 million per episode, which was exactly what they were earning by the final season of Friends. Important to point out that they justified this huge paycheck because the Friends stars were bringing in around $90 million per person before the end of the sitcom, Celebrity Net Worth said.
By far, that was not all the money David Schwimmer made from Friends. Each star of the sitcom gets a cut from the royalties both from streaming services and reruns. Submissions from USA Today said that the cast members are entitled to as much as $20 million annually from royalties and the sweetest part of it is that this paycheck will keep rolling in for years to come.
However, the celebrity actor's fortune does not just come Friends alone. While his other productions may not be as well known, he has accumulated a fairly long list of films and TV shows that he has participated in. These include Will & Grace, Madagascar, and the miniseries, The People Vs. O.J. Simpson.
His wealth came from acting notwithstanding. David Schwimmer has also made his mark in the area of movie directing with many productions to his credit, he even takes the credit for directing 10 episodes of Friends in addition to the film Trust, the television show Joey, and many others.
Is He Still Earning The Big Bucks?
Even though he does not grace our screens much in recent times, David Schwimmer still has an active career in entertainment. This is because he has taken up positions behind the camera, directing movies, or voicing them in the case of Madagascar. However, he did grace our screen in 2016, in the drama, The People Vs. O.J. Simpson as Robert Kardashian. The role earned him an Emmy nomination and was dubbed "an angst-ridden, emotional performance," by GQ.
He still showed up again in 2019 on the set of the indie movie The Laundromat co-starring with big names like Antonio Banderas and Meryl Streep. Though David Schwimmer still plays movie roles, as well as directing projects, fans will always remember him as the dude from Friends. It seems he will never be able to get out from under the shadow of Ross Geller.
We must point out that his involvement in movies up till now must be out of his love for entertainment. The Friends star doesn't need the bucks. He can leave the lavish life with all his royalties from Friends even if he chooses never to do a day's work for the rest of his life. We are just lucky that David appears to enjoy what he does and continues to seek roles.
Read Also: What Is David Letterman Net Worth And How Does He Spend It These Days?
Amazing Facts About David Schwimmer's Family Life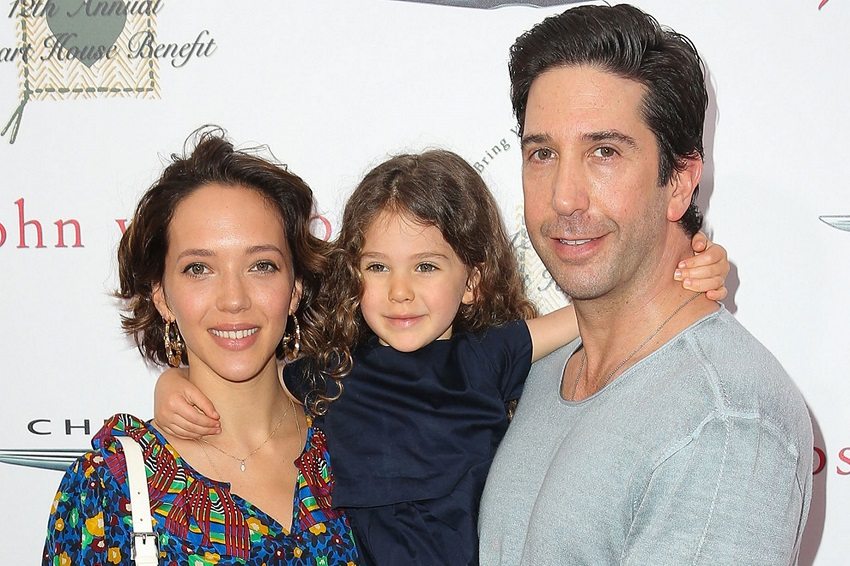 The story of David Schwimmer and Zoe Buckman's journey to matrimony began in 2007 when their paths crossed in London, while the actor cum director was working on movie Run, Fat Boy, Run. While David worked behind the camera as the movie director, he still found time from his busy schedule to wine and dine his newfound love.

Reports from US Weekly said that Zoe formerly worked as a waitress at the Cuckoo Club in London and was still on their payroll when she met David. The duo dated for three solid years and decided to get officially engaged in March 2010. Solemnization of their union was accomplished in a secret wedding in June 2010, barely three months after the actor popped the big question. However, the public was never privy to their marriage until later in October 2010 when they decided to go public with the information.

It would appear that the couple was in a hurry to start a family because barely 10 months after they exchanged marriage vows, the duo welcomed their first child – a beautiful daughter called Cleo Buckman Schwimmer on the 8th of May 2011. The marriage seemed to be running on oiled wheels until April 2017 when they announced that they were ready to take some time apart. Their divorce followed before the end of that year.

Along with Zoe, David Schwimmer later put up a public statement telling the public that their time apart was for them to be able to determine the future of their relationship. They equally acknowledged that Cleo's wellbeing and happiness was their top priority and requested that fans support and respect their privacy during their trying times.

David was reportedly dating Katie Markowitz, a woman he met and bought a drink for in a bar. However, Katie declined to have a relationship with the actor when questioned, but the US Weekly still went ahead to report that something might be brewing between the duo. A couple of years later, the popular actor was spotted reuniting with his ex Zoe Buckman. They were seen stepping out for coffee in New York City. A few hours later, David Schwimmer and his former wife posed for a sweet Instagram snap alongside their eight-year-old Cleo to celebrate their daughter starting her third grade at school.

Fact Check: We strive for accuracy and fairness. If you see something that needs updating,