Many have built a career in journalism but not too many have been able to accomplish the things that David Muir has attained thereof. The popular American journalist is admired by his peers for being the anchor of ABC's "World News Tonight with David Muir". Also known as a managing editor and reporter, David is easily one of the finest journalists that the United States has produced.
He is highly revered by many for among other things, conducting meaningful interviews with prominent figures like Apple CEO Tim Cook. He had a talk with the business executive regarding his rift with the FBI for refusing to unlock the iPhone of the San Bernardino killer. He's also interviewed people like Barack Obama, Hilary Clinton, and Donald Trump. But many would agree that his greatest career achievement is securing a sit down with Pope Francis in the Vatican.
David Muir's Bio
David Jason Muir was born on November 8, 1973, to Staunch Roman Catholics; Ronald Muir (father) and Pat Mills (mother) in Syracuse, New York. Growing up, David was raised by his parents alongside his older sister Rebecca Muir in Onondaga Hill. He attended Onondaga Central High School before proceeding to further his education at Ithaca College in New York, where he graduated from with clear distinctions and procured a BA in Journalism.
In his quest for self-enhancement, he enrolled at the Institute of Political Journalism at Georgetown University and eventually moved to the University of Salamanca in Spain to further his knowledge in the field of modern journalism.
Having felt he had received the required education to achieve his dreams of being a professional journalist, Muir kick-started his career by taking up a job as an anchor and reporter for WTVH-TV in 1995. For five years he served in this capacity thus developing a reputation for being a prolific reporter; a reputation that made him highly sought after by a good number of news network outlets out of which he eventually picked WCVB TV. During his time at WCVB-TV, he received several awards for his exploits as a news correspondent and Anchor.
In August 2003 Muir became an anchor for ABC "World News Now" (an evening segment of the news) as well as "World News This Morning". Four years later, he was made anchor of "World News Saturday", around which time he was also known to co-anchor "Prime Time" news magazine on few occasions.
In 2012 Muir was assigned additional duties of anchoring "The Weekend Newscast"; a move that eventually led to improved ratings of the weekend evening news thus making the network rename the broadcast "World News with David Muir".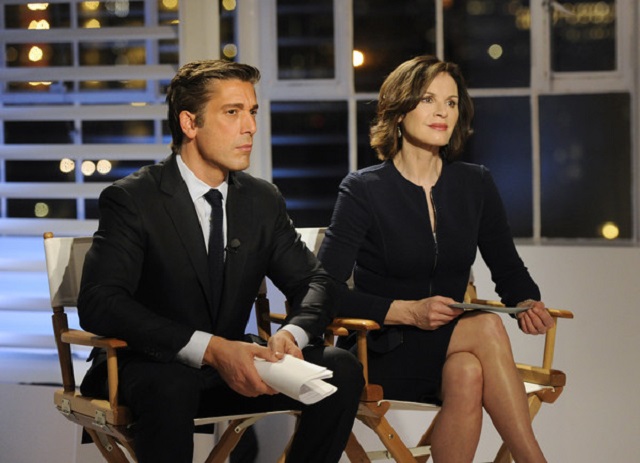 For his numerous contributions in the field of journalism, he has been awarded several accolades including an Emmy, the Society of Professional Journalists honors, Edward R. Murrow awards, and a CINE Golden Eagle award in 2016 for his well-detailed report on the heroin crisis in America.
Is He Gay Or Married, Who Is the Wife?
For several years there has been an unending argument between fans and news lovers alike on issues regarding the sexuality of the iconic news anchor and reporter David Muir. Such speculations arose after Muir was spotted in a gay bar alongside his colleague Gio Benitez, thus leading to rumors that they were romantically involved with each other.
However, such rumors were laid to rest after Gio got married to Tommy DiDario, leaving fans in perpetual wonder as to if Muir is actually gay or not. Not much is known as regards David Muir's love life. To the best of our knowledge, he has not been rumored to be in any relationship in the recent past. Also, there are no records of his past relationships apart from the alleged gay saga. As such, it is pretty safe to conclude that he doesn't have a wife or a girlfriend.
Read Also: Philip Rucker – Bio, Is He Gay, Who Is The Wife or Husband?
His Salary and Net Worth
Having built a flourishing career as a journalist and an international news reporter for 24 years, David Muir is expected to be worth a huge sum of money. In 2014 he was recorded to be earning a staggering $5 million per year as salary; a figure which placed him among the highest paid people in TV News. Several sources place his current net worth at an estimated $9 million but the authenticity of such figures is yet to be confirmed.

Fact Check: We strive for accuracy and fairness. If you see something that needs updating,