Making it to the top as a journalist requires some level of dedication to the job and experts like David Gura has earned a good reputation for working with so much zeal to ensure the success of every program they handle.
The New York-based American journalist, who currently serves as an anchor and correspondent for MSNBC News, started as an editor and a producer for the National Public Radio (NPR) and today, his ever-growing popularity is linked to his analytic skills in matters that involve politics, economy and business. Recently, the journalist started his own TV series Up with David Gura which he hosts every Saturdays and Sundays morning. Let's get to know more about David Gura.
David Gura's Early Life And Career
The American journalist is a New York native born around the early 1980s. His exact birth date is not yet known as he has not revealed much about his background. As per his educational background, he attended Cornell University, after completing high school.
At Cornell, he bagged a Bachelor's degree in American Studies, History and Latin-American Studies. He did not end there but moved to Columbia University where he earned his master's degree in Broadcast Journalism. Although it is not yet confirmed, some sources claim that Gura was also a student at the Higher University of San Andrés and the Universidad Católica Bolivia, where he studied Political Science.
David's career officially started in 2007 when as a fresh graduate, he was offered a job as an assistant for WUNC-FM based in North Carolina. The following year, he became an assistant editor. Thanks to his level of dedication and experience he was made an associate editor after a year. Becoming more popular for his works at the flagship National Public Radio member station, he was appointed to host one of NPR's popular shows, The Two Way in February 2010 but by October the same year, he left the radio station to work at the American Public Media as a reporter on its show Marketplace. He left in 2015 to work with Bloomberg TV.
At Bloomberg, David worked for over two years as an anchor and correspondent for the station's Radio and Television programs such as Bloomberg Surveillance on Bloomberg Radio and Bloomberg Markets: The Trump Economy on Bloomberg TV.
Following the departure of the openly gay anchor Thomas Roberts, in December 2016, David Gura was hired by MSNBC as their new news correspondent. He debuted on news channel MSNBC Live in 2017 and has been working with the channel since then.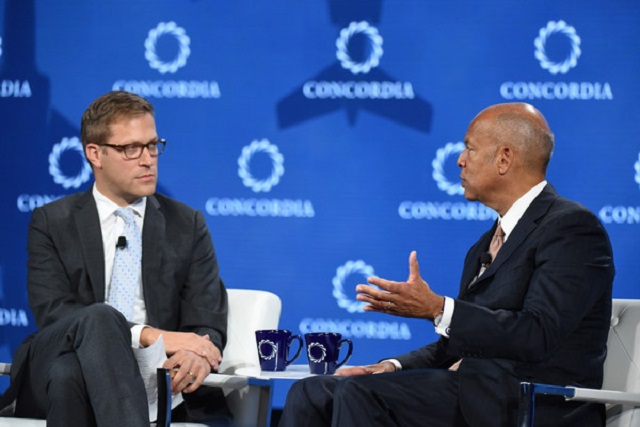 What Is David Gura's Net Worth?
Obviously, his fast-growing net worth of $1 Million is proof of his hard work and accomplishments. His exact salary is still not known but thanks to his economy and policy analysis, David Gura has earned so much respect from entities like the National Constitution Center, National Press Foundation and the French-American Foundation.
David Gura is quite active on social media platforms like Twitter and Instagram. He uses these platforms to promote his various entertainment programs. The news correspondent has garnered over 35,000 followers on Twitter since he joined in 2008. On Instagram, Gura has about 1,700 followers.
See Also: Who Is Charles Payne Of Fox News?
Is He Married, Who Is The Wife?
Despite being a popular news correspondent, David Gura still falls among the top celebrities who feel their personal lives should be kept away from the public eye. As a result, his dating history and girlfriends remain his top secret. However, he uses his social media platforms to inform his followers about his present relationship status.
Currently, David Gura is a happily married man. Although information about his wife and wedding details are not yet available, from the details he gave on his Twitter handle, the journalist appears to have children whose names are equally not known.
David Gura belongs to a mixed ethnicity but he is yet to reveal more about his family. Left for the fact that we know that he is married to his beautiful wife with whom he is raising a lovely family, information about his parents and siblings are still under wraps.
Among his other physical qualities, Gura's black eyes and blond hair make him an outstanding personality suitable for shows. With a decent height in place, the journalist appears to be at his best when it comes to keeping fit.