When you have reached the pinnacle of your career, with more than 12 million albums sold and a place in the Rock and Roll Hall of Fame, there are very few things as meaningful and fulfilling as the joy of having a family with whom you get to share important moments of your life. That is what Dave Grohl enjoys with his family of five which consists of his wife, Jordyn Blum, and three daughters.
Dave Grohl, a man who continues to command thousands of audiences in concerts and shows all over the world, is a humble family man. In this article, we discuss everything you need to know about his family, including details about his parents and siblings.
Dave Grohl's Family Members
Dave Grohl was born into a close-knit family made up of himself, a sister named Lisa Grohl and parents James Grohl and Virginia Grohl. On his own, he has expanded the family through his marriage to Jordyn Blum which has produced three children, daughters Violet Maye, Harper Willow, and Ophelia Grohl.
Outside of his nuclear family, some of his known extended family members include paternal grandparents, Alois Grohl and Ruth V. Grohl. He also has two known uncles from his father's side of the family – Tom Grohl and Daniel Grohl.
Who is His Wife – Jordyn Blum?
Dave Grohl got married to Jordyn Blum on the 2nd of August, 2003. His wife was born on the 28th of May, 1976, in Los Angeles.
Like a lot of women in the city, Blum wanted a career as a model or actress. She took the first step to achieve her dream at the age of 17, signing up for photo sessions and auditions. However, despite enjoying modest success as a model, she decided to switch profession and eventually became a producer for MTV.
While she was at MTV in the late 90s, she met Dave Grohl, and they dated for a short while. That is until Taylor Hawkins' coma incident prompted the Foo Fighters' lead singer to reevaluate his life. He rekindled his relationship with Blum and two years later, they got married in a very private ceremony.
Jordyn Blum continues to be a producer and director.
Who Are Dave Grohl's Daughters?
Violet Maye Grohl
Three years after they got married, Dave Grohl and Jordyn Blum expanded their family with the birth of Violet Maye, their first daughter, born on the 15th of April, 2006.
Violet was welcomed with a rendition of the song, In My Life. Over the years, Dave has nurtured a beautiful relationship with his daughter, including dedicating one of his albums, Come Alive to her.
As of today, Violet Maye, who is now a teenager, has shown interest in music. She has been known to join her father on stage sometimes.
Harper Willow Grohl
On the 17th of April, 2009, Dave Grohl and his wife increased their family with the birth of Harper Willow. She was born in Los Angeles.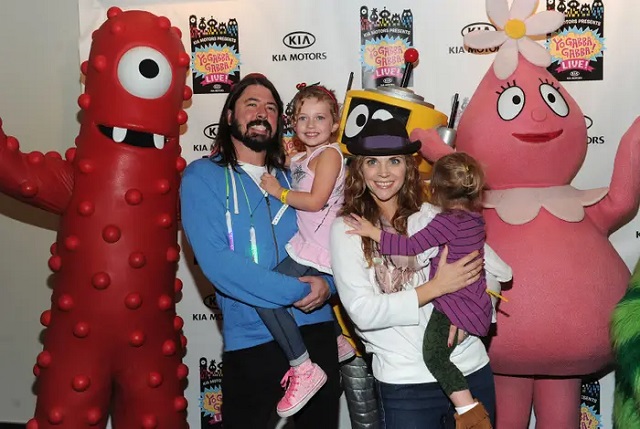 Still a young child, Harper has already made the news on several occasions due to the fact she enjoys playing drums like her father. She has performed with her father and her older sister at some of her father's concerts.
She lives with her family in Encino, California, where her father takes her to school in a minivan when he is not on tour.
Ophelia Grohl
The third child and daughter in Dave Grohl's family is Ophelia Grohl. She was born on the 1st of August, 2014. Her expected arrival was announced at a Beatles event by her mother in the early parts of 2014.
Being that she's still a child, it is yet unknown what career path she will follow but it's only a matter of time.
Dave Grohl's Parents and Sibling
His mother, Virginia, was a teacher. Seven years after his birth, Virginia and her husband got divorced, and Dave spent his formative years with his mother.
Aside from being a teacher, she is also an author. She wrote the parenting book, From Cradle to Stage, where she discussed the challenges of raising a child who is a rock star.
Virginia Grohl is known to attend her son's shows and concerts frequently.
Dave Grohl's father – James Grohl, on the other hand, was a news writer. He studied at Wesleyan University and graduated from Youngstown University, where he studied journalism. Aside from being a news writer, he also worked as a special assistant to Senator Robert Taft.
Although James divorced Dave's mother, he maintained a relationship with his son. He nurtured Dave's interest in drums and supported his love for music. He later got married to Renie Yoshida.
Five days after the birth of his granddaughter – Dave Grohl's third child, he died from cancer in August 2014.
Dave Grohl has an older sister, Lisa Grohl. Not much is known about her but she lives in Sherman Oaks, California. She is also a trained guitarist, although she chose to pursue another profession outside of music. She has been credited as a bass guitar player in some of Foo Fighters' records.