Dave Chappelle is an American stand-up comedian, actor, and filmmaker who is worth millions.
Here, you will find all you need to know about his life including info about his wife, family, kids, son, sister and height.
Dave Bio and Rise to Fame
David Khari Webber Chappelle was born on 24th August 1973 in Washington DC. He was raised in Silver Spring Maryland where he attended Woodlin Elementary School. His both parents who were professors separated when he was 6 years old. Chappelle after the divorce shuttled between Washington and Ohio where his divorced parents lived. Chappelle's interest in comedy began at a very young age. The comedian has cited his idols back then to include Eddie Murphy and Bill Cosby.
Journey to Stardom
He began his stand up comedy career in high school and later moved to New York City. Dave was once booed off stage at an Amateur night in New York's Apollo centre. Instead of allowing the embarrassment to birth discouragement, Dave said it was a stepping stone for him to focus more on the show business. And despite his slow growth to stardom, he did not relent. Dave kept on performing in parks and soon earned mild fame in the New York City comedy circuit.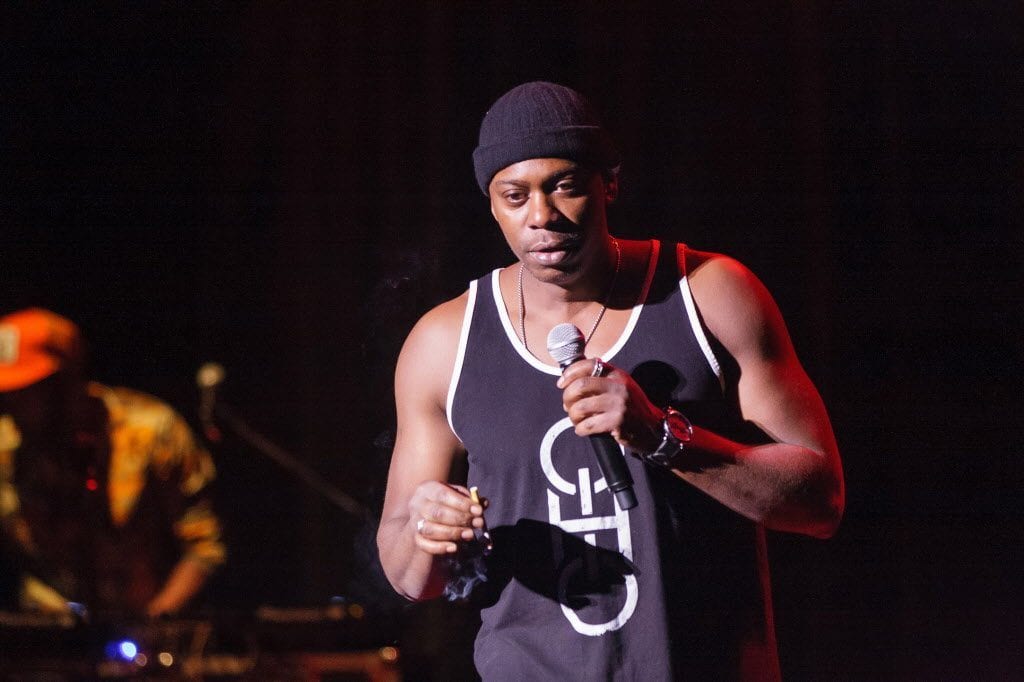 While waiting for his comedy career to take off, Dave began to take up movie roles. His debut movie role was in 1993 movie "Robin Hood: Men in Tights" where he portrayed Ahchoo. In a bid to achieve star status, he competed thrice in the comedy arm of Star Search but didn't win.
After rejecting a role in 1994 comedy-drama "Forrest Gump" for reason being that it would undermine his status, Dave landed another supporting role in the Doug Liman film, "Getting In". The same year, Dave made his debut on the HBO special Comic Relief VI.
Dave slowly began to gain attention from TV networks and soon began filming pilots. He appeared in an episode of  Tim Allen's hit series "Home Improvement". His character on the show gained enough attention for ABC to grant him his own sitcom titled "Buddies". Unfortunately, "Buddies" premiered to low ratings and was discontinued shortly after.
Chappelle returned to taking up movie roles. In 1996 he starred alongside one of his mentors Eddie Murphy in the comedy movie "Nutty Professor". The movie grossed $130 million against a $54 million budget making it a commercial success. Next up was "Con Air" (1997) which made $26 million in post-tax profit.
Chappelle's First Major Breakthrough
In 1998, Dave featured in two HBO stand-up specials which were accompanied by roles in commercially successful movies "Half Baked", "Woo" and "You've Got Mail" with Tom Hanks all in 1998, as well as Martin Lawrence's "Blue Streak" in 1999. Though Dave's reputation as a stand-up comedian grew with his 2000 HBO special "Dave Chappelle: Killin' Them Softly", it was his own weekly Comedy Central sketch comedy show "Chappelle's Show" that gave him the breakthrough success he had worked over a decade for.
Chappelle's Show which ran for three seasons ending in July 2006 focused on the parody of pop culture, politics and racial stereotypes. In addition, it featured performances by musicians and also served as an exposure platform for upcoming acts. After its first season, Dave inked a $55 million pact to continue for two seasons. However, Chappelle abruptly walked away from the show before the completion of the third season stating his preference of stand up to sketch comedy. Reruns of the show are still being syndicated worldwide.
After the drama with Comedy Central, Chappelle returned from his trip to South Africa and in 2006 he released a documentary film "Dave Chappelle's Block Party". The documentary which was a chronicle of his free show in Brooklyn featured performances from top acts like Kanye West and was a success grossing over $11 million against $3 million budget.
Latest Activities
Dave Chappelle returned to stand-up and even set an endurance record at Laugh Factory. However, his record was broken in 2008 by Dane Cook who previously held the record. After keeping a low profile for about four years between 2009 and 2013, he made an unannounced appearance on the NYC's comedy club The Comedy Cellar. He has since returned to stand-up comedy and even touring the nation. Dave appeared in 2016 Spike Lee movie "Chiraq" which also stars TV host Nick Cannon.
Dave Chappelle's Net Worth
Per Forbes, Dave Chappelle made $7.5 million in 2015 appearing on the list of world's highest-paid comedians. Most of his earnings were from his comedy tour. Previously, Dave earned $12 million and $22 million in 2002 and 2003 respectively.
In November 2016, Dave inked a $60 million, deal with Netflix to produce 3 comedy specials that aired in 2017, making it one of the highest comedy special deals ever. Dave Chappelle's Net Worth is estimated to be at $42 million
His Wife, Kids, And Sister
Dave came from a well to do family in Washington D.C. His father William David Chappelle III was a renowned professor and statistician. His mother was a professor as well. The union of the professors also produced 2 siblings for Dave Chappelle. An elder brother William S Chappelle and a sister Felicia Chappelle Jones.
Dave Chappelle has been married to Elaine Mendoza Erfe since 2000, together they share two sons and a daughter. The family lives together on a 65-acre farm in Yellow Springs, Ohio. He has been practising the Islamic religion since converting in 1998.
Height, Weight and Body Stats
Dave Chappelle has a height of 5 feet 11 inches (180.3 cm) with a body weight of 80kg (176 pounds).