| Age/Date of Birth: | August 24, 1973 |
| --- | --- |
| Height: | 5 ft 11 in or 180 cm |
| Ethnicity/Race: | African-American, Ivorian, and African-Grenadian |
| Nationality: | American |
| Net Worth: | $50 million |
| Wife or Girlfriend: | Elaine Mendoza Erfe (2001-Present) |
| Parents: | William David Chappelle III and Yvonne K. Chappelle Seon |
Dave Chappelle is an American stand-up comedian, actor, and filmmaker who is worth millions. Dave came from a well to do family in Washington D.C. His father William David Chappelle III was a renowned professor and statistician. His mother was a professor as well. The union of the professors also produced 2 siblings for Dave Chappelle. An elder brother William S Chappelle and a sister Felicia Chappelle Jones.
Meet Dave Chappelle's Wife, and Kids
Dave Chappelle has been married to Elaine Mendoza Erfe since 2001, together they share two sons and a daughter. The family lives together on a 65-acre farm in Yellow Springs, Ohio.
Elaine Chappelle
Full name: Elaine Mendoza Erfe
Date of birth: August 31, 1974
Nationality: American
Occupation: NA
Chappelle's wife was born to Filipino parents in Brooklyn, New York, but her early background details are not known. Also, the circumstances that led to her meeting Chappelle are not public knowledge but we do know that they dated for a while before tying the knot in 2001.
In the course of her long-lasting union with the comedian, Elaine has received credit as a strong pillar of support in the life of her husband. She has been with him through thick and thin and though her only claim to fame is her husband, Elaine played a vital role in the success he enjoys in his career today. She is also the mother of his two sons and a daughter, Sulayman, Ibrahim, and Sonal.
Sulayman Chappelle
Full name: Sulayman Chappelle
Date of birth: 2001
Occupation: Boxer
Years active: NA
Sulayman, whose name translates to Solomon which means 'Peace', is the first child of Dave Chappelle and he was born sometime in 2001; the exact date is not public knowledge.
At the moment, Sulayman is not toeing the career path of his father. The youngster showed interest in boxing quite early in life and has been practicing at Pacquiao's Boxing Gym since 2015. He is yet to turn pro in the sport but his dad supports his endeavors and has acknowledged he is proud of him.
Ibrahim Chappelle
Full name: Ibrahim Chappelle
Date of birth: NA
Place of birth: Yellow Springs, Ohio, the United States of America
Ibrahim is the second child in the family but his exact date of birth is not known publicly. He is, however, said to be 17 as of 2020. He follows his parents' footsteps in living a quiet life away from the spotlight. However, he doesn't seem to have any of his father's comedic talents and charisma.
Sonal Chappelle
Full name: Sonal Chappelle
Date of birth: 2009
Occupation: NA
The youngest of Chappelle's kids, Sonal is apparently daddy's girl, often seen with him in public. For her future career, Sonal is yet to make a choice and is more focused on her education. She has, however, made an appearance in one episode of Saturday Night Live.
Meet His Sister and Other Family Members
Dave Chappelle comes from a family with a rich heritage with members who have contributed in one way or the other to make the world a better place.
Bill Chappelle (Father)
Full name: William David Chappelle III
Date of birth: December 16, 1938
Died: August 1998
Occupation: Professor of music, civil rights organizer
Years active: NA
Chappelle's father was a practicing statistician but later served as a professor at Antioch College in Yellow Springs, Ohio. He spent most of his career life at the institution where he was made the Dean of Students. Both parents of the comedian were active in politics and were friends with Pete Seger and Johnny Hartman.
In his heydays, William Chappelle contributed immensely to the civil rights movement in Ohio and also became a member of the Yellow Springs Human Relations Commission in the '70s. In his efforts as an activist, he co-founded H.U.M.A.N. which stands for Help Us Make A Nation. William also founded the African American Cross-Cultural Works. The Antioch College Alumni Association honored him and two others with the Walter F. Anderson Award in 2010, for his contributions to the fight against ethnic barriers.
Dave Chappelle's father died in Yellow Springs in 1998.
Yvonne Seon (Mother)
Full name: Yvonne Seon (nee Reed/Chappelle)
Date of birth: NA
Place of birth: Washington, D.C., United States
Occupation: Professor
Years active: NA
Both parents of the comedian have deep roots in the academic world. His mother, Yvonne, is equally a professor with a major in African studies, government administration, and African American studies. She served as a professor at Prince George's Community College, as well as a Unitarian Universalist minister. She set a record as the first black American woman to become a Unitarian Universalist minister in 1981.
Yvonne Seon served the Democratic Republic of the Congo as an administrative officer during the tenor of Patrice Lumumba. She has also served the United States government.
Felicia Chappelle (Sister)
Full name: Felicia Chappelle Jones
Date of birth: May 8, 1968
Occupation: NA
She is the older sister of Dave Chappelle and that is just about the only known information about her. She likes to keep a low profile. Dave once revealed that his sister was an overweight young girl and this made her feel insecure but that is all behind her now.
William S. Chappelle (Brother)
Among the Chappelle siblings, Dave seems to be the only one in the spotlight. Aside from his name and the fact that he is known as Dave Chappelle's brother, no other detail has emerged about the comedian's brother. His birthday and career details are not public knowledge.
Notwithstanding, he is visible a ball of fun as can be seen in the video of him interacting with Tin Foil Hat Times host ZAQ Flanary and having fun with kids.
Other Members of Dave Chappelle's Family
As earlier mentioned, Dave Chappelle's family heritage is a rich one with people who have their names imprinted on the walls of history for one great deed or the other. In addition to his parents who will be remembered as great academics, his great-grandfather Bishop William David Chappelle was also an activist. Despite the fact that he was born as a slave in 1857, he rose above boundaries and once led a delegation of African Americans to meet President Woodrow Wilson at the White House. Bishop Chappelle also served as Allen University president.
Dave Chappelle's great-great-grandfather, Robert J. Palmer was one of the South Carolina Legislature members during Reconstruction. He also has a grand-uncle, W. D. Chappelle, Jr., who opened the People's Infirmary around 1915 as a physician and surgeon. The establishment was a small hospital and surgery practice located in Columbia, South Carolina and the remarkable thing about it is that he achieved the feat when many African Americans didn't have such access in the healthcare sector.
An Inside Look at The Life of The Comedian and His Rise to Fame
David Khari Webber Chappelle was born on 24th August 1973 in Washington DC. He was raised in Silver Spring Maryland where he attended Woodlin Elementary School. His both parents who were professors separated when he was 6 years old. Chappelle after the divorce shuttled between Washington and Ohio where his divorced parents lived. Chappelle's interest in comedy began at a very young age. The comedian has cited his idols back then to include Eddie Murphy and Bill Cosby.
Journey to Stardom
He began his stand up comedy career in high school and later moved to New York City. Dave was once booed off stage at an Amateur night in New York's Apollo centre. Instead of allowing the embarrassment to birth discouragement, Dave said it was a stepping stone for him to focus more on the show business. And despite his slow growth to stardom, he did not relent. Dave kept on performing in parks and soon earned mild fame in the New York City comedy circuit.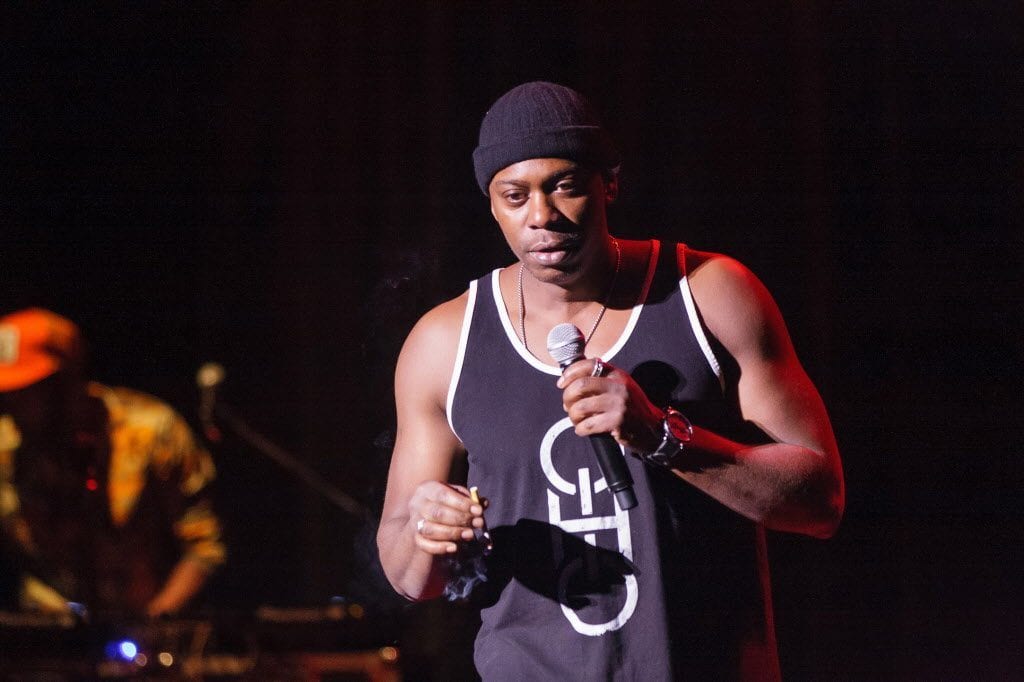 While waiting for his comedy career to take off, Dave began to take up movie roles. His debut movie role was in 1993 movie "Robin Hood: Men in Tights" where he portrayed Ahchoo. In a bid to achieve star status, he competed thrice in the comedy arm of Star Search but didn't win.
After rejecting a role in 1994 comedy-drama "Forrest Gump" for reason being that it would undermine his status, Dave landed another supporting role in the Doug Liman film, "Getting In". The same year, Dave made his debut on the HBO special Comic Relief VI.
Dave slowly began to gain attention from TV networks and soon began filming pilots. He appeared in an episode of  Tim Allen's hit series "Home Improvement". His character on the show gained enough attention for ABC to grant him his own sitcom titled "Buddies". Unfortunately, "Buddies" premiered to low ratings and was discontinued shortly after.
Chappelle returned to taking up movie roles. In 1996 he starred alongside one of his mentors Eddie Murphy in the comedy movie "Nutty Professor". The movie grossed $130 million against a $54 million budget making it a commercial success. Next up was "Con Air" (1997) which made $26 million in post-tax profit.
Chappelle's First Major Breakthrough
In 1998, Dave featured in two HBO stand-up specials which were accompanied by roles in commercially successful movies "Half Baked", "Woo" and "You've Got Mail" with Tom Hanks all in 1998, as well as Martin Lawrence's "Blue Streak" in 1999. Though Dave's reputation as a stand-up comedian grew with his 2000 HBO special "Dave Chappelle: Killin' Them Softly", it was his own weekly Comedy Central sketch comedy show "Chappelle's Show" that gave him the breakthrough success he had worked over a decade for.
Chappelle's Show which ran for three seasons ending in July 2006 focused on the parody of pop culture, politics and racial stereotypes. In addition, it featured performances by musicians and also served as an exposure platform for upcoming acts. After its first season, Dave inked a $55 million pact to continue for two seasons. However, Chappelle abruptly walked away from the show before the completion of the third season stating his preference of stand up to sketch comedy. Reruns of the show are still being syndicated worldwide.
After the drama with Comedy Central, Chappelle returned from his trip to South Africa and in 2006 he released a documentary film "Dave Chappelle's Block Party". The documentary which was a chronicle of his free show in Brooklyn featured performances from top acts like Kanye West and was a success grossing over $11 million against $3 million budget.
Latest Activities
Dave Chappelle returned to stand-up and even set an endurance record at Laugh Factory. However, his record was broken in 2008 by Dane Cook who previously held the record. After keeping a low profile for about four years between 2009 and 2013, he made an unannounced appearance on the NYC's comedy club The Comedy Cellar. He has since returned to stand-up comedy and even touring the nation. Dave appeared in 2016 Spike Lee movie "Chiraq" which also stars TV host Nick Cannon.
Dave Chappelle's Net Worth
Per Forbes, Dave Chappelle made $7.5 million in 2015 appearing on the list of world's highest-paid comedians. Most of his earnings were from his comedy tour. Previously, Dave earned $12 million and $22 million in 2002 and 2003 respectively.
In November 2016, Dave inked a $60 million, deal with Netflix to produce 3 comedy specials that aired in 2017, making it one of the highest comedy special deals ever. Dave Chappelle's Net Worth is estimated to be at $50 million
Profile Summary
First Name:
David
Last Name:
Chappelle
Also Known As:

N/A
Sex/Gender:

Male
Profession:

Stand-up comedian, actor, writer, and producer.
Famous For:
His satirical comedy sketch series Chappelle's Show,which ran from 2003–2006
Colleges/Universities Attended:

Duke Ellington School of the Arts
Educational Qualifications:

Theatre arts certificate
Religion:

Islam
Birthday & Zodiac

Age/Date of Birth:

August 24, 1973
Zodiac Sign:
Virgo
Birth Place:

Washington, D.C., United States
Nationality:
American
Ethnicity/Race:

African-American, Ivorian, and African-Grenadian
Country of Residence:

USA
Physical Attributes

Height:

5 ft 11 in or 180 cm
Weight:

78 kg or 172 lbs
Eye Colour:

Dark Brown
Hair Color:

Black
Other Body Measurements:

N/A
Relationships

Marital Status:

Married
Spouse/Partner:

Elaine Mendoza Erfe (2001-Present)
Family and Relatives

Father:

William David Chappelle III
Mother:
Yvonne K. Chappelle Seon
Children:

2 sons, Sulayman and Ibrahim, and a daughter, Sonal
Siblings:
Felicia Chappelle Jones (Older Sister), William S. Chappelle (Older Brother)
Other Relatives:

Henry Talmage Chappelle (Paternal Grandfather), Leola Webber (Paternal Grandmother), George Raymond Reed (Maternal Grandfather), Beatrice Murray (Maternal Grandmother), Bishop William D. Chappelle (Great-Grandfather)
Net Worth
Estimated Net Worth:

$50 million
Salary:
N/A
Source of Wealth:

Comedy, Movie appearances, writing, and television production