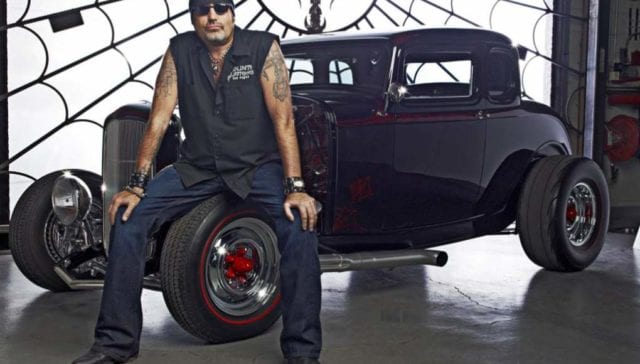 If you're a fan of History Channel's Counting Cars, then the name Danny Koker should not sound strange to you. To state what you already know, Danny Koker is a reality television personality known as Danny The Count, and the star of History Channel's Counting Cars.
If the name 'Counting Cars' does not have a familiar ring then you can take your mind to the Las Vegas-based band Count's 77 -their lead singer- that's Danny.
Danny Koker's life on TV is not enough for his numerous fans, who search tirelessly for more juicy facts about him; his lifestyle and personal life. To the searchers, we've got all the answers you need right here; ranging from his career earnings down to his personal details, we've got you all covered.
Bio
Danny was born in 1964, in Cleveland, Ohio, United States, where he learned the business of automobiles. He happened to grow up in a family that deals with automobiles; most of his relatives worked for the Ford Motor Company. As the years went by, Danny developed a flair as well as some good skills in the business. Today he fixes cars.
Danny Koker moved to Las Vegas in late 1980's and opened his famous restoration shop named 'Count's Customs.' He has been on TV for many years in various reality TV shows. He featured in popular shows like 'Pawn Stars' and 'American Restoration'.
See Also: Gillian Turner Wiki, Bio, Married, Age, Body Measurements, Fiancé, Legs
Danny who has a flair for automobiles went on to start up his own reality TV show called Counting Cars. Counting Cars which aired its first episode in 2012 follows the activities of Danny "The Count" and his staff as they renovate and modify classic motorcycles and automobiles.
Koker stars in the reality TV series "Counting Cars" which is the third spinoff of "Pawn Stars", and is filmed in Las Vegas, Nevada. The show chronicles the daily activities at "Count's Kustoms", the automobile restoration and customization company owned and operated by Koker. In the show, Danny is also seen in occasional conflicts between the cast members.
Car Collection and House
For a man who deals on cars and automobiles generally, Danny has quite enough. This description may become an understatement when we tell you that Danny has up to 58 vehicles and 78 customized motorcycles; just enough or too much? you decide.
It doesn't stop there, It may amaze you to know that Danny who drives a 1965 Cadillac Fleetwood daily, also keeps adding to his collection of cars. The TV personality once said that his most prized vehicle is the 1972 Ford Roaster which is the original Mattel Hot Wheels car. Again We'll leave you to decide how outrageous or soothing this is. Danny and his family live in Las Vegas, Nevada.
Danny Koker's Net Worth & Financial Standing
To the part which you have been itching to hear; Danny "The Count" Koker is worth an estimated 13 million dollars, quite deserving we must say for such a vibrant hard worker.
See Also: The Rothschild Family, Family Tree and Family Members
In addition to fixing vehicles, he is a part owner of a TV station in the Las Vegas area that runs B rate movies. Still wondering how he makes a lot of money? He is also part owner of a restaurant and tattoo shop with rock and roll frontman of Motley Crue, Vince Neil.
His greatest asset is Counting Cars. Danny reportedly receives $100,000 as salary for each episode of Chasing Cars. This show has continued to air and has continued to garner more viewers by the day.
Danny Koker Wife and Kids
Danny Koker is married to his wife Korie Koker, who co-owns his 'Count's Vamp'd Rock Bar and Grill in Los Angeles. The couple has no kids together yet. Danny and Korie who seem to be enjoying their family of two have shown no plans of expanding the family.

However, this could just be our opinion as the couple keeps every information about their marriage and personal life very private. They always talk about each other in interviews. Korey during an interview once described her husband as a very supportive man who puts his trust in her and allows her to make her own decisions.

Fact Check: We strive for accuracy and fairness. If you see something that needs updating,