Perhaps in a world where social media had not democratized popularity and fame, Daniella Chavez may have found it difficult to attain popularity via her chosen lifestyle but thankfully, that has not been the case and she has become one of Chile's most notable names through her work as a nude model.
Daniella Chavez's time in the spotlight has been full of controversies, from the endless streams of racy photos to an affair with soccer superstar Cristiano Ronaldo while he was in a relationship and her loss to a 51-year-old woman at a beauty contest. Simply put, Daniella Chavez is an interesting woman and you can read all about her and her life below.
Daniella Chavez Biography & Age
Instagram and Soccer fans would most likely be familiar with the name, Daniella Chavez. She is one of the most popular models on the social media platform and she has made soccer news for multiple reasons.
The model is a native of Las Condes, Chile, born on the 26th of October, 1985 to parents whose identities remain unknown, with the exception of his mother, who is Susana Carrillo.
Details of her journey from childhood to being a renowned model are unknown, with her life in the media starting in 2009 when she became a Playboy model in her home country. Things got kicked up a notch higher for Daniella Chavez when she was named Playboy Mexico's Playgirl of the Month in 2014.
Much of her work and time as a known model has been on social media platforms like Instagram and Tumblr where she posts several racy pictures of herself.
Chavez's time in the spotlight has also brought forth strange and hilarious incidents like her experience at a beauty contest, Vina del Mar 2015, in her home country. She finished third in the contest, behind a woman named Katherine Salosny, who was at the time, 51 years of age. The incident was a shock to the Chilean model which prompted her to post a racy picture on her Instagram page, declaring she is unaffected by the final results.
Daniella Chavez is also known to be a huge fan of soccer and has made local news reports in Chile for her support for her favorite teams, including the Chilean National Team by posting racy pictures of herself in the team's colors.
Personal Life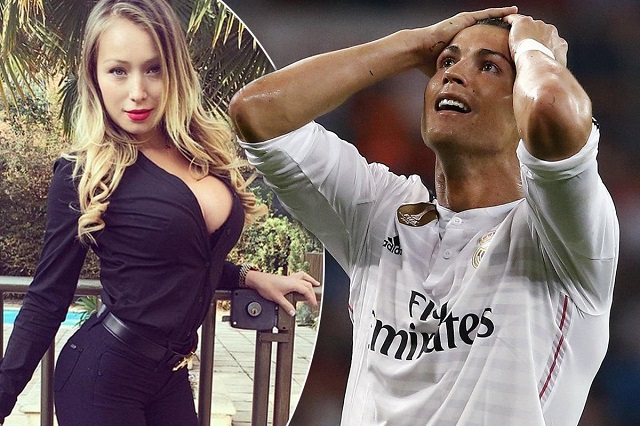 When it comes to her personal life, particularly in terms of relationships, there hasn't been any significant information about the Chilean model. However, in the midst of the dearth of information about her relationship status, lies a standout experience in the life of the model – an affair with Cristiano Ronaldo.
According to Daniella Chavez, she allegedly met Cristiano Ronaldo in November 2014 in the US, after they had formed a rapport via Skype and email. In continuation of the story as shared by Daniella, the meeting was a dream come through for both of them as she considered herself a huge admirer of his body and harbored the dream of having sex with him while he wished to be with a Playboy mate, having never been with one sexually.
Although the allegations and affair have never been confirmed by the soccer star, there is a good chance it might be true considering his relationship at the time of the incident with Irina Shayk ended out of claims of infidelity by the Russian supermodel.
While Daniella Chavez remains publicly single, both Cristiano Ronaldo and Irina Shayk have moved on to other relationships with Georgina Rodriguez and Bradley Cooper, respectively.
What Is Her Height?
Daniella Chavez's source of fame has been her body, and it currently boasts of an admirable and attractive profile of a height of 5 feet 6 inches, a weight of 55 kg and an accompanying curve defining measurement of 34, 24, and 35 inches for her bust, waist, and hips respectively.
Other noticeable body features include brown colored eyes and blonde hair.
See Also: Niece Waidhofer – Age, Height, and Body Measurements Of The Model
Other Facts About Daniella Chavez
1. She reportedly has an estimated net worth of $300,000, which she is believed to have earned from her modeling career and her social media posts. She has over 11 million followers.
2. She once gave a boyfriend of hers a threesome for his birthday. She achieved this with the help of a friend who worked at a shopping mall.
3. As a huge fan of soccer, particularly Chilean soccer, she is a prominent supporter of O'Higgins F.C.