Perhaps after comedy, police procedurals will follow as the most common type of TV shows on air at any given time. They are time tested stories that have durability and attract a lot of audiences. They have also been a means for several unknown actors to make a name for themselves, due to the revolving door of guest actors it requires. One actress who has made a name for herself through the genre is Daniela Ruah, a Portuguese-American actress.
NCIS: Los Angeles is one of the most popular police procedural shows on air and through it, Daniela Ruah has written her name in the annals of Hollywood Television history. She began to star on the show in 2009 as the character, Kensi Blye and has reprised the role in other police procedurals like NCIS and Hawaii Five-0.
We take a deeper look into her career and her life as a whole below. Read on to learn more.
Daniela Ruah's Bio & Age
Daniela Ruah is a first-generation immigrant born to Jewish parents who immigrated from Portugal. Her mother is an otologist and her father, an ENT surgeon. Although she was born in the United States, specifically in Boston on the 2nd of December, 1983, Daniela was raised in Portugal, where she completed her basic education and started her career as an actress.
At the age of 16, Daniela Ruah began to star in telenovelas and even proved she was an accomplished dancer after winning a Portuguese-television dance competition before she headed back to school at the age of 18 to earn a bachelor's degree, at the London Metropolitan University in London, England.
Following her graduation, she returned to her home country, Portugal and continued her career as an actress, starring in telenovelas before she made the decision to return to her birth country, the US in 2007 to study acting at the famous Lee Strasberg Theatre and Film Institute.
The return to the US kickstarted a more high-profile career for Daniela Rush who got her first Hollywood role as Kensi Blye in NCIS in 2009. Since then, she has made appearances in Hawaii Five-0 and her regular role as Kensi in NCIS: Los Angeles.
Her Portuguese roles include Tu e Eu where she played the character, Daniela Pinto between 2006/2007, in Filha do Mar as Constanca Valadas between 2001 and 2002. Her debut film was in 2001 for Querida Mae, where she played the character, Zezinha. Outside of onscreen acting, she has appeared in a stage play, Proof in 2013 and also hosted the Eurovision Song Contest in 2018.
She has been nominated for a couple of awards, including the Golden Globes and Teen Choice Awards. She won the Golden Globes in 2010.
Daniela Ruah's Husband and Family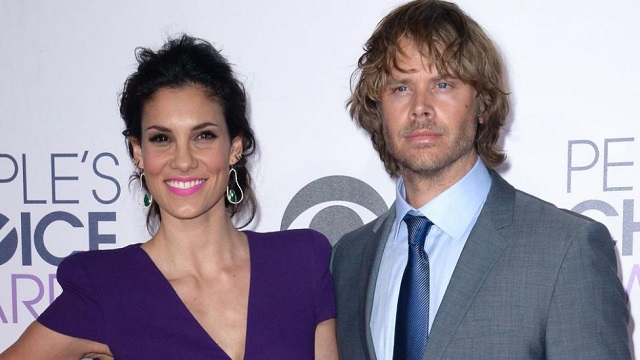 Daniela Ruah stars alongside Eric Christian Olsen, but it is his brother, David Paul Olsen who has found a way into the actress' heart, enough for her to marry him in a private ceremony on the 17th of June, 2014. The marriage makes Eric Olsen her brother-in-law.
Daniela Ruah and her husband, who also works on NCIS: Los Angeles as a stunt double for his brother have been able to bring two children into the world – River Isaac Ruah Olsen who was born in December 2013 and Sierra Esther Ruah Olsen who was born in September 2016.
What is Daniela Ruah's Net Worth?
Daniela Ruah made her professional debut at the start of a new millennium, in the year 2000 and she has been an active member of the industry ever since. She made a series of minor appearances in several films and TV shows before she got cast in NCIS: Los Angeles.
With a regular appearance on the show since 2009, Daniela Ruah has been able to benefit from the consistency and steady paycheck that comes with a regular role on a long-running TV show, enough to accrue a net worth estimated at $7 million.
Body Measurements
There is a stereotype that Latina women are beautiful and gorgeous women. There are plenty pieces of evidence to back up that claim and Daniela Ruah is one of them. The beautiful actress has a body shape defined by a body measurement of 35-24-25 inches for her bust, waist, and hips respectively.

See Also: Jessica Kylie – Biography, Family, Facts About The Model And The Actress

The curves exist in a body with a height of 5 feet 8 inches and a modest weight of 57kg. Her body profile, which has features that include dark brown hair and brown colored eyes, has earned her a place on the Esquire Magazine's list of Sexiest Women Alive.

Fact Check: We strive for accuracy and fairness. If you see something that needs updating,