Perhaps after comedy, police procedurals will follow as the most common type of TV shows on air at any given time. They are time tested stories that have longevity and attract a lot of audiences. They have also been a means for several unknown actors to make a name for themselves, due to the revolving door of guest actors it requires. One actress who has made a name for herself through the genre is Daniela Ruah.
The Portuguese-American actress was launched into the limelight for playing the role of NCIS Special Agent, Kensi Blye in popular television show NCIS: Los Angeles. Ruah has gone on to reprise the role in other police procedural shows like Hawaii Five-0. The talented actress has, since she started, garnered a huge following across Hollywood and beyond. Asides the critical acclaim she has received; Ruah has been able to amass a considerable amount of wealth as a professional actress.
Daniela Ruah's Career Progression From Telenovelas To Prime Time TV Series
Daniela Ruah is a first-generation immigrant born to Jewish parents who immigrated from Portugal. Her mother is an otologist and her father, an ENT surgeon. Although she was born in the United States, specifically in Boston, on the 2nd of December, 1983, Daniela was raised in Portugal, after her family moved back to the European nation.
The Portuguese-American television star attended the prestigious St Julian's School in Portugal. Upon her graduation, Daniela started her acting journey by taking up several roles in telenovelas. She earned her acting debut at age 16 when she portrayed the character of Sara in the telenovela, Jardins Proibidos.
A couple of years after that, the budding TV star migrated to the UK to attend the London Metropolitan University. She graduated with a degree in performing arts upon the completion of her program. Ruah returned to her native country after earning her Bachelor of Arts degree to continue her acting career.
Upon her return to Portugal, the actress signed up for the celebrity dance competition, Danca Comigo, which she eventually won. Ruah's success at the contest increased her popularity across Portugal and earned her major roles in theatre, short films, as well as television shows.
In 2007, Ruah opted to study at the Lee Strasberg Theatre and Film Institute in New York City. The star actress made her career break into Hollywood when she landed the role of Special Agent Kensi Blye in CBS action drama NCIS: Los Angeles. The show which is still running has aired 11 seasons so far. Ruah also made a guest appearance on Hawaii Five-0, playing the same Kensi Blye character. She received a couple of award nominations for this role, including Teen Choice and Golden Globe Awards. Daniela eventually won the Portuguese Golden Globe Award for the role.
How Rich Is Daniela Ruah?
Acting is the major income stream of the American-Portuguese actress. However, the talented TV star also earns a considerable amount of money from endorsement deals and brand advertisement. She is a brand ambassador for TAP Air Portugal, as well as other top brands.
As of 2020, Daniela Ruah's overall net worth stands at a whopping $7 million and it is believed that the talented actress' appearance on the long-running police procedural show is largely responsible for her huge cash flow. NCIS: Los Angeles was an instant hit and made waves across the United States, as well as the globe. More so, the television show has some of its cast members on the list of highest-paid television actors and actresses in the film industry.
Although Ruah is not playing the lead role on the show, she is still being paid well for her stints. Sources have it that her annual income on the show is pegged at an estimated $1.13 million. A further breakdown reveals that she earns around $94,305.56 monthly and about $21, 762.82 weekly.
She Has A Fascinating Love Story With David Paul Olsen
Sorry to disappoint the male fans of the beautiful actress because Daniela Ruah is not single, she is happily married. Ruah and her husband, David Paul Olsen, have been together for over 9 years and their love story is more than adorable. The actress met her heartthrob through his younger brother, Eric Christian Olsen, sometime in February 2011. For NCIS: Los Angeles fans, Eric Olsen is a familiar name as he is an actor who is well known for playing the role of Marty Deeks on the action-drama series. His brother, David, on the other hand, is a stuntman and former U.S Navy seal and features as a stunt double for Eric on the television show.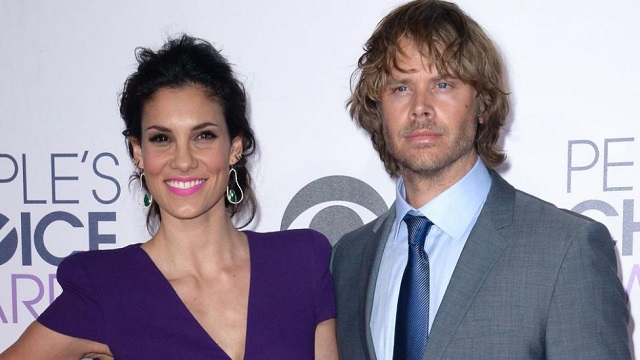 Eric match-made the couple in a bid to help improve their dating life. Prior to David and Daniela meeting each other, they were involved with other people who, according to Eric, were making their lives miserable. So, Eric decided to help make their lives better by hooking the pair up.
The couple went on their first date on February 8, 2011, and the rest became history. The date was unanimously agreed to be successful and the fire of love was kindled in their hearts. They began official dating shortly after their first date. The lovebirds, prior to getting married, welcomed their first child, a son named River Isaac Ruah Olsen, sometime in December 2013.
A few months after the birth of their son, David proposed to the actress and she accepted. They tied the nuptial knot at an interfaith marriage ceremony held on June 17, 2014, in Portugal. Daniela is a devout Catholic while Olsen is a Lutheran.
The couple suffered a setback in 2015 after Daniela had a miscarriage at the ninth week of her pregnancy. Not too long after that, fate smiled on them again as they welcomed their second child, this time around, a daughter named Sierra Esther Ruah Olsen, joined the family in September 2016. Sierra's birth sparked a fresh breath of hope in the family and renewed their love for each other. The pair revealed it helped them forget the unfortunate miscarriage in 2015. The lovely family of 4 reside in the United States but always take vacation trips to Portugal.