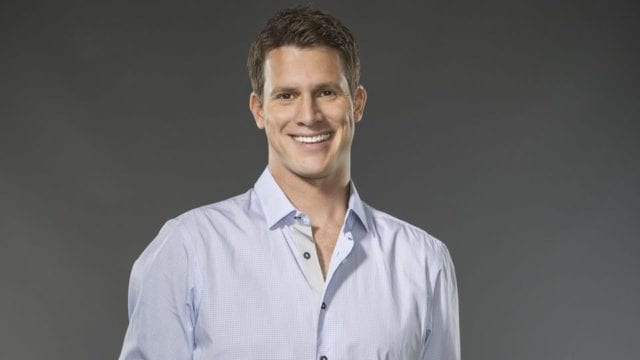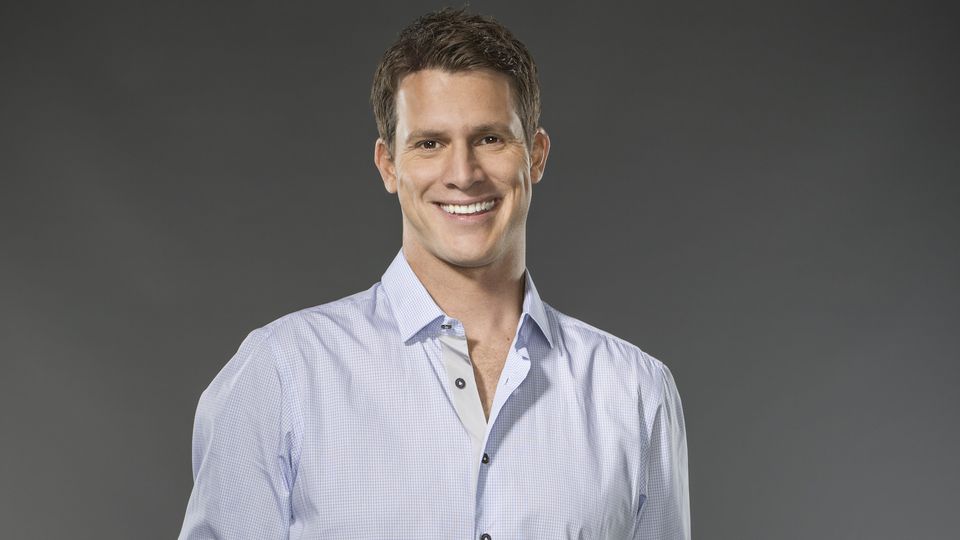 Daniel Tosh is an American stand up comedian, actor, writer, executive producer and Television host.
The Comedy Central staple has earnings estimated at $16 million. The following are the things one ought to know about Tosh's life and career.
Daniel Tosh Parents, Wiki – How He Started
Daniel Dwight Tosh was born on May 29, 1975, in Boppard, Rhineland-Palatinate, West Germany and raised in Titusville, Florida. His father was a Presbyterian minister. He enrolled at Astronaut High School, Brevard County from where he graduated in 1993. He then proceeded to study marketing at the University of Central California, graduating in 1996. After college graduation, Tosh worked several jobs including as a telemarketer at Central Florida Research Park. However, working a regular job didn't appear to be "his thing", so he checked comedy out.
He began his comic career by touring the comedy club circuit and it wasn't long until he began hosting "Tens", a local late-night comedy show. His other gigs included a commercial advertisement for Taco Bell. In 1998 Daniel Tosh was among the "New Faces" to appear on "Just For Laughs", the largest international comedy festival held annually in Montreal, Canada. His performance was televised in 2000 and in 2003 he made his second appearance on the show.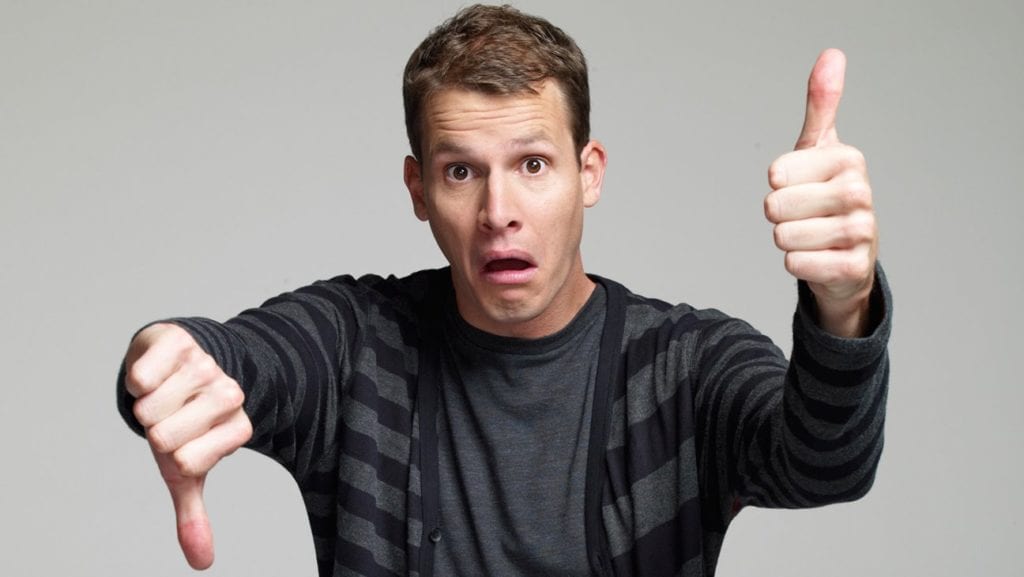 His Comedy Breakthrough Appearance
Tosh moved to Los Angeles, California in order to actively pursue his comedy career. He had a minor role on USA Network Television series "Sins of the City" and performed on Comedy Central's Premium Blend. He got his breakthrough in 2001 with an appearance on "Late Show with David Letterman". Thanks to his impressive performance, other shows came calling including Jimmy Kimmel Live!. In 2003, Tosh landed his first ever comedy special on Comedy Central Presents. He continued to perform in popular TV shows such as "Tonight Show" with Jay Leno, MTV's Punk'd, "Best Week Ever" and "Comics Unleashed". Tosh also became a regular on radio shows like "Kevin and Bean", "The Bob & Tom Show" and "Loveline".
In 2005, his debut comedy album, "True Stories I Made Up" was released. It was followed up with "Daniel Tosh: Completely Serious" (2007) which aired on Comedy Central. The following year in 2008 he got his first acting role in the movie "The Love Guru" which also starred Jessica Alba, Meagan Good and Justin Timberlake. The movie received negative reviews and was a box office flop grossing only $40.9 million against a $62 million budget. As of now, the movie is Tosh's only and might remain so, as the comedian himself has confessed to being a terrible actor.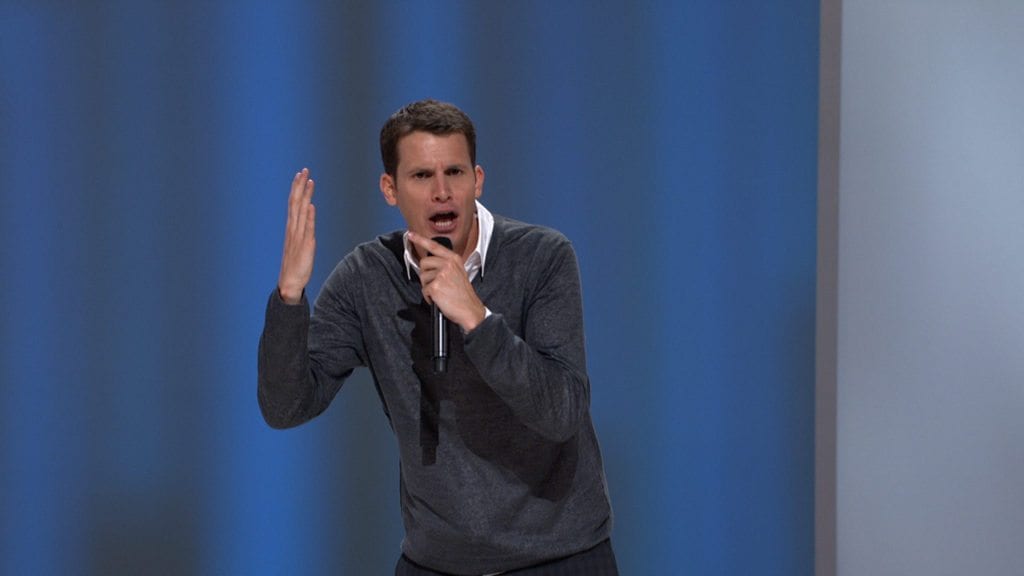 Income and Other Endeavours
Tosh quickly became a Comedy Central staple and in 2009, he landed his own TV show, Tosh.0 with the network which has seen his net worth estimated at about $16 million. Tosh.0 focuses on the review of online viral clips, celebrities, society and the popular culture in general. It premiered on June 5, 2009, to incredibly high ratings of over 1 million viewers per episode and soon became the second-most watched cable network show, receiving more fans among the 18–34 age group – a demographic most favourable to advertisers.
The ratings soon reached #1 and the show has been renewed ever since. As of 2016, 8 seasons of the show has aired. Tosh.0 was sold into syndication in 2015 and began airing on local stations around the US as well as other local markets during the late-night time slot. The show's success also makes Daniel Tosh one of the most followed celebrities on Twitter – 25 million as of September 2016.
Despite the incredible initial success of his Tosh.0, and performing on several sold-out tours, Tosh didn't perceive himself as a successful comedian. As a result, he threatened to quit comedy by either committing suicide or retiring to the beach if he didn't make it to his "standard of success" by his 38th birthday on May 29, 2013. By this time, Forbes had estimated his annual earnings at $11 million, leading many to speculate that his threat was merely a publicity stunt.
His stand up special, "Daniel Tosh: Happy Thoughts" premiered on Comedy Central on March 6, 2011, to 3.25 million viewers and was also released on DVD as his third comedy album. He was the executive producer and voice actor on Comedy Central's "Brickleberry" which lasted for three seasons between 2012 and 2015. His 2016 stand up special is entitled "Daniel Tosh: People Pleaser". As a way of giving back to the society, Tosh has been involved in a few philanthropic causes. Proceeds from his annually held "Tosh Saves The World" is donated entirely to charity.
See Also: Dave Chappelle Wife, Kids, Family, Son, Sister, Wiki, Height
Daniel Tosh Wife, Girlfriend, Gay
Questions related to Daniel Tosh being gay has persisted despite the fact that he once had a straight relationship with model and actress, Megan Abrigo. The reason may not be far from the fact that he has never come open on the subject whether to accept or to deny it. Also, he has been a staunch supporter of the LGBTQ rights movement.

Lately, he has claimed to be in love with a certain "ballerina" who he is married to. Whether this "ballerina" is male or female no one seems to know and Tosh himself has not helped matters as he has completely grown deaf ears to his fans who are asking for some explanations. The comedian first made a post about his "ballerina" on his personal Twitter handle in 2014 and then mentioned the secret lover again through the same medium in 2017.

Considering the foregoing, it is safe to assume that Tosh is not married and also, not gay as there are no incidents that prove otherwise. Besides, he once had a straight relationship with actress Megan Abrigo which he revealed by himself on one of his comedy shows in February 2009. The couple was seen together at several red carpet events and parties before their eventual breakup. There has been no reason given for the breakup anyway.

Fact Check: We strive for accuracy and fairness. If you see something that needs updating,