Best known for his adherence to the method acting technique, Daniel Day-Lewis is one of the most respected actors in the history of Hollywood. It is little wonder why he has garnered three Academy Awards for Best Actor, making him the only person to have managed that many awards in that category. Some of the more memorable movies the British actor has been a part of include My Left Foot (1989), Gangs of New York (2002), There Will Be Blood (2007), and Lincoln (2012).
In 2017, after an almost five decades-long career, Day-Lewis, who made his humble debut in the British drama film, Sunday Bloody Sunday (1971), at the age of fourteen, announced his retirement. Here is a look at his career and life after shinning in the spotlight.
He Overcame a Troubled Childhood to Become an Actor
Daniel Day-Lewis was born on the 29th of April 1957, in Kensington, London. His father was the renowned Irish poet, Cecil Day-Lewis, while his mother was English actress Jill Balcon. He has a sister named Tamasin, who is currently a documentary filmmaker and celebrity chef.
Asides his immediate family, Day-Lewis also boasts of some prominent extended relatives. His maternal grandfather was a celebrated filmmaker named Sir Michael Balcon. Sir Balcon co-founded Ealing studios, the oldest continuously working studio facility for film and TV production in the world. He also served as the chairman of the British Institute's Experimental Film Fund.
Daniel Day-Lewis grew up in the town of Greenwich and was quite wild as a child. He got into several troubles, both inside and outside school, and was even involved in petty crimes like shoplifting. He was consequently shipped off to several boarding schools to see if that would make him change but it did not. The first school he attended was Sevenoaks, a highly-selective coeducational independent school in Kent. After his disdain for the school grew, he was transferred to another independent school, Bedales in Petersfield, Hampshire, where his sister was already a student.
At Sevenoaks, Day-Lewis was introduced to several refreshing subjects such as woodworking, acting, and fishing. He fell in love with the first two and upon completion of school, applied for further training in both of them. He was, however, only accepted for acting and he focused on bettering his skills in that regard.
Becoming the Greatest Actor of his Generation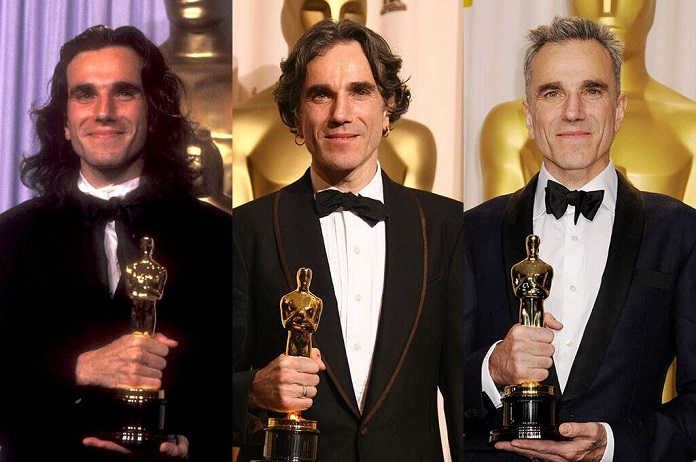 Following his passion for acting, Daniel Day-Lewis featured in movies such as Gandhi, The Bounty, A Room with a View, The Unbearable Lightness of Being, and My Beautiful Laundrette, in the early 80s. Being a method actor, he learned to completely immerse himself in the character he was playing and thus achieved spectacular results. For his out-of-the-world acting skills, he would win three Oscar awards in the best actor category for his roles in movies like My Left Foot (1989), There Will Be Blood (2007), and Lincoln (2012).
Day-Lewis scored his first Oscar for best actor thanks to his portrayal of a physically-challenged man who overcomes great odds to become an artist in the 1989 biopic, My Left Foot. The London native would wait for 18 years before he won another Oscar, this time for his portrayal of a ruthless silver miner-turned-oilman in the 2007 epic drama film, There Will Be Blood. His record-breaking third Oscar came in the year 2013. This was for his expert resurrection of great American statesman, Abraham Lincoln, in the 2012 historical drama, Lincoln. With this third gong, Day-Lewis made history as the first and only male actor to win that category thrice.
Daniel Day-Lewis' Decision To Retire
Following his 2013 Oscar win, Daniel Day-Lewis embarked on a five-year hiatus from acting. Such hiatuses had been a regular occurrence throughout his impressive career and as such, his fans weren't overly bothered. They rejoiced when he staged a comeback in the year 2017, portraying an obsessive dressmaker in the 50s fashion drama, Phantom Thread. Their joy was, however, cut short when his representatives announced that the movie would mark his final work as an actor.
In keeping with his taciturn lifestyle, Day-Lewis refused to make any elaborate declarations as to why he was quitting. The most he said was that he never thought of quitting before Phantom Thread, however, the process of making the film was so overwhelming and depressing that he experienced profound sadness afterward and as such, had to walk away.
Daniel Day-Lewis is yet to reveal what his future plans would be but he has maintained that he would surely not stay idle. Meanwhile, the rumor mill has been working overtime with some suggesting that he may go into painting, furniture making, fashion designing, or even competitive car racing.
For now, no one can guarantee what the multiple Oscar winner will do in future but one thing that is for sure is that no matter what path he decides to take, he will surely excel at it. In the meantime, Day-Lewis is enjoying life away from the spotlight. He now makes his home in New York but takes great care to avoid the city's high-powered social scene. He rather contents himself with walks and shopping trips with his wife or close friends. For instance, on the 6th of December 2019, the retired actor was spotted taking a walk with two female friends through East Village. The group looked to be in high spirits during their outing.
See Also:  Who Is Daniel Craig? How Old And How Tall Is The James Bond Actor?
He was Never About the Money
During the course of his glorious Hollywood career, Daniel Day-Lewis accumulated a net worth of $50 million. The primary source of his wealth was his acting, which saw him earn about $6-$8 million per role, and it could have been much more if he had wanted. This is because the London native received numerous movie offers in the course of his career. He was, however, dedicated to his craft and so, was quite picky about that the type of works that he featured in.
This, therefore, resulted in a small but qualitative filmography of just 21 movies over four decades. What Day-Lewis lacked in quantity, he made up for in quality as many of his movies have received critical acclaim from renowned film institutes including the American Film Institute.