Following Dana Jacobson's blog, we have come to learn a lot about her outside her career as a sports anchor. For instance, we know that she was molested as a child; Dana disclosed this during the Penn State child sex abuse scandal involving Jerry Sandusky. According to her, she was sexually abused by a neighborhood teen, a baby sister whom her parents trusted. Owing to the fact that she was required to obey the babysitter, she couldn't report the issue until she was in her early 20s.
Also, we got to learn that her brother Mark is a combat veteran who among other things, served in Afghanistan and Bosnia. Mark has a BA in History which he obtained from the University of Michigan and also a Ph.D. in Military History which he earned from Ohio State. There are many more interesting things to learn about this media personality; from her early life to her career achievements and facts about her husband and family, the following are the things everyone should know about Dana Jacobson.
Dana Jacobson Bio
Although Dana Jacobson has lost her dad, she has fond memories of the man who was a physician and educator. While it is hard to tell a thing about her mom, it's not a secret that the woman had the journalist on the 5th day of November in 1971.
As you will easily find, Dana Jacobson was born in Bloomfield Hills, a city you will find in Oakland County, Michigan. Also raised in the city she was born and in a Jewish family, she was a student of a public high school in Bloomfield township known as Andover High School. But then, she later moved to the three-year public high school in West Des Moines, Iowa – Valley High School.
When she graduated from Valley in 1989, she moved on to the public research university in Ann Arbor, Michigan – The University of Michigan. From the institution which takes pride as Michigan's oldest university, she obtained a bachelor's degree in English and Communications.
Currently known as a correspondent, host, and sports anchor working with the American commercial broadcast television and radio network, CBS, Dana Jacobson has come a long way in her career as she has worked with various media outlets over the years.
Career Achievements of The Sports Anchor
To the best of our knowledge, she got her first job in television broadcasting just after she graduated from Michigan; the job saw her work with then CBS affiliate, WJBK TV2 in Detroit as an assignment desk editor. In November 1994, she joined WPBN-WTOM TV in Traverse City, Michigan as a reporter, producer, news and sports anchor. Two years later, she moved to KXTV's News10 where she also served as a sports anchor, reporter, and producer. This lasted from November 1996 to November 2002 when she became a staff of KHTK Sports in Sacramento, California. With the outlet, she worked as a radio host for the show NBA Insiders.
Dana Jacobson left the station to begin her time with ESPN as a reporter, host, and anchor. She spent over 9 years with ESPN and when she left in May 2012, it marked the beginning of her time with CBS. The sports anchor joined CBS Sports in December 2012 and first worked as a morning show host before she got to serve as an NFL reporter for The NFL Today show. She also worked as a host and anchor for a good number of college football and basketball shows in addition to serving as a sideline reporter for NCAA tournament in 2015 and 2016. Since February 2015, she has been working with Spike TV as a host for Premier Boxing Champions. That's not all, with CBS News she has been a freelance correspondent and anchor since January 2016.
An award-winning media personality, Dana Jacobson has thus far accomplished a lot in her career. Way back in 1998, she won the National Headliner Award and in the year 2000, she equally picked up the Edward R. Murrow Award. Most recently (in 2018), she was inducted into the Jewish Sports Foundation Hall of Fame.
See Also: Laura Jarrett – Bio, Husband and CNN Career of Valerie Jarrett's Daughter
Who is Dana Jacobson's Husband?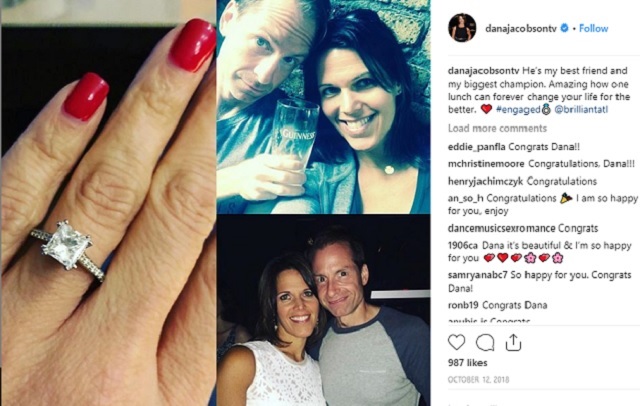 Dana Jacobson's love life was a mystery for a long time until she shared pictures of her engagement sometime in October 2018. From the pictures, it was authenticated that she has been dating Sean Grande, the famous American radio and television sportscaster.
In the post that Dana shared announcing her engagement, she described Sean as her "biggest champion" and "best friend". She hinted on how they met, relating that a lunch she had with Sean has forever changed her life in a positive way.