The American football quarterback Dak Prescott is undoubtedly one of the many professional quarterbacks you would enjoy watching. His well-built frame, as well as his calm pocket presence, gives him an edge over his peers. These qualities he possesses not only helps him evade pressure and keep eyes downfield but they also help him to quickly and effectively get rid of the ball without taking any undue punishment in the pocket.
Prescott had a very successful college career at the Mississippi State. This is proven by the numerous awards and accolades he received before he joined the NFL draft in 2016. He received the 2014 and 2015 Conerly Trophy and the 2015 Belk Bowl MV as a result of his brilliant performance with the State Bulldogs. Physically, Dak Prescott is competitive and mentally, he is tough. He has trained himself so well to be able to withstand pressure and to continue to make one of the best strides every year.
Early Life
Dak was born in Sulphur, Louisiana, as Rayne Dakota Prescott. He attended Houghton High School where he began his football journey with the Buccaneers. In addition to completing 159-of-258 passes for 2,860 yards and 39 touchdowns in his senior year, Prescott made a very big impact in his high school team especially in their 'District 1-AAAA' title win in 2010. He also recorded 951 rushing yards with 17 touchdowns and 90 attempts.
Gaining college scholarship was no big deal for the young athlete who enrolled at the Mississippi State University a year after he finished high school. Although he redshirted in the 2011 season, Dak Prescott picked up the following year appearing in twelve games and recording 18 of 29 passes for 194 yards with 4 touchdowns. He also had 4 rushing touchdowns, with 110 yards on 32 carries. By the end of his term with the Mississippi State University, he recorded 70 touchdowns from the 49 games he played.
His Salary and Net Worth
Dak Prescott has been with the Dallas Cowboys since 2016 when he left college football to join the NFL draft and although he is not on the list of players with a staggering amount as salary, he is sure making good use of his earnings. In 2016, he signed a four-year contract with the NFL franchise and it was worth $2.7 million. This gives him a base salary of just $630,000 with $725,848 cap hit. He is, however, reportedly eligible for a contract extension in 2019 and his base salary is expected to fall around $720,000. Its been also reported that Dak's net worth is about $2 million.
Who Are His Parents And Does He Have A Girlfriend Or Wife?
Prescott grew up with his parents Nathaniel and Peggy Prescott who raised him alongside his three older siblings namely Tad, Jace, (brothers), and Natalie Prescott-Smith, his only sister. He also has an older half brother Elliott Prescott, his father's son from the previous marriage. Dak's mother, Peggy, died of cancer on November 3, 2013, during his sophomore season and being very close to her, he was badly affected by her death.  The Caucasian and half-black quarterback drew his love for football from his mother who was an ardent football fan. She even had a football tattooed on her arm, with the number three written inside it and she encouraged them to play the game at their backyard.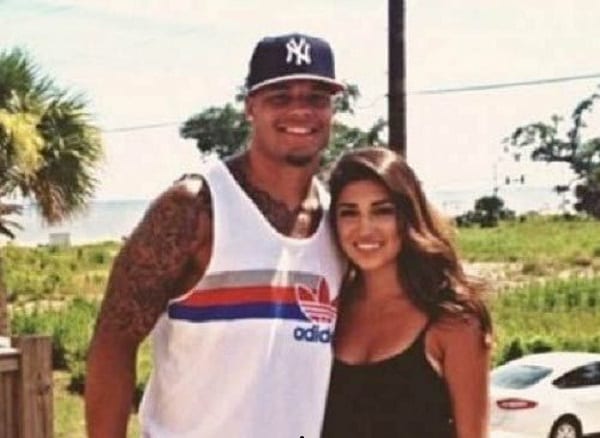 Moving to his personal life, Prescott has dated a couple of beautiful young girls including Kayla Puzas who he dated in 2014 and their relationship was highly publicized by his fans. However, in 2015, the two went their separate ways.
Dak Prescott also dated Yasmine Nicole, a model for Playboy in 2016. The two were first spotted together in September 2016 and they shared pictures of each other on their various social media platforms but it appears that the two are no longer together as the Dallas Cowboys' quarterback is seen with a lady named Rosette who, according to reports, is working as a waitress in Las Vegas.
NFL Career
Dak Prescott joined the NFL draft in the 2016 season and was eventually selected by the Dallas Cowboys who at that time was scouting for a quarterback to develop behind its former quarterback, Tony Romo. Despite being criticized for his accuracy on intermediate and deep throws, Dak was selected in the fourth round as the 135th overall pick of the 2016 NFL draft. He ended his rookie season with the professional football franchise with 29 touchdowns, 3,667 passing yards, 282 rushing yards, and 4 interceptions from 16 games.
The same year, he was named NFL's Offensive Rookie of the Year and was ranked 14th on the NFL Top 100 Players of 2017. Other awards he earned in 2016 include the Pepsi NFL Rookie of the Year and the 2016 Pro Bowl, among many others. As at the end of 2018 which marked the end of his third season as a professional player, Dak has a total record of 10,876 passing yardages with 67 passing touchdowns and 25 interceptions thrown with 6.0 passer rate. Dak also recorded 944 rushing yards and 18 rushing touchdowns.
Height and Weight
Dak Prescott is quite tall with his height measuring 6 feet 2 inches (1.88 m) and his weight 235 lb (107 kg). The length of his arm is 32 1⁄4 inches while his hand is 10 7⁄8 inches.