As a star in one of America's most popular sports, Alex Rodriguez was a famous baseball player during his playing days. Following retirement, his popularity waned, at least until he got engaged to Jennifer Lopez in 2019. Since he got engaged to the uber-famous singer/actress, his relationship history has come under focus, including his marriage to his first wife, Cynthia Scurtis, whom he was married to for six years.
Cynthia Scurtis does not share the same level of fame of Alex's soon to be wife, but she is a high school teacher who prefers to live life outside the walls of media attention.
In this article, we take a closer look at her life, her relationship with Alexander Rodriguez and other facts about her.
Cynthia Scurtis' Biography
Before her life was intertwined with that of an MLB superstar, Cynthia Scurtis was a regular American citizen who was born on the 28th of December, 1972 in Coconut Grove, Miami. She was born into a family of Greek ancestry, to John and Evangeline Scurtis, and was raised in an affluent home along with two siblings, a brother and a sister named Constantine and Anastasia.
Her education began at Gulliver Preparatory School before she headed to Ohio State University where she earned a bachelor's degree in Psychology. After graduation, she headed back to school at Nova Southeastern University and earned a Master's in the same subject.
With a Master's in her resume, Cynthia Scurtis desire to help people led her to become a high school teacher back at Gulliver Preparatory School. She worked at Gulliver before she met Alexander Rodriguez, who according to her, encouraged her not to work and become a stay at home mother instead.
Since the marriage ended, we cannot determine the career path Cynthia Scurtis has embarked upon but it would not be surprising if she returned to her role at Gulliver Preparatory School, due to her commitment to helping and a desire to give back to her alma mater.
Life with Alexander Rodriguez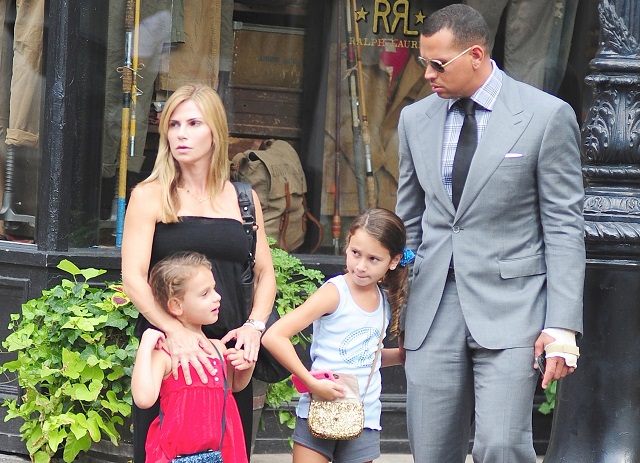 Cynthia Scurtis and Alexander Rodriguez got their paths crossed in 1996 when a visit to a Body and Soul Gym became the meeting point for both parties. Alex, or A-Rod, as he is more famously referred to, was playing for the Seattle Mariners at the time and having admired her, asked her out.
Contrary to what one would have expected considering his fame and wealth, Cynthia did not entertain his advances at first, taking her time before she gave him a chance. They officially began dating sometime later in 1996 and after about a decade of being together, on her birthday, Alex proposed to her.
The idea of a marriage between the two of them wasn't particularly a welcomed notion, especially in Cynthia Scurtis' family but she continued with the engagement and they got married on the 2nd of November, 2002. The wedding was held in Cynthia Scurtis' grandfather's mansion.
After the marriage, the couple welcomed the birth of two children, the first being Natasha Alexander who was born in November 2004 and Ella Alexander who was born in April 2008. The birth of Ella Alexander was colored with the fact that at the time of her birth, Cynthia Scurtis and Alex Rodriguez were in the middle of a divorce, which began before she was born, due to the reported infidelity of Alexander that included women like Madonna and Cameron Diaz. In the same year, in September 2008, Cynthia Scurtis and A-Rod completed their divorce.
Since the marriage ended in 2008, Cynthia Scurtis has retreated away from public life and has got married to Angel Oscar, a realtor based in Miami and a fitness entrepreneur. The couple has welcomed a daughter, Camilla.
While Cynthia Scurtis lives away quietly away from the media, Alexander Rodriguez's time in the news continues with his engagement to Jennifer Lopez, which was announced in March 2019. Alex and Jennifer began dating in February 2017.
See Also: Tiffany Rivers – Bio, Age & Facts About Philip Rivers' Wife
Other Facts About You Need To Know
• Cynthia was raised in a Greek Orthodox home with strong religious principles. Her family's religiousness is further buoyed by the fact she is the granddaughter of known Greek Orthodox priest, Reverend Demosthenes Mekras.
• In high school, Cynthia was well involved in athletics and she was a cheerleader as well as a member of her school's volleyball team.
• During the divorce, Cynthia Scurtis got a $12 million mansion in settlement and gets alimony payment of $115k monthly from her ex-husband.