Having a romantic relationship on TV is never an easy task and one person that can attest to this fact is Cynthia Bailey. The supermodel-cum-actress and her husband, Peter Thomas tied the knot on the set of the reality TV series, The Real Housewives of Atlanta (RHOA), in 2010 and proceeded to live out most of their married life in front of the cameras.
What has followed from then on is an eventful matrimony filled with whisperings of infidelity as well as unsavory financial dealings. All these were seen and enjoyed by the public as they unraveled but it was the couple who paid the ultimate price. Bailey has now moved on with her life and there are inklings of a new romance on her horizon.
The Early Years of the Couple's Relationship
Cynthia Bailey and Peter Thomas first crossed paths with each other as far back as 1998 at a swanky New York City club known as Nell Supper Club. They became casual acquaintances and ran into each frequently over the next several years. On each occasion, Thomas would turn up the charm for Bailey but she would resist. This pattern continued up until the year 2007 when she finally succumbed to his proposal.
At that time, Thomas was a successful music executive producer and entrepreneur while Bailey had found fame as a supermodel, appearing in magazines such as Vogue, Vanity Fair, Elle, Glamour, and Essence, and representing brands such as Maybelline, Oil of Olay, Macy's, Mercedes Benz, and Levis. The couple were therefore quite well-off and spent the first three years of their relationship in relative bliss.
During this period, Cynthia Bailey continued to make waves as a model while Peter opened a club in downtown Atlanta – UpTown Restaurant and Lounge. The couple also took the extra step of getting engaged and their joy was further increased after the model was invited to join the cast of RHOA. The show's creators attributed this decision to their desire to cast ladies who had already achieved something in their chosen fields of endeavor.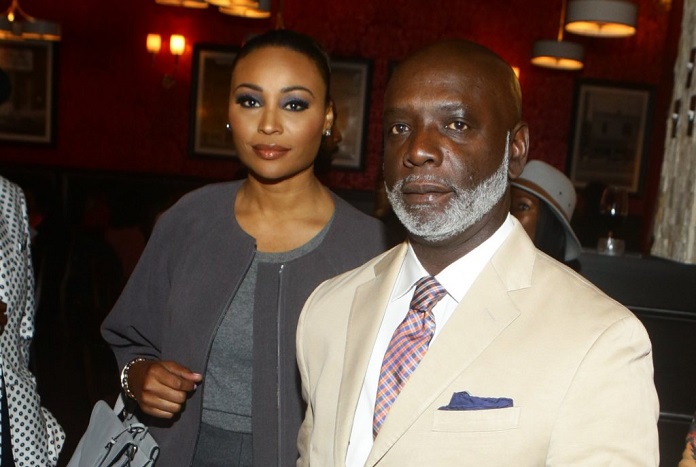 Getting Married on The Real Housewives Of Atlanta
Cynthia Bailey and her man joined the cast of RHOA in 2010 and their proposed nuptials formed a major arch of the show. Prior to the wedding, there was a lot of drama as the bride's family and friends opposed the union. Many felt that Thomas (whose lounge had gone under) was a failing businessman, who wanted to take advantage of his fiancée's fortunes and fame to boost himself up. Thus they weren't too happy with the proposed marriage.
Cynthia, however, stood her ground and the couple tied the knot in a lavish wedding aired on the final episode of their debut season. Following the nuptials, the two settled down to family life and continued pursuing their respective careers. Bailey opened her own modeling school, The Bailey Agency School of Fashion, aimed at grooming the next generation of supermodels, and also conducted a series of modeling talent hunt competitions in several states.
The Alabama native also set up several businesses, including a collection of stylish eyewear which she called the Cynthia Bailey Eyewear, and starred in some films. Thomas, on his part, opened another restaurant and lounge known as Bar One. All of these were captured on RHOA and the public scrutinized every step that the couple took. In August 2013, they penned down a relationship book titled Carry-On Baggage: Our Nonstop Flight.
An X-Ray of the Issues that Caused Cynthia Bailey's Divorce
The new memoir captured all the high and low points of the couple's relationship (including their finances, successful careers, and children from past relationships) and they stated that writing it had served to bring them closer. They also described it as therapeutic – even though this did not last for so long as problems started rearing its head up again. In 2014, Thomas was sued for owing back rent on the property where the couple housed their various companies.
He, however, denied the claim and maintained that he had only stopped paying as there was some mix-up in mortgage and foreclosure issues. While still reeling from this, the couple faced another scandal after photos surfaced in June 2015 showing Thomas kissing and touching a female clubgoer at one of his establishments. He explained away the photos as just being social and the couple ambled along until 2016 when they decided to embark on a trial separation. They never recovered from that and filed for divorce subsequently.
The divorce was finalized in March 2017 and was very straightforward as the couple had signed a prenup. They also had no kids and this meant everyone got to retain their property. Following the divorce, Thomas maintained that he never cheated nor touched his wife's money and that RHOA was structured in such a way as to portray men in a bad light. Cynthia, on her part, also stated that even though she believes her ex never cheated on her, she nevertheless had to walk away to regain her internal happiness.
Wedding Bells Are Tolling For Cynthia Bailey A Second Time
Following the end of her marriage, Cynthia Bailey has bravely forged on with her life. The supermodel now has a wine tasting venue and event place to her name. She has also joined hands with whiskey distiller, Seagram, to create a signature drink.
Bailey is also not doing shabbily in the love department as she is now engaged to be married to sports analyst, Mike Hill. Hill is a native of the Bronx, New York and previously spent about 10 years working with ESPN. He then joined Fox Sports in 2013 and now has a show of his own dubbed The Mike and Donny Show.
Cynthia and Mike began their relationship around May 2018 and got engaged in July 2019. The proposal took place during the opening of her wine tasting business and the Fox analyst popped the question with a 5-carat princess cut solitaire ring. Cynthia happily said yes and was met with cheers by their loved ones. The couple is now set to tie the knot in 2020 and you can trust that it will be prominently featured on RHOA.
What We Know About Her Daughter, Noelle Robinson
Talking about loved ones that witnessed the engagement, one of them includes Cynthia's daughter, Noelle Robinson. Noelle was born in November 1999 and her father is actor and singer, Leon Robinson IV. Leon and Cynthia had a relationship in the late 90s but later broke up. They, however, remain good friends and he has appeared several times on RHOA.
Noelle grew up pretty much with a lot of media attention primarily because of who her parents are. She was homeschooled in the last two years of her studies at Georgia Cyber Academy before graduating in June 2017.
She took a gap year before enrolling in Howard University in Washington, D.C. However, The Real Housewives of Atlanta daughter soon discovered that school isn't her thing and opted out after two semesters in college. According to her, from a social and academic point of view, she didn't really enjoy being on campus and even admitted that her first semester at Howard was her worst experience.
In a video she made to answer questions on why she decided not to return to college, Noelle in response to a follower's question mentioned the following as the underlying reasons for her decision to drop out of college:
the location of Howard University was limiting her career options
she was not interested in her course of study anymore
she felt she wasn't going to use all the things she was studying to advance her career.
Furthermore, Noelle opined that since her mom and dad didn't go to college but turned out very successful in their chosen careers, the same will also hold true for her. In her words, "There's just so many ways to make money now without a college degree."
She's Pursuing a Career in the Entertainment Industry After Dropping out from College
It's not surprising to see she's pursuing a career in the showbiz industry like her parents, apparently, she's a chip off the old block. Her parents are also in full support of her decision to carve out a career of her choice.
Noelle has already got the ball rolling as a model and social media personality in Los Angeles, California. She's already signed up with Major Models NYC and on the social media front, Noelle uploads content across to her channels almost on a daily basis as she keeps growing the number of followers she has.
Noelle's Sexually Fluid
Noelle revealed in an episode of RHOA in 2019 disclosed to her mom that she found women attractive during her 1st year at Howard University. She met her now-girlfriend – Alexis Powell – just 3 days after she began her studies at Howard while she was doing a YouTube survey on campus. According to her, she knew it was love at first sight and had to talk to her and literally spent the whole day with her. Since then, they have been together.
Cynthia Bailey adjusted well to this news and has stated that all she cares about is her daughter's happiness. Leon has also toed a similar line and even sent his daughter's girlfriend good wishes during one of her birthdays.