Highly revered for her numerous successes as an editor and publisher of several lifestyle magazines, Cristina Greeven Cuomo is known to many as an editorial director who has also been serving as the Vice Chairman of Niche Media.
Despite being a fine career woman with loads of achievements to her name, it can be said that she is only popular for being the wife of notable CNN journalist, Chris Cuomo, who serves as the host of Cuomo Prime Time on the cable news network. Still interested in uncovering more about Cristina Greeven Cuomo? Read about her early life, achievements, and several fun facts below.
Cristina Greeven Cuomo Bio
It is not a secret that Christina Greeven Cuomo is a citizen of the United States of America; what you may not know is that she is of Brazilan descent with German heritage. In the same vein, anyone who cares to know will easily find that she was born in 1970 on the 12th of January. Records have it that her place of birth was in New York, USA and, she was born to Rainer and Regina Greeven.
Born into a wealthy family, Cristina had a very decent childhood, however not much is known as regards it except the fact that even as a little girl, she was known to exhibit immense passion towards writing, a passion that lingered till adulthood. Cristina had her elementary and high school education in New York. Upon completion of high school, she enrolled at Cornell University where she eventually graduated from.
She wasted no time in kicking-off her career as a writer. Cristina Greeven Cuomo was good at her job and soon became an editor. She kept up with being good at her job and her rank steadily increased until she emerged as the Vice-chairman of Niche Media LLC. In 2001, she was able to launch its entire publication with the help of the founder of Niche Media LLC Jason Frederick Binn. As a writer, she also holds important credits to her name, the most esteemed being founding the famous lifestyle magazine, Manhattan File and taking on the challenging role of serving as its Editor for several years.
Moving on she also worked briefly on Gotham and Hampton magazine. During this period, there were a series of misconceptions by the public that her duties were solely limited to editing and the creation of extremely rich content for the magazine. In truth, her job was and is much more than just content creation or editing, in fact she is involved in all areas that pertains to the day to day running of the company such as event promotion, marketing, branding and advertisement so as to see to it that the company maintains its solvency while at the same time fulfilling its mission and vision statements.
Facts About Chris Cuomo's Wife
Here are some interesting facts to keep in mind about Cristina Greeven Cuomo
1. The brunette is currently married to her longtime boyfriend Chris Cuomo. If reports are anything to go by, they became unified in matrimony in 2001; precisely, on the 24th of November. The got married at a Catholic Church and the event was witnessed by friends and family. The two are parents to three beautiful children namely: Bella Cuomo, Carolina Regina Cuomo, and Mario Cuomo.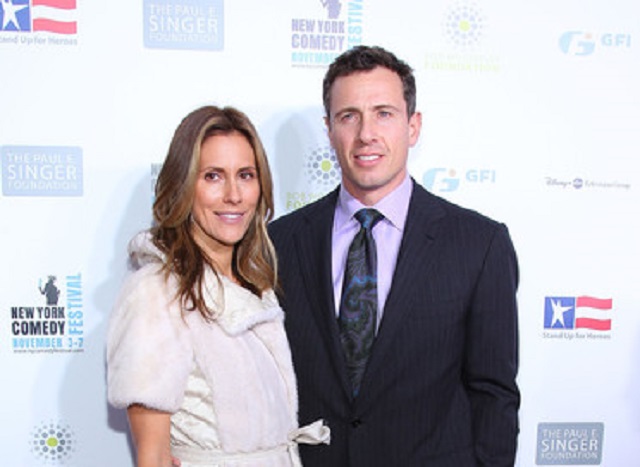 2. Besides being a popular writer and editor she is equally famous for her website "The Purist" which she uses as a medium to teach people about the benefits of healthy living.
3. By virtue of being a successful career woman with a series of achievements in the field of publishing and editorial directing, Cristina Greeven Cuomo is bound to be worth a huge sum of money, but as a result of her desire for privacy, she is yet to reveal her exact net worth to the media. Nonetheless, her husband Chris Cuomo is known to have an estimated net worth of $9 million.
See Also: Kelly Stables – Bio, Body Measurements, and Net Worth
4. Cristina Greeven Cuomo can be regarded as one of those celebrities who happen to be well versed in exploiting the benefits of social media to their advantage. She uses her social media accounts to keep fans up to date about the latest happenings in her life while at the same time informing them of her upcoming projects. She has accumulated a total of 52.5k followers on Instagram and 5.7k followers on Twitter. She can be found on both social network sites using the handle @cristinacuomo
5. She is currently a United States Ambassador for the popular natural beauty product Natura Bisse. She also features in advertisements for the multi-billion Delta and app-based helicopter service Blade, aimed at promoting women empowerment.