Cristiano Ronaldo Net Worth: Cristiano Ronaldo is a Portuguese footballer who plays for the Portugal national team and Spanish club Real Madrid. His net worth is estimated at over $350 million. At the rate his net worth his increasing, CR7 could be football's first billionaire. Just keep your fingers crossed.
Cristiano Ronaldo Net Worth: How It All Started
Cristiano Ronaldo was born on 5 February 1985 in Santo Antonio. His father, a municipal gardener took his second name from America's former president Ronald Reagan who was his favorite actor. Ronaldo began to play football at the age of 8, he joined amateur side Andorinha where his father worked as an equipment manager, two years later he joined local club Nacional and after winning a title with the team, he joined Sporting Clube de Portugal. Ronaldo was diagnosed with a racing heart at the age of 15, a condition that could've ended his football career but after a successful laser surgery, he returned to the game.
Cristiano Ronaldo Net Worth: Move To Manchester United
His performance with the Portuguese side attracted attention from top clubs like Liverpool, Arsenal, Barcelona and Manchester United but it was the United who finally signed him after coach Alex Ferguson was awed by his skills. At the age of 18, before the 2003/2004 season, Ronaldo became the first Portuguese player to join Manchester United for the sum of £12.24 million.
His success at Manchester rose rapidly, and after his one year contract expired, he signed a 5 year contract extension for £31 million, making him the highest-paid player in the club's history. In the 2007/2008 season, Ronaldo helped United win the champions league where they beat Chelsea. That season he received his first Ballon d'Or and FIFA World player of the year awards, he became the first premier league player to win the later.
Throughout his stay in Manchester United, he won a total of 9 trophies including 3 premier leagues titles, 2 football league cups, 1 UEFA Champions league, 1 FA cup, 1 FIFA Club World Cup and 1 FA Community shield. He made 292 appearances for the English side scoring 118 goals in all competitions.
Cristiano Ronaldo Net Worth: Increasing Success With Real Madrid
In 2009 Ronaldo joined Spanish La Liga side Real Madrid in a record breaking transfer fee of £80 million ($132 million) for a 6 year contract deal. He renewed the contract in 2015 which is now worth $150 million, the contract is said to keep him in the club until 2018. Again on November 7 2016, Madrid offered him a new 5-year contract extension that will keep at the the Spanish side until 2021 when he will be 36 years old. Ronaldo called the contract his "penultimate" one, meaning he plans to sign yet another one if things go as planned and finally retire with the Spanish side.
Ronaldo makes over $50 million salary from football and around $35 million from off-pitch activities.
So far with Real Madrid, he has won 2 Copas Del Rey, 2 UEFA Champions league, 1 La Liga (2011/2012) and 1 UEFA Super cup. Cristiano Ronaldo has also broken records in the La liga history, including the fastest person to score 200 La liga goals. He is Madrid's all-time goal scorer beating Raul's record and the highest scorer in the UEFA Champions league with 80 goals and counting beating his perceived rival Messi's 77.
Ronaldo has won two other FIFA Ballon d'Or for world player of the year in 2013 and 2014 making him a three-time winner of the coveted award.
Cristiano Ronaldo Net Worth: International Football
He began his international playing for the U – 18 division, he has since been capped over 100 times, becoming the teams captain in 2008. With his national side, Ronaldo has participated in six major tournaments- three times (2004, 2008, 2012) in the UEFA European Championships and three times (2006, 20010, 2014) in the FIFA World Cup. In 2015, he was named the best Portuguese player of all-time. He is the all time highest goal scorer for his national side and helped the team to secure their qualification for the Euro 2016 tournament.
Ronaldo has been named by Forbes magazine as the highest-paid footballer in the world in 2015 with $80 million in earnings and the highest-paid athlete in the world in 2016 with $88 million in earnings dethroning Floyd Mayweather who topped the previous list.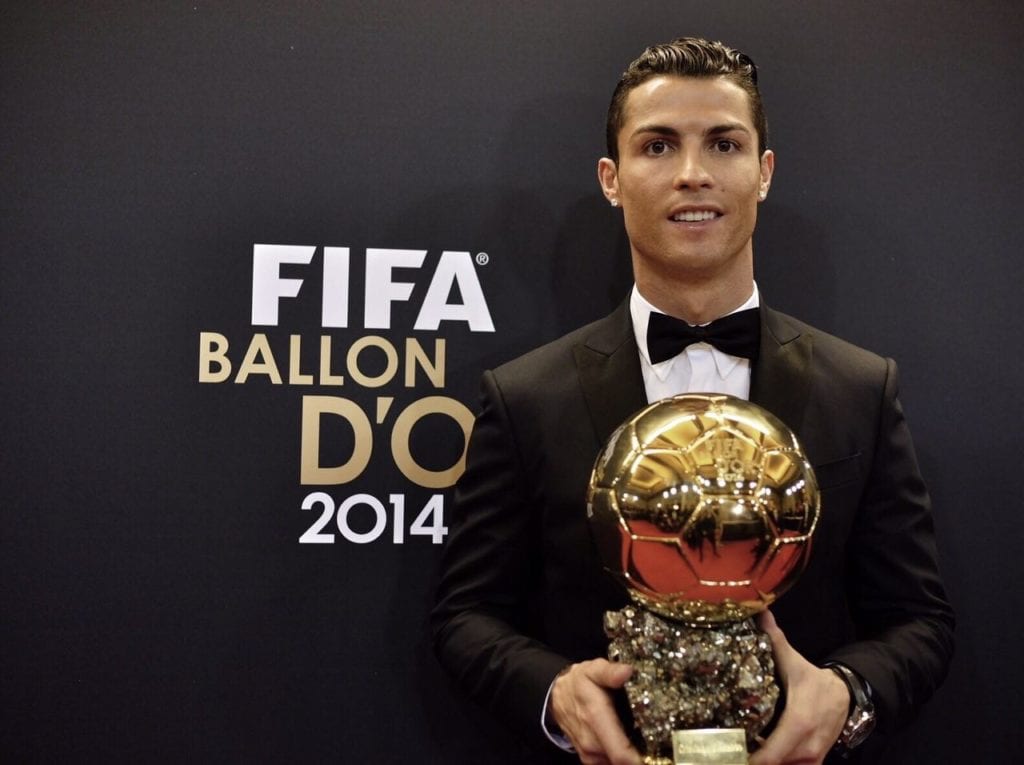 Cristiano Ronaldo Net Worth: Off-pitch Activities
Ronaldo bolsters his football earnings with off-pitch activities. Being the most popular athlete in the world with over 200 million fans on social media, Ronaldo is a top-preferred choice for endorsement deals by the world's top luxury brands. He endorses Nike, Emirates, Toyota, Emperior Armani, Samsung, Konami, Mobily, Herbalife, KFC, and Castrol.
Ronaldo became the first footballer to sign a lifetime endorsement deal with Nike in November 2016 which will see him continue to earn fat paychecks even after he retires. The only athletes with lifetime deals with the brand include basketball legends LeBron James and Michael Jordan. The later has become a billionaire thanks to his lucrative share from the Nike deal.
Ronaldo also owns a clothing line CR7 which he launched in 2006, he has expanded the line to include premium shirts and shoes. He also launched Legacy, a line of fragrance in September 2015.
See Also: 20 Richest Footballers In The World Right Now
Properties
With a net worth of $320 million, Ronaldo is the richest footballer in the world and therefore can afford the finest of luxury. His ever-growing fleet of luxury cars include Bentley Continental GTC ($195,000) Mercedes-Benz C-Class Sports Coupe, ($55,000) Ferrari 599 GTO ($385,000), Maserati GranCabrio ($140,000) and Lamborghini Aventador ($318,000). He owns mansions in Madrid and England. In August 2015 bought an exquisite penthouse in the Trump Tower for $18.5 million.
See Also: 12 Most Expensive Homes Of Extravagant Footballers
Cristiano Ronaldo's net worth is set to increase as he plays soccer for Real Madrid. His endorsements, clothing line and fragrance will also significantly boost his net worth.